Discounted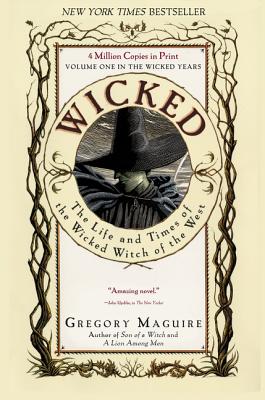 Wicked: The Life and Times of the Wicked Witch of the West (Wicked Years #1)
Previous price:

$19.99
Current price:

$17.99
Publication Date:
November 28th, 2000
Publisher:
William Morrow Paperbacks
In Stock at Warehouse - Usually Arrives in 3-7 Days
Description
A special 25th anniversary hardcover edition of the multi-million-copy-bestselling novel and basis of the Tony Award–winning musical.
This is the book that started it all! The basis for the smash hit Tony Award-winning Broadway musical, Gregory Maguire's breathtaking New York Times bestseller Wicked views the land of Oz, its inhabitants, its Wizard, and the Emerald City, through a darker and greener (not rosier) lens. Brilliantly inventive, Wicked offers us a radical new evaluation of one of the most feared and hated characters in all of literature: the much maligned Wicked Witch of the West who, as Maguire tells us, wasn't nearly as Wicked as we imagined.
Praise for Wicked: The Life and Times of the Wicked Witch of the West (Wicked Years #1)
"Maguire did something truly remarkable with this novel, in managing to inhabit, enlarge, deepen and find new dimensions in a world that had been invented by another writer, and in doing so make something entirely new. It's an astonishing achievement." — Philip Pullman
"Gregory gets the complications and uniqueness of women very well." — Kristen Chenoweth
"At the heart of this remarkable, unforgettable novel is a wildly original premise-- one that only a writer with Gregory Maguire's intellect and daring could have dreamed up: that the Wicked Witch of the West was a real woman, with an actual name, and her own story to tell. It was radical when Gregory first wrote it, and remains radical. It has the power to reshape one's view of the world." — Winnie Holzman, co-writer of Wicked: The Musical
"Long before there was any thought of a musical, I read Wicked. I felt a quiet joy that sisterhood had made its way to the Yellow Brick Road. What happens when a witch, green or otherwise, gets to tell her own story instead of being vilified and misrepresented by dominant cultural authority? We witches know how that turns out!" — Holly Near
"I knew that Gregory Maguire had come up with a genius idea the moment I heard about Wicked. It's a book that has changed a lot of lives, including mine." — Stephen Schwartz, composer and lyricist of Wicked: The Musical