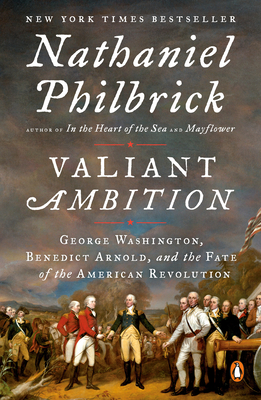 Valiant Ambition: George Washington, Benedict Arnold, and the Fate of the American Revolution (The American Revolution Series #2)
Publication Date:
May 9th, 2017
Charter Books
On hand, as of Dec 6 12:52am
(History - U.S.)
On Our Shelves Now
History buffs will welcome this serious and interesting salvaging of the American Revolution from the mists of legend and folklore. This book is also a reminder that the messy, often disturbing politics of our own time are not unique, that idealism conflicts with power struggles, that both war and building a nation can have destructive consequences, and that both revolutionaries and traitors can galvanize a movement. Complex, controversial, and important.
May 2016 Indie Next List
Description
A New York Times Bestseller
Winner of the George Washington Prize
A surprising account of the middle years of the American Revolution and the tragic relationship between George Washington and Benedict Arnold, from the New York Times bestselling author of In The Heart of the Sea, Mayflower, and In the Hurricane's Eye.
"May be one of the greatest what-if books of the age—a volume that turns one of America's best-known narratives on its head."—Boston Globe
"Clear and insightful, [Valiant Ambition] consolidates Philbrick's reputation as one of America's foremost practitioners of narrative nonfiction."—Wall Street Journal
In the second book of his acclaimed American Revolution series, Nathaniel Philbrick turns to the tragic relationship between George Washington and Benedict Arnold. In September 1776, the vulnerable Continental army under an unsure George Washington evacuated New York after a devastating defeat by the British army. Three weeks later, one of his favorite generals, Benedict Arnold, miraculously succeeded in postponing the British naval advance down Lake Champlain that might have lost the war. As this book ends, four years later Washington has vanquished his demons, and Arnold has fled to the enemy. America was forced at last to realize that the real threat to its liberties might not come from without but from withinComplex, controversial, and dramatic, Valiant Ambition is a portrait of a people in crisis and the war that gave birth to a nation.
Praise for Valiant Ambition: George Washington, Benedict Arnold, and the Fate of the American Revolution (The American Revolution Series #2)
"May be one of the greatest what-if books of the age—a volume that turns one of America's best-known narratives on its head."
—Boston Globe
"A suspenseful, richly detailed, and deeply researched book about the revolutionary struggle that bound George Washington and Benedict Arnold together and almost disastrous dysfunction of America's revolutionary government that helped drive them apart."
—The New York Review of Books
"Clear and insightful, it consolidates his reputation as one of America's foremost practitioners of narrative nonfiction."
—Wall Street Journal
"Philbrick is both a meticulous historian and a captivating storyteller. The book has unforgettable novelistic details [and] also contains much astute historical analysis and argument. Philbrick sees Arnold not as the man who almost lost the war so much as the catalyst that helped to win it."
—Christian Science Monitor
"This is history at its most compelling: political machinations, military jostling and outright treachery. And Philbrick's vivid writing brings the whistling cannon balls and half-frozen soldiers to life (and death) in vivid detail….He peels back the mythology to reveal a teetering war effort, a bickering Congress, discordant states unwilling to coalesce to support the new national government and — above all — a traitor who sought to sell out his own country for personal gain and achieved instead the one thing that no other revolutionary could: a unification of the Americans and an end to the war. And for that, we have much to thank Benedict Arnold."
—Seattle Times
 
"Benedict Arnold takes center stage in Nathaniel Philbrick's vivid and in some ways cautionary tale of the Revolutionary War. The near-tragic nature of the drama hinges not on any military secrets Arnold gave to the British but on an open secret: the weakness of the patriot cause….Arnold's betrayal still makes for great drama, proving once again that the supposed villains of a story are usually the most interesting."
—New York Times Book Review
"Philbrick wants his readers to experience the terror, the suffering and the adrenaline rush of battle, and he wants us to grit our teeth at our early politicians who, by their pettiness and shortsightedness, shape military events as profoundly as generals and admirals do. Finally, he reveals the emotional and physical cost of war on colonial society. He succeeds on all fronts."
—Washington Post
"Philbrick has the ability to take seemingly dry facts of history and turn them into exciting prose. The players come alive and their motivations are clear. The people he chronicles are legends, so revealing to the reader what makes them human, foibles and all, helps make sense of the events that transpired and why they acted the way they did."
—Associated Press
"Philbrick's deep scholarship, nuanced analysis, and novelistic storytelling add up to another triumph."
—Publishers Weekly, starred review
"A lively account of our Revolutions' most reviled figure."
—Kirkus Reviews
"An engrossing narrative of the war's most difficult years... Philbrick argues that the quarrelsome, divided Americans needed Arnold's perfidy as much as they did Washington's greatness to unify their new nation. He pushes aside the patriotic myth to unveil the war's messy reality—and it's still a rousing adventure."
—BookPage
"As another American summer crawls toward the Fourth of July, and with a presidential election creeping up like Freddy on Elm Street, Nathaniel Philbrick offers some beach reading to remind us that outsized egos and a dysfunctional Congress were as much at issue in 1776 as they are now — if that's any comfort...Valiant Ambition colorfully reconstructs the character-driven battles that defined the Revolutionary War."
—USA Today
 
"Look, you're not getting tickets to Hamilton. If he were alive, George Washington himself couldn't get tickets to Hamilton. Here's a cheaper alternative…a new look at the first American president and contrasts him with our most famous traitor."
—The Miami Herald
Praise for Bunker Hill
"A masterpiece of narrative and perspective."
—Boston Globe
"A tour de force . . ."
—Chicago Tribune
"Popular history at its best—a taut narrative with a novelist's touch, grounded in careful research."
—Miami Herald
"A story that resonates with leadership lessons for all times."
—Walter Isaacson, The Washington Post
"A gripping book."
—The Wall Street Journal