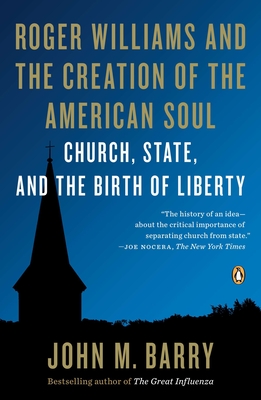 Roger Williams and the Creation of the American Soul: Church, State, and the Birth of Liberty
Publication Date:
December 24th, 2012
Charter Books
On hand, as of Sep 30 12:37am
(Local - Rhode Island)
On Our Shelves Now
Description
A revelatory look at the separation of church and state in America—from the New York Times bestselling author of The Great Influenza
For four hundred years, Americans have fought over the proper relationships between church and state and between a free individual and the state. This is the story of the first battle in that war of ideas, a battle that led to the writing of the First Amendment and that continues to define the issue of the separation of church and state today. It began with religious persecution and ended in revolution, and along the way it defined the nature of America and of individual liberty. Acclaimed historian John M. Barry explores the development of these fundamental ideas through the story of Roger Williams, who was the first to link religious freedom to individual liberty, and who created in America the first government and society on earth informed by those beliefs. This book is essential to understanding the continuing debate over the role of religion and political power in modern life.
Praise for Roger Williams and the Creation of the American Soul: Church, State, and the Birth of Liberty
"A gifted author." — The New York Times Book Review
"John Barry's Roger Williams and the Creation of the American Soul establishes Williams as a brave thinker and also a deft political actor . . .  Mr. Barry puts Williams squarely among our great political thinkers, crediting him with bringing liberal democracy to the American colonies." — The Wall Street Journal
"Barry now turns his meticulous hand to the origins of two fundamental and perpetual American fixations: the conflict between church and state and that between the power of the state and the conscience of the citizen. . . . Present-day implications of an elemental clash of ideas may hover over every page, yet the vital drama of Barry's story emblazons two competing visions of American destiny: John Winthrop's "city on a hill" vs. Williams's community of conscience. As Barry shows well and often prophetically, the national soul formed out of that drama remains a troubled, and occasionally tortured, one." — The Washington Post
"To call it a biography sells it short. What it is, really, is the history of an idea—about the critical importance of separating church from state. So revolutionary was this idea that it caused Williams to be banished from Massachusetts. . . . Williams created the first place in the Western world where people could believe in any God they wished—or no God at all—without fear of retribution." — Joe Nocera, The New York Times
"In Roger Williams and the Creation of the American Soul, New York Times bestselling author John M. Barry tells the story with passion and an eye for fine detail. . . . If the story were not compelling enough, Barry's dramatic first chapter of conflict, confrontation and banishment into the wilderness is worth the price of admission alone. . . . As Barry notes, the dispute 'opened a fissure in America, a fault line which would rive America all the way to the present.' John Barry deserves our thanks for illuminating this critical and timely chapter of American history." — The Seattle Times
"There's a recurring theme among the religiously political/politically religious that the United States was founded as a Christian nation and that in this modern era we have somehow strayed from God and from our roots. John M. Barry's new book Roger Williams and the Creation of the American Soul: Church, State, and the Birth of Liberty is a counterargument and it is a significant reminder of whence, exactly, this little experiment in democracy of ours came . . . Absorbing." — Los Angeles Times
"This biography should be read with today's headlines in mind . . . Thoroughly researched and accessibly written . . . This is an important book because it brings back an important founding point in the development of the American character. But it also is a timely reminder that the issues that drove Williams into exile in Rhode Island are very much alive and just as perilous today." — The Washington Times
"Fascinating... a swath of history Barry brings to urgent life with the same focused intelligence which distinguished The Great Influenza." — Booklist
"A commanding history...masterly." — Library Journal