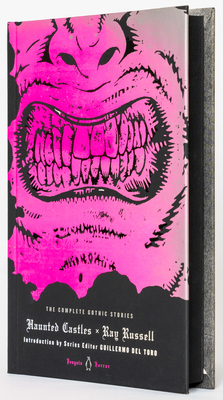 Haunted Castles: The Complete Gothic Stories (Penguin Horror)
Publication Date:
October 1st, 2013
Publisher:
Penguin Classics
Charter Books
On hand, as of Dec 2 2:07am
(Horror)
On Our Shelves Now
Description
Part of a new six-volume series of the best in classic horror, selected by Academy Award-winning director of The Shape of Water Guillermo del Toro
Filmmaker and longtime horror literature fan Guillermo del Toro serves as the curator for the Penguin Horror series, a new collection of classic tales and poems by masters of the genre. Included here are some of del Toro's favorites, from Mary Shelley's Frankenstein and Ray Russell's short story "Sardonicus," considered by Stephen King to be "perhaps the finest example of the modern Gothic ever written," to Shirley Jackson's The Haunting of Hill House and stories by Ray Bradbury, Joyce Carol Oates, Ted Klein, and Robert E. Howard. Featuring original cover art by Penguin Art Director Paul Buckley, these stunningly creepy deluxe hardcovers will be perfect additions to the shelves of horror, sci-fi, fantasy, and paranormal aficionados everywhere.
Haunted Castles
Haunted Castles is the definitive, complete collection of Ray Russell's masterful Gothic horror stories, including the famously terrifying novella trio of  "Sardonicus," "Sanguinarius," and "Sagittarius." The characters that sprawl through Haunted Castles are frightful to the core: the heartless monster holding two lovers in limbo; the beautiful dame journeying down a damned road toward depravity (with the help of an evil gypsy); the man who must wear his fatal crimes on his face in the form of an awful smile. Engrossing, grotesque, perverted, and completely entrancing, Russell's Gothic tales are the best kind of dreadful.
Praise for Haunted Castles: The Complete Gothic Stories (Penguin Horror)
"Russell links postpulp literature and the Grand Guignol tradition with the modern sensibilities of America in the 1960s. Within him resides a neo-paganistic streak that is passed from Algernon Blackwood and Sax Rohmer to him and other writers of unusual proclivities, such as Bernard J. Hurwood. A fascinating combination of the liberal and the heretic... Russell is the literary equivalent of the Italian filmmaker Mario Bava, a supersaturated neo-Gothiscist who shines above the premises of his material based on style, conviction, and artistic flair." - Guillermo del Toro, from the introduction
Praise for Penguin Horror Classics:
"The new Penguin Horror editions, selected by Guillermo del Toro, feature some of the best art-direction (by Paul Buckley) I've seen in a cover in quite some time." – Cory Doctorow, Boing Boing
"Each cover does a pretty spectacular job of evoking the mood of the title in bold, screenprint-style iconography." – Dan Solomon, Fast Company