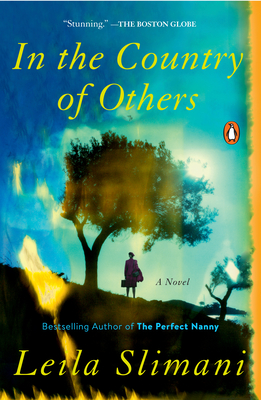 In the Country of Others: A Novel
Publication Date:
May 10th, 2022
Charter Books
On hand, as of Dec 6 12:52am
(Fiction - General)
On Our Shelves Now
Description
The award-winning, #1 internationally bestselling new novel by the author of The Perfect Nanny that "lays bare women's intimate, lacerating experience of war" (The New York Times Book Review)
After World War II, Mathilde leaves France for Morocco to be with her husband, whom she met while he was fighting for the French army. A spirited young woman, she now finds herself a farmer's wife, her vitality sapped by the isolation, the harsh climate, and the mistrust she inspires as a foreigner. But she refuses to be subjugated or confined to her role as mother of a growing family. As tensions mount between the Moroccans and the French colonists, Mathilde's fierce desire for autonomy parallels her adopted country's fight for independence in this lush and transporting novel about race, resilience, and women's empowerment.
Praise for In the Country of Others: A Novel
A New York Times Book Review Editors' Choice
One of NPR's Best Books of the Year
Named a Best Book of the Summer by Vogue, Entertainment Weekly, The Washington Post, Good Housekeeping, BuzzFeed, The Philadelphia Inquirer, Town & Country, Observer, The Millions, and Parade
Winner of the Grand Prix de l'Héroïne Madame Figaro, awarded by France's oldest national daily newspaper to the best novel featuring a female protagonist
Longlisted for the Carnegie Medal for Excellence
"Slimani has made a career out of catching readers on the wrong foot with unsparing prose. . . . In the Country of Others is [her] most personal book yet." —The New York Times
"Slimani writes motherhood like no one else. . . . [She] handles Mathilde's evolution elegantly. . . . In Sam Taylor's seamless, poetic translation, Slimani masterfully captures these nuanced shifts [among French, Alsatian, Arabic, and Berber]. . . . In the Country of Others . . . lays bare women's intimate, lacerating experience of war and its consequent trauma." ―The New York Times Book Review
"Really enjoyable." ―Joumana Khatib, The New York Times Book Review (podcast)
"A beautifully written portrait of both a country and a family trying to establish their identities in the midst of immense turmoil." ―NPR
"This one is so good." ―NPR's Pop Culture Happy Hour
"A satisfying if infuriating look at how power works in the struggle for independence, both personal and political. . . . Dynamic female characters dominate the book. . . . Slimani shines through the rise and fall of tension in her novels. Her willowy prose is dense with emotional depth and insight, and blunt observations elucidate every scene with force. . . . [Her] prose . . . is stunning." ―The Boston Globe
"Slimani excels at telling this wide-ranging story, expertly folding themes of love, loss, alienation, gender, and belonging into a complex narrative set against the backdrop of World War II." ―Vogue
"Nuanced and elegantly written." ―Ms. magazine
"Wonderfully imagined . . . A compelling exploration of the past . . . [Slimani] works her dangerous magic on her own family history. . . . [She] has an instinct for whichever detail will deliver the strongest electric shock. . . . It will be fascinating to see how the rest [of the trilogy] unfolds." ―Tessa Hadley, The Guardian
"A panoramic, ambitious tale . . . A big leap forward from an already established writer . . . It will leave anyone who reads it quietly thrilled at the thought of what its author might do next." ―The Times (London)
"As wild and lush as a wildflower meadow . . . It will be fascinating to see what the next installment brings." ―The Observer (London)
"Thrums with nervous energy . . . Slimani excels at evoking this time and place. Readers will end the first volume of the trilogy with high expectations for the next." ―The Economist
"A thought-provoking, touching story." ―Town & Country
"Slimani has never shied away from complicated aspects of human nature. . . . A story about the complexities of interracial marriage in the 1940s, womanhood in an intensely patriarchal society, and the Moroccan struggle for independence from French colonial rule." ―The Cut
"A portrait of both a country and a family trying to establish their identities in the midst of immense turmoil." ―NPR's Code Switch
"Slimani is a doggedly unsentimental writer. . . . Even with its brutality, I felt compelled to keep reading and eagerly await the next book." —Tomi Obaro, BuzzFeed
"A strikingly fresh and vivid novel, free of the stale affectation that permeates lesser historical fiction . . . [A] gripping novel whose personal struggles mirror those of Morocco's fight for independence." ―Observer (New York)
"An unabashedly feminist novel of outsiders . . . Parallels with Paul Scott's famed Raj Quartet are evident, as the personal and political journeys are inextricably intertwined. . . . Emotionally sat­isfying." ―BookPage, starred review
"[Slimani has] a genius for empathy, an ability to translate experiences, and an understanding of what's important to leave in and what's crucial to leave out. . . . Asking what it means to exist between cultures, and how we negotiate the ever-shifting complexities of privilege and identity, [In the Country of Others] acknowledges that such questions are as far from abstract as imaginable, and as intimate as the marriage bed." ―The Millions
"The beautiful, evocative writing draws you in . . . and keeps you there until the last page." ―Daily Express
"Powerful . . . Slimani creates an immersive and stunningly realized fictional world and ratchets up the tension as the novel moves toward its climax." ―The Scotsman
"A multi-layered, nuanced book, with moments of humor and a lot to empathize with. I look forward to the next instalment." ―Susannah Butter, Evening Standard
"The novel's brilliance is in its unconventional portrayal of its characters' contradictions, restlessness, uneasy alliances . . . Striking." ―The Tablet (London)
"[A] sharp and nuanced critique of patriarchy . . . A novel of the heart concerning race and the struggle for personal and sexual freedom." ―Literary Review
"A marked departure . . . Beautiful." ―Daily Mirror
"Powerful and moving." ―Press Association
"The prose is so descriptive I can almost feel the scratch of the sand on my face. . . . An interesting and revealing book written with skill." ―Sheila Grant, NB magazine
"Highly enjoyable, and dazzlingly fresh." ―iNews
"The world of this novel―Morocco after World War II, leading up to the revolt against French colonialism―is beautifully created. Personal life, social life, everyday life spring vividly from the page, and we feel deeply for the family caught in the middle of the conflict of history. An exceptional, powerful novel from this justly celebrated writer." ―Salman Rushdie
"Leila Slimani is a wonderful writer, and this gorgeous novel brings vibrantly to life the vanished world of 1950s Morocco, in a narrative at once richly layered and deceptively simple. I loved it and didn't want it to end." ―Claire Messud
"A powerful and compelling family saga—about women and subjugation, otherness and belonging, and the often conflicting loyalty to both family and country—written with a deftness that has come to define Leila Slimani's writing. It will no doubt resonate in the reader's mind long after the final sentence is read." ―Christine Mangan, bestselling author of Tangerine and Palace of the Drowned
"Dazzling―ambitious, stylish, deeply evocative, and with such clever and intimate characterization. A terrific achievement." ―Emma Stonex, bestselling author of The Lamplighters
"An affecting tale of evolution and revolution . . . Slimani's visceral prose never fails." ―Kirkus Reviews
Acclaim from France
"A powerful family saga." ―Le Parisien
"Captivating and often very moving." ―Elle (France)
"Who better than Slimani to write a great contemporary novel from the perspective of both sides of the Mediterranean, a double heritage, that of the horrors of colonization and that of the pains of decolonization?" ―Vanity Fair (France)
"A magnificent novel." ―La Presse
"Written with breadth and a great power of evocation." ―Libération
"A magnificent portrait of a woman . . . The writing is light, playful, funny. . . . Superb." ―Atlantico
"A great family saga." ―L'Obs
"A virtuoso story . . . The great decolonization novel we expected . . . Sensual, radiant, violent . . . [It] captivates us, makes us feel, touch, experience what a people, what a family could feel. The author shows a new mastery." ―Les Inrockuptibles
"Fascinating . . . Slimani is like a filmmaker who knows how to place her camera to capture emotions close-up and action with wide angles." ―Jeune Afrique
"Fluid and fiery . . . Rich in humanity . . . [A] fascinating family saga . . . From the first words, we are swept up in an atmosphere where all the emotions seem palpable. . . . Slimani is a wonderful storyteller." ―Profession Spectacle
"Very inspired . . . [A] great fresco that mixes intimate tragedies and historical upheavals . . . Slimani is not done surprising us." ―France Info
Acclaim for Leila Slimani
"Slimani writes devastatingly perceptive character studies." ―Marilyn Stasio, The New York Times Book Review
"Like Jenny Offill, Slimani can write ravishingly of female bodies." ―Lauren Collins, The New Yorker
"Slimani is an astute observer of power politics in the home." ―John Freeman, The Boston Globe
"A gifted stylist, Slimani can pack a sneaky wallop when she wants." ―The Philadelphia Inquirer
"Slimani is a fearless writer who pulls back the curtain to show what secretly thrills and terrifies women." ―Evening Standard
"[Slimani] writes with a cool detachment and unflinching emotional honesty that takes your breath away." ―Vogue (U.K.)
"[Slimani] is now the archetype of a certain international image of a female French author: talented, open-minded, and politically engaged." ―Vanity Fair (France), "The 50 Most Influential French People in the World"