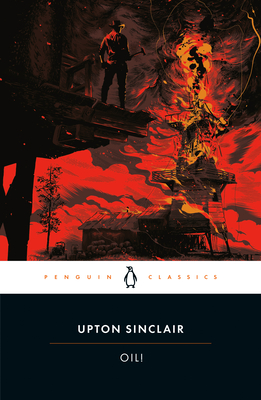 Oil!
Publication Date:
April 18th, 2023
Publisher:
Penguin Classics
Charter Books
On hand, as of Nov 30 3:37am
(Fiction - General)
On Our Shelves Now
Description
Upton Sinclair's searing indictment of fossil fuels that predicts our current warming planet while imagining a greener and more inclusive future
A Penguin Classic
Perhaps most well-known today as the inspiration for Paul Thomas Anderson's film There Will Be Blood, Upton Sinclair's novel Oil! burst into the literary limelight amid soaring petroleum profits and gaping inequalities in 1927. By turns an ardent family saga, scintillating potboiler, and anti-capitalist tirade, Oil! ranks among the most important critiques of fossil energy ever printed; and while anticipating how fossil fuels have shaped the dilemmas of our present, it also looks toward a greener, more inclusive, and altogether more livable world yet to come. This edition features a contextual introduction by Michael Tondre that illuminates the novel's urgent timeliness in our warming world.
About the Author
Upton Sinclair (1878-1968) was born in Baltimore. At age fifteen, he began writing a series of dime novels in order to pay for his education at the City College of New York. He was later accepted to do graduate work at Columbia, and while there he published a number of novels, including The Journal of Arthur Stirling (1903) and Manassas (1904). Sinclair's breakthrough came in 1906 with the publication of The Jungle, a scathing indictment of the Chicago meat-packing industry. His later works include World's End (1940), Dragon's Teeth (1942), which won him a Pulitzer Prize, O Shepherd, Speak! (1949) and Another Pamela (1950).
Michael Tondre (introduction) is an Associate Professor at Stony Brook University and author of two books: The Physics of Possibility: Victorian Fiction, Science, and Gender (2018), and Oil (forthcoming). His writing has also appeared in journals such as PMLA, ELH, Victorian Studies, Victorian Literature and Culture, and Nineteenth-Century Literature, and has recently received the 2018 Schachterle Essay Prize (from the Society for Literature, Science, and the Arts) and the 2019 Nineteenth-Century Studies Association Article Prize.
Praise for Oil!
"A classic tale of greed and corruption"—Eric Schlosser, author of Fast Food Nation
"[Oil! is] probably his second best book and certainly his most readable."—The New Yorker
"Anderson's film is a true American saga—one that rivals Giant and Citizen Kane in our popular lore as origin stories about how we came to be the people we are… Daniel Day-Lewis is at his brilliant best as the story's Daniel Plainview, a man whose humanity diminishes as his fortunes increase."—Variety