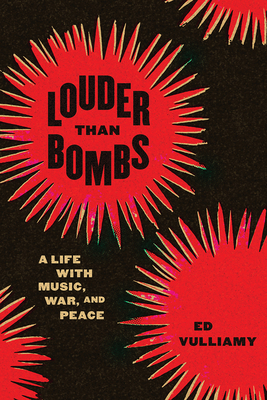 Louder Than Bombs: A Life with Music, War, and Peace
Publication Date:
September 1st, 2020
Publisher:
University of Chicago Press
Charter Books
On hand, as of Dec 2 2:07am
(Music)
On Our Shelves Now
Description
Part memoir, part reportage, Louder Than Bombs is a story of music from the front lines. Ed Vulliamy, a decorated war correspondent and journalist, offers a testimony of his lifelong passion for music. Vulliamy's reporting has taken him around the world to cover the Bosnian war, the fall of the Berlin Wall and collapse of Communism, the Iraq wars of 1991 and 2003 onward, narco violence in Mexico, and more, places where he confronted stories of violence, suffering, and injustice. Through it all, Vulliamy has turned to music not only as a reprieve but also as a means to understand and express the complicated emotions that follow.
Describing the artists, songs, and concerts that most influenced him, Vulliamy brings together the two largest threads of his life—music and war. Louder Than Bombs covers some of the most important musical milestones of the past fifty years, from Jimi Hendrix playing "Machine Gun" at the Isle of Wight Festival in 1970 to the Bataclan in Paris under siege in 2015. Vulliamy was present for many of these historic moments, and with him as our guide, we see them afresh, along the way meeting musicians like B. B. King, Graham Nash, Patti Smith, Daniel Barenboim, Gustavo Dudamel, and Bob Dylan. Vulliamy peppers the book with short vignettes—which he dubs 7" singles—recounting some of his happiest memories from a lifetime with music. Whether he's working as an extra in the Vienna State Opera's production of Aida, buying blues records in Chicago, or drinking coffee with Joan Baez, music is never far from his mind. As Vulliamy discovers, when horror is unspeakable, when words seem to fail us, we can turn to music for expression and comfort, or for rage and pain. Poignant and sensitively told, Louder Than Bombs is an unforgettable record of a life bursting with music.
Praise for Louder Than Bombs: A Life with Music, War, and Peace
"The ultra-textured, extra-personal narrative [Vulliamy] weaves together, dual parts memoir and reportage, is a series of resoundingly deep and intellectual observations from a writer and music lover's front-row seat to much of history. . . . Louder Than Bombs is a hefty read with loads of historical and cultural detail, geographical data, and stunning portraits of people experiencing life-affirming or life-changing events. As a guide, I can't think of anyone better than Vulliamy to lead us across the joyous wastelands of war, peace, and music."
— Scott Elingburg
"With a reporter's keen eye for detail and a memoirist's rich depth of experience, war correspondent Vulliamy asks: How can people play music through the worst calamities? Sourcing an encyclopedic knowledge of, and lifelong passion for, music, the author explores a range of examples. . . . This intriguing, at times poignant, contemplation will resonate with music fans of all stripes."
— Library Journal
"An impressively rich affair. . . . [Louder than Bombs] is not only a testament to a life-long love of music, it also represents an indefatigable act of reportage into it."
— Financial Times
"A lovingly sculpted monument to the songs and sounds that made sense, even—especially—when nothing else did."
— New Humanist
"Vulliamy conveys the sense that music is a deeply essential part of being human. . . . This book is an ambitious exploration of the soundtrack of Vulliamy's eventful life and how much music inspired him to keep asking, 'what is going on?'"
— Irish Times
"Vulliamy is one of the finest British journalists of his generation, and this thought-provoking book should captivate anyone who is interested in the meaning of music—how it sounds and feels, how it inspires, soothes and nurtures, and the vital role it has played socially and politically."
— Matthew Collin, author of Rave On, Pop Grenade, and Altered State