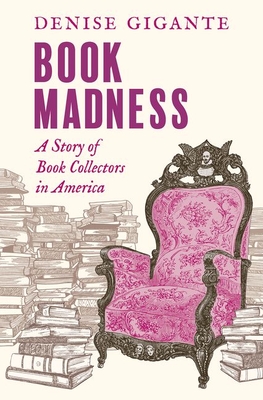 Book Madness: A Story of Book Collectors in America
Publication Date:
November 1st, 2022
Publisher:
Yale University Press
Charter Books
On hand, as of Dec 2 2:07am
(Literary Criticism)
On Our Shelves Now
Description
The fascinating history of American bookishness as told through the sale of Charles Lamb's library in 1848
 
Charles Lamb's library—a heap of sixty scruffy old books singed with smoke, soaked with gin, sprinkled with crumbs, stripped of illustrations, and bescribbled by the essayist and his literary friends—caused a sensation when it was sold in New York in 1848. The transatlantic book world watched as the relics of a man revered as the patron saint of book collectors were dispersed.
 
Following those books through the stories of the bibliophiles who shaped intellectual life in America—booksellers, publishers, journalists, editors, bibliographers, librarians, actors, antiquarians, philanthropists, politicians, poets, clergymen—Denise Gigante brings to life a lost world of letters at a time when Americans were busy assembling the country's major public, university, and society libraries. A human tale of loss, obsession, and spiritual survival, this book reveals the magical power books can have to bring people together and will be an absorbing read for anyone interested in what makes a book special.
Praise for Book Madness: A Story of Book Collectors in America
"Gigante engages in an ambitious expedition in setting these books and their collectors in their rightful contexts."—Michael Caines, Times Literary Supplement
"In its complicated mixture of bookishness, scholarship and anecdotes (many funny), Book Madness goes a long way towards illuminating a previously unexplored era of America's cultural history."—Charles Elliot, Literary Review
"A detailed study of the ways in which tattered texts won the passionate attention of American collectors and taught them new lessons about the hunt for old books."—Anthony Grafton, London Review of Books
"However symptomatic it might feel, the impulse to own Book Madness will offer any library more than mere stage dressing."—Nicholas D. Nace, Modern Philology
"Noted Romanticist Denise Gigante uses the sale of Charles Lamb's library as a hook on which to hang larger questions: What did English books signify for collectors on the other side of the Atlantic? How did public libraries and university libraries draw on, and differentiate themselves from, gentlemen's private collections? And most timely of all in the age of the ebook and the audiobook, what attaches us to particular copies of books rather than, or in addition to, the words that they contain?"—Leah Price, author of What We Talk About When We Talk About Books
"Absorbing and brilliant. A remarkable piece of book history and a vividly entertaining portrait of a cast of characters to whom books were, in Gigante's words, 'a real way of life.'"—Seamus Perry, University of Oxford
"In this fascinating, original, and elegantly written book, Denise Gigante traces the stories of Charles Lamb's books and how they caused a sensation in America, creating the strange book madness of America's nineteenth-century bibliomaniacs."—Nicholas Roe, University of St. Andrews, Scotland
"This book is a complete delight. In Denise Gigante's most capable hands, the sale of Charles Lamb's library is the starting point for a dizzying, enlightening, and often hilarious journey into a lost world of bibliomaniacs."—Sir Jonathan Bate, Arizona State University
"Beautifully written and compelling, this narrative experiment in book history, with its varied cast of old books and book lovers, brings bibliography and typography and the thrill of the book auction to life."—Felicity James, University of Leicester