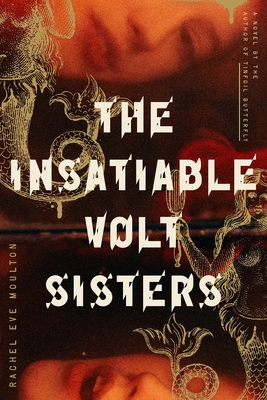 The Insatiable Volt Sisters: A Novel
Publication Date:
April 4th, 2023
Publisher:
MCD x FSG Originals
In Stock at Warehouse - Usually Arrives in 3-7 Days
Description
"Weird and exhilarating and funny and sad and disturbing and scary and poignant and righteous." —Paul Tremblay, author of The Pallbearers Club
"Pure nightmare fuel." —Gus Moreno, author of This Thing Between Us
It's the summer of 1989 and Beatrice and Henrietta Volt are coming of age on remote Fowler Island, their ancestral home and wild playground. Thicker than thieves, the sisters plot their futures, having no idea that their parents are separating. Or that the plan is to separate them.
Ten years pass before Henrie gets a desperate call from her sister—their father has died suddenly and B.B. needs her to come back to the island for the funeral. But Henrie doesn't want to go back. She's barely put the island and all those rumors about missing women behind her. And isn't it odd that she remembers nothing at all about the night she left? And why is she suddenly filled with fear about the quarry pond behind the house?
Told from the perspectives of four flawed, fascinating women, The Insatiable Volt Sisters is a lush, enthralling fable about monsters real and imagined. From the unbounded imagination of Rachel Eve Moulton, the critically acclaimed author of Tinfoil Butterfly, comes another eerie, terrifying exploration of family and legacy: Will the Volt sisters inherit the horrors of their past or surpass them?
Praise for The Insatiable Volt Sisters: A Novel
"[An] electrifying horror story."
—Ayesha Rascoe, NPR Weekend Edition
"Readers will be hooked by the place and its dark history. As details are slowly unveiled, this weird tale morphs from unsettling to terrifying until a monstrous explosion erupts from its core, propelling the story to its satisfying finish. A timely, haunting fable about women fighting back and uniting to defeat their demons, this is a perfect suggestion for fans of Rachel Harrison, Gwendolyn Kiste, and Lucy Snyder."
—Becky Spratford, Booklist
"[A] complex updating of many beloved Gothic tropes."
—James Grainger, Toronto Star
"This vivid and masterful domestic horror novel from Moulton... expertly balances hope and dread as the tension builds to a fever pitch. Readers will be hooked."
—Publisher's Weekly (starred review)
"This book has all the elements you could want in a thriller—missing women, a mysterious mansion, monsters, ghosts, and, at its center, a pair of sisters as unsettling as the Blackwoods of Shirley Jackson's We Have Always Lived in the Castle... an engrossing tale."
—Kirkus
"A ferociously reimagined fairy tale of cursed birthrights, guarded family history, and the lure of a mythic, monstrous place called home. The voices of the Volt sisters and every woman who forms the furious heart of this story gleam on the page, creating something deeply exhilarating and terrifyingly close to true."
—Nova Ren Suma, New York Times bestselling author of The Walls Around Us
"Rachel Eve Moulton's The Insatiable Volt Sisters is an irresistible, storm-drenched thriller about family, power, and the secrets we all keep. I savored my time on Fowler Island, and was sorry to leave."
—Shaun Hamill, author of A Cosmology of Monsters
"A wistful, viscerally eerie modern fable about sisterhood, family secrets, and the horrors we inherit. Every page drips with beauty and dread. Masterfully written and absolutely mesmerizing."
—Rachel Harrison, author of Such Sharp Teeth
"Shirley Jackson meets H.P. Lovecraft in this deliciously dark gothic, a chilling blend of family drama, murder mystery and all-out horror that somehow keeps its feet firmly on the ground while reaching for dimensions unknown."
—Scott Thomas author of Violet
"The Insatiable Volt Sisters is weird and exhilarating and funny and sad and disturbing and scary and poignant and righteous, and I could go on, but you should just open the book and follow B.B. and Henrie on an unforgettable tour of their island."
—Paul Tremblay, author of The Pallbearers Club
"Reading Rachel Eve Moulton is akin to discovering some unclassifiable creature washed up on the shore, equal parts wholly original and completely terrifying. Imagine House of Leaves lensed by Jane Campion, We Have Always Lived in The Castle as a concept album by Sleater-Kinney, or even the gothic writings of Michael McDowell as manifested by Milicent Patrick. However you categorize it, The Insatiable Volt Sisters is an evolutionary leap for modern horror."
—Clay McLeod Chapman, author of Whisper Down the Lane
"On Fowler Island, time moves like water—memories crash into the present, secrets float to the surface, and lurking in its depths is a creature that feeds on more than just flesh. The Insatiable Volt Sisters is a deeply emotional novel about how the past is never through with us, delivering its horror in such a casual way that I could never brace myself before it was too late. And I will never forgive Moulton for the scene in the father's study. Pure nightmare fuel."
—Gus Moreno, author of This Thing Between Us
"With The Insatiable Volt Sisters, Rachel Eve Moulton spins a horror-soaked gothic fable about the monstrous power that women carry inside themselves. From the first page, I was absorbed in the mysteries of Fowler Island, desperate to uncover the truth alongside the dauntless Volt sisters. Both a page-turner and a contemporary fairytale about the world's appetite for women's pain, this story has wound its way into my bones."
—Sara Flannery Murphy, author of Girl One