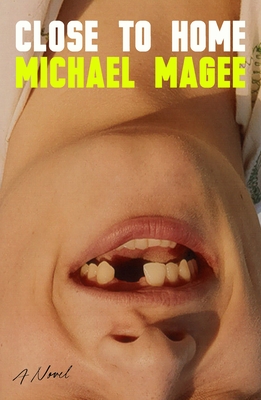 Close to Home: A Novel
Publication Date:
May 16th, 2023
Publisher:
Farrar, Straus and Giroux
Charter Books
On hand, as of Dec 6 12:52am
(Fiction - General)
On Our Shelves Now
Description
While growing up in West Belfast, Sean does every­thing he's supposed to do. He works hard, he studies, and he - mostly - stays out of trouble. The thirty-year conflict is over, he's told, and his future is lit with promise.
But when Sean returns home from university, he finds much of the same-the same friends doing the same gear in the same clubs; the same lost broth­ers and mad fathers; the same closed doors; the same silences. There are no jobs, Sean's degree isn't worth the paper it's written on, and no one will give him the time of day. One night, he assaults a stranger at a party, and everything begins to come undone.
Close to Home begins with this sudden act of violence and expands into a startling portrait of working-class Ireland under the long shadow of the Troubles. It's a first novel drawn from life, written with the immediacy of thought. It's about what happens when men get desperate, about the cycles of loss and trauma and secrecy that keep them trapped, and about the struggle to get free.
Praise for Close to Home: A Novel
"Though the voice is decidedly Irish, the message of Michael Magee's dead-on debut novel is universal. At its core, Close to Home is about finding a way to transcend the pain, the people and the place you're born into . . . Magee's yarn unspools like a story told over a couple of pints. The result is an intimate, dizzying onslaught that highlights the contrast between fear and joy, love and hate."
—Eli Cranor, The New York Times Book Review
"Like [Sally] Rooney, Magee explores the world of a literary-minded 20-something navigating the distinctions of class in an affecting story of self-discovery. But his voice is wholly his own: unflinching, direct, disarmingly sensitive and informed by his own experiences . . . Suffusing his narrative with honesty and grace, Magee succeeds in bringing his neighborhood to life for readers and suggests that amid what seems like a never ending struggle, there is always room for hope."
—Michael Patrick Brady, The Washington Post
"An exceptional debut destined for novel of the year shortlists."
—Martin Doyle, Irish Times
"A complex and compassionate portrait of modern Belfast by an impressive new talent."
—James Conor Paterson, The TLS
"A lyrical examination of masculinity, class, and poverty . . . [Magee's prose] sings with the tenderness of a writer beyond his years."
—Electric Literature (Most Anticipated)
"A consummate and searching bildungsroman of a young Belfast man trying to square his future with a painful heritage . . . Magee demonstrates profound psychological acuity and a keen sense of place, showing how Belfast has shaped his characters and how the past is etched into the streets . . . Readers won't want this to end."
—Publishers Weekly (starred review)
"A poignant exploration of masculinity amid the latterday wreckage of the Troubles."
—Anthony Cummins, The Guardian (Best New Novelists of 2023)
"[Close to Home] marr[ies] the thematic unsentimentality of the French author Edouard Louis with prose reminiscent of Irvine Welsh . . . A convincing, nuanced debut."
—Luke Ward, Sunday Independent
"A young man in Northern Ireland sees little hope of escape from hard times in this persuasive debut . . . Magee's is a dark tale but rather understated when compared with the extreme sorts of dead-enders found in Rob Doyle's Here Are the Young Men (set in Dublin) and Gabriel Krauze's Who They Was (in London) . . . An impressive coming-of-age tale."
—Kirkus (starred review)
"The best debut I've read in years - a tender examination of class, masculinity and place."
—Nicole Flattery, author of Show Them A Good Time
"Close To Home announces an exciting new voice - at once open and wary, tender and unyielding - and sharply alive to the pains and discoveries and mysteries of youth."
—Colin Barrett, author of Homesickness
"Close to Home does for Belfast what Shuggie Bain did for Glasgow. Its portrayal of a particular kind of masculinity - self-destructive and romantic by turns - is unsparing, funny and desperately sad. Keep an eye on Michael Magee; he's the real deal."
—Patrick Gale, author of A Place Called Winter
"A vision of a post-conflict Belfast that didn't deliver what it promised, blighted by poverty, pain and memory. But far from being bleak, I laughed out loud many times. And it is full of love. Each character is so vividly drawn that I felt like I had met them somewhere before; even the most flawed of them is treated with dignity and respect, and an absence of judgment that reminded me of Annie Ernaux. And the writing! Supple, rich and demotic - Kneecap meets Chekhov - no one else is doing this. I had great hopes for this novel and Michael Magee has booted it out of the park. Absolutely glorious."
—Louise Kennedy, author of Trespasses
"Beautifully observed and sharp as a knife tip - as real and as raw as the truths you tell on a comedown, in the early hours, in the darkness of some stranger's house. Deeply affecting and badly needed, this is a novel I will be thinking about for a long time."
—Lisa McInerney, author of The Glorious Heresies
"Wonderful. A debut overflowing with years of experience and carefully worked craft. By turns hard-edged and soft-hearted, this novel is a gift from Michael Magee to us all."
—Jon McGregor, author of Reservoir 13
"Michael Magee's first novel is superb. An emotionally true, keenly observed book that goes deep into the troubled territory of home, family and friendship, returning with a message of love."
—David Hayden, author of Darker with The Lights On
"As beautiful as it is brilliant. Reading Close to Home is like crossing a frontier into a new and thrilling territory."
—Glenn Patterson, author of The International
"Ringing out clear and true as a bell, it gleams with tenderness and perception. There are few narrators so unassuming and unaffected, yet so full of sharp intelligence."
—Wendy Erskine, author of Dance Move
"A sharp and humane novel about a young man, and a city, caught in the painful throes of reimagining themselves. It rings with authenticity, and the wisdom of hard-won observation and experience - a hymn to the ways in which art can be a lifeline and an escape. Michael Magee's debut is an important addition to the burgeoning new canon of Belfast literature."
—Lucy Caldwell, author of These Days