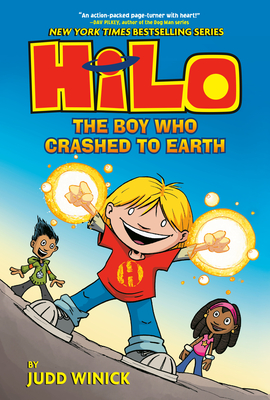 Hilo Book 1: The Boy Who Crashed to Earth: (A Graphic Novel)
Publication Date:
September 1st, 2015
Publisher:
Random House Graphic
In Stock at Warehouse - Usually Arrives in 3-7 Days
Description
"An action-packed page turner with heart!"—Dav Pilkey, author of DOG MAN
Take off on an action packed adventure with HILO Book 1! Dog Man meets Big Nate in this hilarious New York Times bestselling graphic novel series that kids love!
BOOM! CLANG! CRASH! D.J. and Gina are totally ordinary kids. But Hilo isn't! Hilo just fell out of the sky and doesn't know where he came from, or what he's doing on Earth. (Or why going to school in only your underwear is a BAD idea!) . . . But UH-OH, what if Hilo wasn't the only thing to fall to our planet? Can the trio unlock the secrets of Hilo's past? Can Hilo survive a day at school? Find out in HILO-a laugh-out-loud, epic story of friendship! Adventure! (And the occasionaly mutant space robot).
 
Here's what people (and robots!) are saying about Hilo!
"More giant robotic ants and people going 'Aaaah!' than in the complete works of Jane Austen"—Neil Gaiman, bestselling author
"Every kid would love a pal like HILO, and every kid will love this book!" —Lincoln Peirce, bestselling author of the Big Nate series
"A perfect book for any kid who ever needed a friend and then had one with superpowers fall from space." —Seth Meyers, actor, comedian and writer
"A story that can be enjoyed by the entire family."—The New York Times
"A Total BLAST." —Miami Herald

* "A wholeheartedly weird and wonderful tale of friendship, acceptance, and robots."—Kirkus Reviews, Starred Review

* "A must-have."—School Library Journal, Starred Review

* "A must-have."—School Library Journal, Starred Review
"A story that can be enjoyed by the entire family."—The New York Times
"My students are obsessed with this series. OBSESSED!"—Colby Sharp, teacher, blogger, and co-founder of Nerdy Bookclub
Praise for Hilo Book 1: The Boy Who Crashed to Earth: (A Graphic Novel)
Praise for the Series:
* Children's Choice 5th-6th Grade Book of the Year
* Nominated for multiple State Awards—including the Pennsylvania's Young Reader's Choice Award
* A New York Public Library Best Book for Kids
"High energy and HILARIOUS!" —Gene Luen Yang, winner of the Printz and Eisner awards and National Ambassador for Young People's Literature
 
"I LOVE this book. HILO is alive, action-packed . . . and amazing fun." —Brad Meltzer, bestselling author
"HILO is delightful, silly, tender, and most importantly: funny." —Jeff Smith, bestselling author of the Bone series
"Fast paced, FURIOUSLY FUNNY, and will have kids waiting on the edge of their seats for more."—Jeffrey Brown, bestselling author of Jedi Academy
"HILO is loads of slapstick fun with a touch of tenderness that kids will love."--Dan Santat, Caldecott Medal Winner
"Solid. Expect this series to receive the same reverence as Jeff Smith's Bone." —Kirkus Reviews, starred review
"Diverse characters, good friends, and humorous dialogue coupled with colorful illustrations and plenty of action makes this A MUST-HAVE for all children's graphic novel collections." —School Library Journal, starred review
"[A] lively and entertaining ADVENTURE with enough risk to give it heft and plenty of solid friendship to keep readers buoyed… Lush, bright colors and a freewheeling approach to panels create an immersive environment."—Bulletin of the Center for Children's Books, starred review
"My students are obsessed with this series. OBSESSED!"—Colby Sharp, teacher, blogger, and co-founder of Nerdy Bookclub