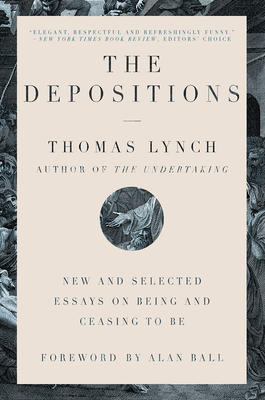 The Depositions: New and Selected Essays on Being and Ceasing to Be
Publication Date:
March 30th, 2021
Publisher:
W. W. Norton & Company
Charter Books
On hand, as of Dec 2 2:07am
(Fiction - Anthologies)
On Our Shelves Now
Description
Foreword by Alan Ball
"Elegant, respectful and refreshingly funny." —New York Times Book Review, Editors' Choice
For nearly four decades, poet, essayist, and small-town funeral director Thomas Lynch has probed relations between the literary and mortuary arts with a signature blend of memoir, meditation, gallows humor, and poetic precision. The Depositions offers a wry and compassionate selection from Lynch's four previous collections of nonfiction, along with new essays shaped by the press of the author's own mortality.
Praise for The Depositions: New and Selected Essays on Being and Ceasing to Be
[Thomas Lynch's] finest, wryest and most stylish essays about the human enterprise of mortality appear together in this collection.… You will be grateful for these graceful essays.
— Scott Simon - New York Times Book Review
[Lynch] writes with grace and moral clarity about the quandaries and perplexities of life, and life's end.… 'It is nearly impossible to overestimate the balm that language can be,' he writes at one point. If we're talking the language of Thomas Lynch, balm is the right word.
— Joanne Kaufman - Wall Street Journal
A wry, poignant collection of [Lynch's] best and newest essays. [The Depositions is] packed with penetrating observations about faith, family, work, art and, yes, death.
— Kevin Canfield - Star Tribune
[Thomas Lynch's prose is] blunt, spare and to the point, humorous, satirical, at times rising to lyrical heights.… Lynch has a sense of humor that takes no prisoners.… He has a genius for unexpected and sometimes shocking shifts in tone and subject, from frankly silly to tender to unbearably horrifying.… Few essayists have dug into these stony fields and come up with more treasures than this remarkable writer.
— Richard Tillinghast - Hudson Review
[Lynch's] crowning collection. If you are familiar with Lynch's essays already, you will enjoy rereading those unforgettable first lines from The Undertaking.… This is memento mori and more.
— Jon M. Sweeney - America
These candid, eloquent, and often humorous essays examine the funeral industry and signify in fresh ways the connection between the living and dying.… Lynch reminds us to accept the frailties of life and the mystery of death.
— Booklist
This is vintage Lynch.… Witty and wise, wry and humorous.… Thoughtfully crafted musings about life and death.
— Kirkus Reviews
[Lynch's] powerful and meditative writings question our shared mortality, celebrate our finite lives and draw wonder at the possibilities beyond the world we know.… A contemplative and emotional portrait of life and death.
— Jenni Herrick - Shepherd Express
When asked if writing about the dead affected her view of life, an obituary writer said, 'Yes, I divide everyone into two groups: the dead and the pre-dead.' We of the latter group should be grateful to Thomas Lynch for writing about both with equal facility. His essays gathered here offer the pleasure of observing his curious mind dancing to the tune of his lively prose.
— Billy Collins
Thomas Lynch is one of my favorite living essayists. His mordant humor and openness to grace and mystery are a tonic. I can think of nothing better than to have in one book this collection of his dazzling former essays, plus the dynamite new ones.
— Phillip Lopate