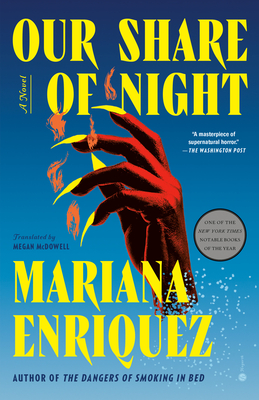 Our Share of Night: A Novel
Publication Date:
September 12th, 2023
Charter Books
On hand, as of Nov 30 3:37am
(Horror)
On Our Shelves Now
A vibrantly translated epic of family and mystery, friendship and sexual awakenings, history and monsters, full of images I won't forget: golden nails on a clawed hand, a boy watching two men embrace, and the scariest door-close ever.
February 2023 Indie Next List
Description
"A masterpiece of supernatural horror."—The Washington Post
"An enchanting, shattering, once-in-a-lifetime reading experience."—The New York Times (Editors' Choice)
GOOD MORNING AMERICA BUZZ PICK • A woman's mysterious death puts her husband and son on a collision course with her demonic family in the first novel to be translated into English by the International Booker Prize–shortlisted author of The Dangers of Smoking in Bed—"the most exciting discovery I've made in fiction for some time" (Kazuo Ishiguro).
A BEST BOOK OF THE YEAR: The New York Times Book Review, Time, NPR, The Washington Post, Publishers Weekly, BookPage, Book Riot, PopSugar, The New York Public Library, Chicago Public Library
"A magnificent accomplishment."—Alan Moore, author of Watchmen
"A masterpiece of literary horror."—Publishers Weekly, starred review
"One of Latin America's most exciting authors."—Silvia Moreno-Garcia
A young father and son set out on a road trip, devastated by the death of the wife and mother they both loved. United in grief, the pair travel to her ancestral home, where they must confront the terrifying legacy she has bequeathed: a family called the Order that commits unspeakable acts in search of immortality.
For Gaspar, the son, this maniacal cult is his destiny. As the Order tries to pull him into their evil, he and his father take flight, attempting to outrun a powerful clan that will do anything to ensure its own survival. But how far will Gaspar's father go to protect his child? And can anyone escape their fate?
Moving back and forth in time, from London in the swinging 1960s to the brutal years of Argentina's military dictatorship and its turbulent aftermath, Our Share of Night is a novel like no other: a family story, a ghost story, a story of the occult and the supernatural, a book about the complexities of love and longing with queer subplots and themes. This is the masterwork of one of Latin America's most original novelists, "a mesmerizing writer," says Dave Eggers, "who demands to be read."
Praise for Our Share of Night: A Novel
"A literary achievement, gorgeous and exacting in its execution . . . Our Share of Night is not only a bloody valentine to the bonds between parent and child, but also an inspired evisceration of how the powerful prey on the powerless . . ."—The Washington Post
"Reads like a Stephen King coming-of-age adventure transplanted to the streets of Buenos Aires."—The Guardian
"An ailing medium who can connect with the dead tries to protect his son from an insatiable darkness. . . . Monumental."—The New York Times
"A dark vampiric noir that heralds a new era in South American horror."—Literary Hub

​"A legendary Latine horror reminiscent of The Shining."—BuzzFeed
"[A] stirring, speculative epic . . ."—Oprah Daily
"With this [novel], Enriquez has added an indelible and terrifying corner to our reality."—Bookforum
"A sprawling epic of gore and sex and sacrifice, spanning multiple continents and decades, about the inhumanity of power and the fundamental unholiness of wealth, and the profound pains of love in a loveless universe."—Electric Literature
"Wicked, wise, and stuffed with supernatural intrigue, Our Share of Night is a mighty feat of creative prowess."—Elle
"Horror's found its master. An extraordinary, mesmerizing novel."—Joy Williams
"A haunting generational horror story."—Silvia Moreno-Garcia
"With realism in its magic and magic in its realism, this is a magnificent accomplishment."—Alan Moore, author of Watchmen and V for Vendetta

"Set against the backdrop of Argentina's Dirty War, this brilliant novel centers on an ancient evil exploited by a cabal of uberwealthy families who will stop at nothing to maintain their power."—Elizabeth Hand, author of A Haunting on the Hill
"Reader, beware! Our Share of Night is a novel so disquieting, so unsettling that I could neither put it down nor read it late at night . . . [this] novel is going to haunt me for the rest of my life."—Kelly Link, author of White Cat, Black Dog
"A singular, soul-rattling novel . . . I'll never forget my time in Enriquez's mesmerizing world."—Jessamine Chan, New York Times bestselling author of The School for Good Mothers
"Towering, electric, wild—this novel is a masterpiece and a true original."—Laura van den Berg, bestselling author of The Third Hotel
"One of the best novels of the twenty-first century . . ."—Paul Tremblay, bestselling author of A Head Full of Ghosts
"Enriquez is a visionary. She conjures a brutal, voluptuous world where nothing is as it appears. I'm still looking over my shoulder."—Jennifer Haigh, bestselling author of Mercy Street
"Enriquez is a masterful world-builder . . . this engrossing mixture of supernatural horror and intimate storytelling will leave an indelible but instructive mark on readers."—Sergio de la Pava, author of A Naked Singularity, winner of the PEN/Robert W. Bingham Prize
"A staggering accomplishment. Mariana Enriquez has written the novel that other novels will be compared to."—John Langan, author of The Fisherman, winner of the Bram Stoker Award