Staff Pick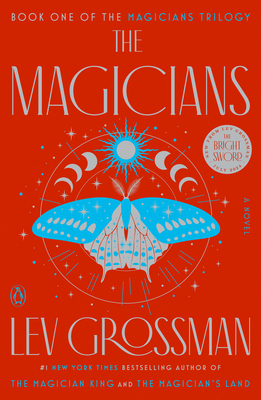 The Magicians: A Novel (Magicians Trilogy #1)
Publication Date:
May 25th, 2010
Charter Books
On hand, as of Dec 6 12:52am
(Sci-Fi / Fantasy)
On Our Shelves Now
Staff Reviews
Like Harry Potter but with sex, drugs, and rock 'n roll.
Living a mundane life, Quentin Coldwater is admitted to the prestigious University of Breakbills, a place for young men and women to hone their magic. To find his happy ending, "Q" meets a group of student magicians, must fight a beast that has taken over his beloved Filory (like Narnia but dysfunctional), and in doing so finds his inner strength and calling.
— Joe
The Magicians is a darker, more adult take on the idea of a secret academy that trains would-be wizards. Lev Grossman explores the realms of magic, alternate realities, and wish fulfillment as visited by less-than-heroic characters. Raising the question of what would you do if you could do whatever you wanted, The Magicians is thrilling and deliciously disturbing.
August 2009 Indie Next List
Description
Lev Grossman's new novel THE BRIGHT SWORD will be on sale July 2024
The New York Times bestselling novel about a young man practicing magic in the real world, now an original series on SYFY
"The Magicians is to Harry Potter as a shot of Irish whiskey is to a glass of weak tea. . . . Hogwarts was never like this."
—George R.R. Martin
 
"Sad, hilarious, beautiful, and essential to anyone who cares about modern fantasy."
—Joe Hill
 
"A very knowing and wonderful take on the wizard school genre."
—John Green
 
"The Magicians may just be the most subversive, gripping and enchanting fantasy novel I've read this century."
—Cory Doctorow
"This gripping novel draws on the conventions of contemporary and classic fantasy novels in order to upend them . . . an unexpectedly moving coming-of-age story."
—The New Yorker
"The best urban fantasy in years."
—A.V. Club
Quentin Coldwater is brilliant but miserable. A high school math genius, he's secretly fascinated with a series of children's fantasy novels set in a magical land called Fillory, and real life is disappointing by comparison. When Quentin is unexpectedly admitted to an elite, secret college of magic, it looks like his wildest dreams have come true. But his newfound powers lead him down a rabbit hole of hedonism and disillusionment, and ultimately to the dark secret behind the story of Fillory. The land of his childhood fantasies turns out to be much darker and more dangerous than he ever could have imagined. . . .
The prequel to the New York Times bestselling book The Magician King and the #1 bestseller The Magician's Land, The Magicians is one of the most daring and inventive works of literary fantasy in years. No one who has escaped into the worlds of Narnia and Harry Potter should miss this breathtaking return to the landscape of the imagination.
Praise for The Magicians: A Novel (Magicians Trilogy #1)
"The Magicians is to Harry Potter as a shot of Irish whiskey is to a glass of weak tea. Solidly rooted in the traditions of both fantasy and mainstream literary fiction, the novel tips its hat to Oz and Narnia as well to Harry, but don't mistake this for a children's book. Grossman's sensibilities are thoroughly adult, his narrative dark and dangerous and full of twists.  Hogwarts was never like this."
—George R. R. Martin, bestselling author of A Game of Thrones
 
"This gripping novel draws on the conventions of contemporary and classic fantasy novels in order to upend them, and tell a darkly cunning story about the power of imagination itself. [The Magicians is] an unexpectedly moving coming-of-age story."
—The New Yorker
 
"Sad, hilarious, beautiful, and essential to anyone who cares about modern fantasy."
—Joe Hill, author of Horns and Locke & Key
 
"If you like the Harry Potter books . . . you should also read Lev Grossman's Magicians series, which is a very knowing and wonderful take on the wizard school genre."
—John Green, author of The Fault in Our Stars
 
"Fiercely intelligent."
—William Gibson, author of Neuromancer
 
"Most people will like this book. But there's a certain type of reader who will enjoy it down to the bottoms of their feet."
—Patrick Rothfuss, author of The Name of the Wind
 
"Lev Grossman's novel The Magicians may just be the most subversive, gripping, and enchanting fantasy novel I've read this century. . . . Grossman is a hell of a pacer, and the book rips along, whole seasons tossed out in a single sentence, all the boring mortar ground off the bricks, so that the book comes across as a sheer, seamless face that you can't stop yourself from tumbling down once you launch yourself off the first page. This isn't just an exercise in exploring what we love about fantasy and the lies we tell ourselves about it—it's a shit-kicking, gripping, tightly plotted novel that makes you want to take the afternoon off work to finish it."
—Cory Doctorow, Boing Boing
 
"Fresh and compelling. . . . The Magicians is a great fairy tale, written for grown-ups but appealing to our most basic desires for stories to bring about some re-enchantment with the world, where monsters lurk but where a young man with a little magic may prevail."
—Washington Post
 
"The Magicians is original . . . slyly funny."
—USA Today
 
"Lev Grossman's playful fantasy novel The Magicians pays homage to a variety of sources . . . with such verve and ease that you quickly forget the references and lose yourself in the story."
—O, The Oprah Magazine
 
"The novel manages a literary magic trick: it's both an enchantingly written fantasy and a moving deconstruction of enchantingly realized fantasies."
—Los Angeles Times
 
"Intriguing, coming-of-age fantasy"
—Boston Globe (Pick of the Week)
 
"I felt like I was poppin' peyote buttons with J. K. Rowling when I was reading Lev Grossman's new novel The Magicians. . . . I couldn't put it down."
—Mickey Rapkin, GQ
 
"Sly and lyrical, [The Magicians] captures the magic of childhood and the sobering years beyond."
—Entertainment Weekly

"Through sheer storytelling grace and imaginative power, Lev Grossman [creates] an adventure that's both enthralling and mature."
—Details
 
"Mixing the magic of the most beloved children's fantasy classics (from Narnia and Oz to Harry Potter and Earthsea) with the sex, excess, angst, and anticlimax of life in college and beyond, Lev Grossman's The Magicians reimagines modern-day fantasy for grown-ups. [It] breathes life into a cast of characters you want to know . . . and does what [some] claim books never really manage to do: 'get you out, really out, of where you were and into somewhere better.' Or if not better, at least a heck of a lot more interesting."
—Louisville Courier-Journal
 
"The Magicians by Lev Grossman is a very entertaining book; one of those summer page-turners that you wish went on for another six volumes. Grossman takes a good number of the best childhood fantasy books from the last seventy-five years and distills their ability to fascinate into the fan-boy mind of his protagonist, Quentin Coldwater. . . . There is no doubt that this book is inventive storytelling and Grossman is at the height of his powers."
—Chicago Sun-Times
 
"Entertaining."
—People
 
"An irresistible storytelling momentum makes The Magicians a great summer book, both thoughtful and enchanting."
—Salon.com
 
"Grossman skillfully moves us through four years of school and a postgraduate adventure, never letting the pace slacken . . . beguiling."
—Seattle Times
 
"Stirring, complex, adventurous . . . from the life of Quentin Coldwater, his slacker Park Slope Harry Potter, Lev Grossman delivers superb coming of age fantasy."
—Junot Díaz, Pulitzer Prize­–winning author of The Brief Wondrous Life of Oscar Wao
 
"The Magicians ought to be required reading for anyone who has ever fallen in love with a fantasy series, or wished that they went to a school for wizards. Lev Grossman has written a terrific, at times almost painfully perceptive novel of the fantastic that brings to mind both Jay McInerney and J. K. Rowling."
—Kelly Link, author of Magic for Beginners and Stranger Things Happen
 
"Fantasy fans can't afford to miss the darkly comic and unforgettably queasy experience of reading this book—and be glad for reality."
—Booklist (Starred Review)
 
"This is a book for grown-up fans of children's fantasy and would appeal to those who loved Donna Tartt's The Secret History. Highly recommended."
—Library Journal (Starred Review)
 
"Very dark and very scary, with no simple answers provided—fantasy for grown-ups, in other words, and very satisfying indeed."
—Kirkus Reviews
 
"Anyone who grew up reading about magical wardrobes and unicorns and talking trees before graduating to Less Than Zero and The Secret History and Bright Lights, Big City will immediately feel right at home with this smart, beautifully written book by Lev Grossman.  The Magicians is fantastic, in all senses of the word.  It's strange, fanciful, extravagant, eccentric, and truly remarkable—a great story, masterfully told."
—Scott Smith, bestselling author of The Ruins and A Simple Plan
 
"The Magicians is a spellbinding, fast-moving, dark fantasy book for grownups that feels like an instant classic. I read it in a niffin-blue blaze of page turning, enthralled by Grossman's verbal and imaginative wizardry, his complex characters, and, most of all, his superb, brilliant inquiry into the wondrous, dangerous world of magic."
—Kate Christensen, PEN/Faulkner award winning author of The Great Man and The Epicure's Lament
 
"Remember the last time you ran home to finish a book? This is it, folks. The Magicians is the most dazzling, erudite, and thoughtful fantasy novel to date. You'll be bedazzled by the magic but also brought short by what it has to sayabout the world we live in."
—Gary Shteyngart, author of Absurdistan and The Russian Debutante's Handbook
 
"The Magicians brilliantly explores the hidden underbelly of fantasy and easy magic, taking what's simple on the surface and turning it over to show us the complicated writhing mess beneath. It's like seeing the worlds of Narnia and Harry Potter through a 3-D magnifying glass."
—Naomi Novik, author of His Majesty's Dragon