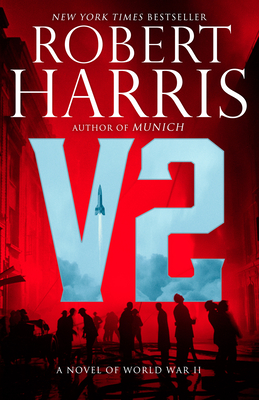 V2: A novel of World War II
Publication Date:
August 3rd, 2021
Charter Books
On hand, as of Nov 30 3:37am
(Mystery & Suspense)
On Our Shelves Now
Description
NEW YORK TIMES BESTSELLER
From the bestselling author of Fatherland and Munich comes a WWII thriller about a German rocket engineer, a former actress turned British spy, and the Nazi rocket program.
The first rocket will take five minutes to hit London. You have six minutes to stop the second.
Rudi Graf is an engineer who always dreamed of sending rockets to the moon. But instead, he finds himself working alongside Wernher von Braun, launching V2 rockets at London for the Nazis from a bleak seaside town in occupied Holland. As the SS increases its scrutiny on the project, Graf, an engineer more than a soldier, has to muster all of his willpower to toe the party line. And when rumors of a defector circulate through the German ranks, Graf becomes a prime suspect. 
Meanwhile, Kay Caton-Walsh, a young English intelligence officer, is living through the turmoil of war. After she and her lover, an RAF officer, are caught in a V2 attack, she volunteers to ship out for newly liberated Belgium. Armed with little more than a slide rule and a few equations, Kay and her colleagues hope to locate and destroy the launch sites. But at this stage in the war it's hard to know who, if anyone, she can trust.
As the death toll soars, these twin stories play out against the background of the German missile campaign during the Second World War. And what the reader comes to understand is that Kay's and Graf's destinies are on a collision course.
Praise for V2: A novel of World War II
"Spies and informers lurk. Period details are piquant. . . . Above all there's suspense. As Graf and Kay plot and counterplot, questions rise and fall like rockets. . . . V2 will keep you pinned on a compelling trajectory."
—The Sunday Times
"Weav[es] a personal thriller on to a major historical tapestry. . . . The joy is in the history as much as the story." 
—The Financial Times
"Engrossing. . . . Harris brings the past to life through vivid characterizations and clever plotting. Fans of superior historical fiction will be rewarded."
—Publishers Weekly

"A veteran historical novelist homes in on one of Hitler's last desperate hopes. . . . [An] enjoyable thriller with plenty of well-researched historical nuggets." 
—Kirkus Reviews
"[An] historical-fiction master. . . . Crosscutting between those launching the rockets and those on the receiving end proves to be a superb narrative device. . . . [This] novel combines fascinating technical detail with a wartime drama that finds human ambiguity on both sides of the battlefield." 
—Booklist