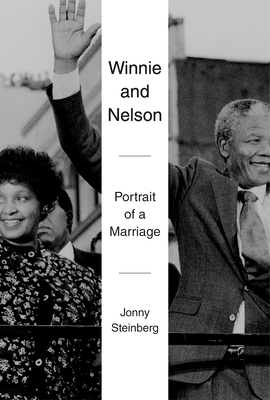 Winnie and Nelson: Portrait of a Marriage
Publication Date:
May 2nd, 2023
Charter Books
On hand, as of Dec 1 1:52am
(Bio/Memoir/Essays)
On Our Shelves Now
Description
A deeply researched, shattering new account of Nelson Mandela's relationship with Winnie Madikizela-Mandela that "does justice both to the couple's political heroism and to the betrayals and the secrets that hounded their union" (The New Yorker).
Drawing on never-before-seen material, Steinberg—one of South Africa's foremost nonfiction writers—reveals the fractures and stubborn bonds at the heart of a volatile and groundbreaking union, a very modern political marriage that played out on the world stage.
"Powerful, intimate." —The Washington Post
One of the most celebrated political leaders of a century, Nelson Mandela has been written about by many biographers and historians. But in one crucial area, his life remains largely untold: his marriage to Winnie Madikizela-Mandela. During his years in prison, Nelson grew ever more in love with an idealized version of his wife, courting her in his letters as if they were young lovers frozen in time. But Winnie, every bit his political equal, found herself increasingly estranged from her jailed husband's politics. Behind his back, she was trying to orchestrate an armed seizure of power, a path he feared would lead to an endless civil war.
Jonny Steinberg tells the tale of this unique marriage—its longings, its obsessions, its deceits—making South African history a page-turning political biography. Winnie and Nelson is a modern epic in which trauma doesn't affect just the couple at its center, but an entire nation. It is also a Shakespearean drama in which bonds of love and commitment mingle with timeless questions of revolution, such as whether to seek retribution or a negotiated peace. Steinberg reveals, with power and tender emotional insight, how far these forever-entwined leaders would go for each other and where they drew the line. For in the end, both knew theirs was not simply a marriage, but a contest to decide how apartheid should be fought.
Praise for Winnie and Nelson: Portrait of a Marriage
*Selected as a 2023 Best Book of Nonfiction by The Washington Post!*
"Steinberg forces us, with extraordinary pathos..., to reckon with the humanity of his subjects and not the myths we have constructed around them." —Bongani Kona, The New York Times
"Powerful, intimate and ultimately heartbreaking . . . A portrait not just of a marriage but of a nation struggling to cast off its chains . . . [Steinberg's] supreme contribution is in his ability to portray clearly and critically Nelson Mandela's flaws and Winnie Mandela's crimes, while expressing sympathy and understanding for both their courage and their pain."—Glenn Frankel, The Washington Post
"[Winnie and Nelson] does justice both to the couple's political heroism and to the betrayals and the secrets that hounded their union."—The New Yorker, "The Best Books We Read This Week"
"A new book by the puzzlingly under-appreciated South African writer Johnny Steinberg is always an event, and his chunky Winnie & Nelson: Portrait of a Marriage...is the best yet...I'm not usually a fan of long books – this one is 576 pages – but was left wanting more." —Michela Wrong, Spectator
"Illuminating . . . Steinberg's prose is understated, clear and objective, occasionally even informal, further enhancing the sense of listening in on a story. And he writes, too, with a novelist's flair for pacing, scene-painting and dialog, as well as a cinematographer's ability for cross-cutting. . . . Whether you feel you already know about Winnie and Nelson Mandela or not, this book will more than reward you."—Simon Lewis, The Post and Courier
"Remarkable . . . In heartbreaking detail, Jonny Steinberg adds up the catastrophic toll on these two lives and the lives of people around them. Yet he never takes his eye off the larger picture, and the damage done to the Mandelas comes to stand for the damage done to millions; their history is the history of modern South Africa. Even more impressively, he manages to illuminate two different political traditions through the personalities of Winnie and Nelson, and to give a fresh understanding of the crossroads at which my country now stands. Gripping and profoundly moving, this is Jonny Steinberg's finest book. I can't wait to read it again."—Damon Galgut, Booker Prize-winning author of The Promise, in Literary Hub
"Steinberg vividly recreates the political and private lives of antiapartheid activists Nelson and Winnie Mandela in this exceptional dual biography. . . . Readers will be mesmerized by the thrumming tension and profound emotional complexity of this intimate portrait of two global icons. It's a knockout."—Publishers Weekly (starred review)
"Elegant and masterful . . . Steinberg has created a landmark dual biography of two unforgettable civil rights heroes."—Booklist (starred review)
"An engrossing joint biography . . . Not only does this book reveal intimate details of a marriage under terrible pressure, but it also provides an insightful history of the fight against apartheid, including the roles of many other key figures. . . . A superb addition to the history of South Africa and the struggle against apartheid."—Library Journal (starred review)
"The most nuanced of storytellers, Steinberg has always had an extraordinary ability to get inside his protagonists' heads, and does so here while scrupulously detailing the brutalizing pressures to which [Winnie and Nelson] were relentlessly subjected, experiences that left them warped and hardened."—Michela Wrong, The Times (UK)
"There are so many heart-rending revelations about the tortured relationship, extramarital affairs and personal sacrifices of Nelson and Winnie Mandela in this outstanding biography of South Africa's anti-apartheid power couple that if asked to list the most poignant half-dozen, it would be hard to know where to start. . . . Part of the genius of [Steinberg's] book is to write the Mandelas' story as a mirror of the dilemma over how to respond to apartheid — fight or talk?"—Alec Russell, Financial Times

"Raw and revelatory . . . An intense, unsparing and at times almost unbearably intimate exploration of one of the world's most famous, most mythical marriages. This is a book to make one wince, and gasp, and turn the page – a book that slowly, remorselessly, tears the bandages off South Africa's carefully constructed image of itself, and of a partnership that lies at the heart of this country's 'miraculous' transformation."—Andrew Harding, Times Literary Supplement
"[An] excellent new biography of the couple . . . Steinberg suspects that the couple's myths will only endure – but his thorough interrogation of their story should help readers reconcile themselves with the messier truth."—Helen Brown, The Telegraph
"Powerful . . . [Steinberg] has produced a revealing new study of two of the main personalities of the era."—The Economist
 
"This perceptive, nuanced biography exposes the pain both husband and wife exchanged and depicts their marriage as a window into the inhumanity of apartheid."—The National Book Review, "5 Hot Books"
 
"A riveting read . . . An elegant and often profound exploration of the psyches of [Steinberg's] subjects. There are a thousand vivid anecdotes in [Winnie and Nelson], some so sad they will break your heart. . . . This is a landmark book."—Rian Malan, BizNews

"Beautiful . . . [Steinberg] gently but firmly removes the masks [Winnie and Nelson] each carefully constructed. . . . Winnie and Nelson is more than a joint biography, as good as it is at that; it's a deft and operatic interweaving of two outsized characters."—Richard Stengel, The Observer
"An empathetic portrait of one of the most controversial power couples in history . . . Of course, we never know what really happens behind closed doors. What Steinberg does extremely well in this book is to pry those doors ajar using archive, interviews and never-seen-before transcripts of conversations between Winnie and Nelson during prison visits."—Kirsty Lang, The Sunday Times
"It takes a special talent to write about Winnie Madikizela and Nelson Mandela without collapsing under the weight these two towering figures bring to bear on the historical record. Only Steinberg could have written a book in which they appear both larger than life and all too human."—The Citizen

"Powerful . . . A deeply human portrait of the Mandela marriage and South Africa's struggle."—The Conversation

"There is a major teaching moment in Steinberg's deeply sensitive excavation of the excruciating private lives of Winnie and Nelson Mandela. . . . Now that the depths of their domestic lives, with its searing pains, betrayals and considerable losses, have been so gently and lovingly revealed for all to see, we must hold Winnie and Nelson, Nelson and Winnie, differently in our hearts and minds."—Marianne Thamm, Daily Maverick
"A new and excellent double biography of Nelson and Winnie. Steinberg is sensitive and imaginative and has a mature and insightful appreciation of the many painful emotional strains within the marriage, which was always under enormous political pressure. . . . He is a talented writer and there is much that is new here. He has done a great deal of painstaking research, not only in the archives but on the ground too, seeking out and interviewing many minor actors."—R. W. Johnson, Literary Review

"[A] major biography . . . [Winnie and Nelson] reveals some startling truths behind the fractured and volatile marriage of anti-apartheid activists Winnie and Nelson Mandela."—Martin Chilton, The Independent
"An intriguing biography"—Sunday Independent-Review

"Steinberg enlightens with moments of intense pathos and emotion. . . . The achievement is magnificent. . . . But if Steinberg's warts-and-all telling of their life stories does one thing, it is to make possible an understanding of the way in which, at the national and global levels, if not for the protagonists themselves, hope only just about transcends the complex failings and misjudgments that he invites us to consider in a thoroughly rounded way. What he offers readers is a chance for their own experiences of life to resonate, perhaps painfully – this is undoubtedly a painful story – but also with intimacy. Franz Kafka once said that a book should 'be an axe for the frozen sea within.' This is such a book."—Chris Chivers, The Tablet
"Based on far-ranging research as well as on a trove of recently uncovered materials -- as deeply sympathetic to Winnie, caught up in the whirlwind of insurrectionary violence, as to Nelson, trapped in his prison cell and losing touch day by day with the evolving situation on the ground -- Steinberg's massive essay in political biography is unlikely to be superseded in a long time."—J.M. Coetzee, Nobel Laureate 2003
"For so long the Mandelas were seen as they were lauded – the freedom fighters who birthed a nation. Yet, behind the frontlines and the headlines, always there is a shadow narrative, subtler and more complex, a story about revolution and marriage, power and revenge. In this remarkable dual political biography, Jonny Steinberg has at last told it. Winnie and Nelson is a powerful, page-turning political fable unlike any I've read."—Aminatta Forna, author of Happiness and The Window Seat

"It takes a special talent to write about Winnie Madikizela and Nelson Mandela without collapsing under the weight—part myth, part hagiography, part obfuscation—that these two towering figures bring to bear on the historical record. Jonny Steinberg is that special talent. Only Steinberg could have written a book in which Winnie and Nelson can appear both larger-than-life and all-too-human. What a book! What an achievement!"—Jacob Dlamini, author of The Terrorist Album
"In this eloquent biography, Steinberg . . . captures the mythic quality of these two leaders, their great love story and tragic estrangement, and the hubris and human frailty beneath the personas. . . . He presents a nuanced, well-contextualized look at their relationship within its time. . . . [Winnie and Nelson is] a magnificent portrait of two people joined in the throes of making South African history."—Kirkus Reviews (starred review)