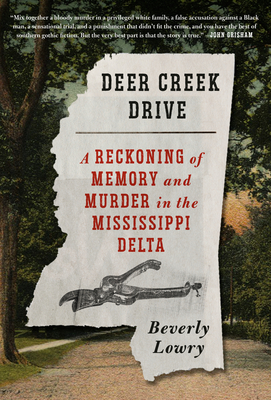 Deer Creek Drive: A Reckoning of Memory and Murder in the Mississippi Delta
Publication Date:
August 2nd, 2022
Charter Books
On hand, as of Dec 6 12:52am
(True Crime)
On Our Shelves Now
Description
The stunning true story of a murder that rocked the Mississippi Delta and forever shaped one author's life and perception of home.
"Mix together a bloody murder in a privileged white family, a false accusation against a Black man, a suspicious town, a sensational trial with colorful lawyers, and a punishment that didn't fit the crime, and you have the best of southern gothic fiction. But the very best part is that the story is true." —John Grisham
In 1948, in the most stubbornly Dixiefied corner of the Jim Crow south, society matron Idella Thompson was viciously murdered in her own home: stabbed at least 150 times and left facedown in one of the bathrooms. Her daughter, Ruth Dickins, was the only other person in the house. She told authorities a Black man she didn't recognize had fled the scene, but no evidence of the man's presence was uncovered. When Dickins herself was convicted and sentenced to life in prison, the community exploded. Petitions pleading for her release were drafted, signed, and circulated, and after only six years, the governor of Mississippi granted Ruth Dickins an indefinite suspension of her sentence and she was set free.
 
In Deer Creek Drive, Beverly Lowry—who was ten at the time of the murder and lived mere miles from the Thompsons' home—tells a story of white privilege that still has ramifications today, and reflects on the brutal crime, its aftermath, and the ways it clarified her own upbringing in Mississippi.
Praise for Deer Creek Drive: A Reckoning of Memory and Murder in the Mississippi Delta
Winner of the Willie Morris Award for Nonfiction
"Mix together a bloody murder in a privileged white family, a false accusation against a Black man, a suspicious town, a sensational trial with colorful lawyers, and a punishment that didn't fit the crime, and you have the best of southern gothic fiction. But the very best part is that the story is true."
—John Grisham
"Beverly Lowry's Deer Creek Drive stands out for its richly layered narrative, one that weaves a tale based in the Mississippi Delta's past and connects it with the author's own personal history on the same landscape. This is a vivid portrait of a world of privilege and willful blindness that would be recognizable to Willie Morris, since this story reveals the way bigotry, as well as a violent crime, echoes across time and memory."
—Ralph Eubanks, judge for the Willie Morris Award in Nonfiction
"Few stories are more fascinating than a grisly small-town crime where no one can agree on what happened — or why — and which is solved, only to remain troubling many years later. Add matricide and an incendiary time period, and you have Beverly Lowry's new book . . . Lowry's granular re-creation of the time and place valuably captures its sensibility . . . By convening the customs and biases of the period as she reinvestigates this crime and its aftermath, Lowry does her best to provide a "reckoning" — as her title promises — with life in the Mississippi Delta in the 1950s . . . The significance of this story lies in its irresolution, in showing how, like bigotry, a violent crime will continue to cast a shadow over a community for generations."
—Suzanne Berne, The Washington Post
"Deer Creek Drive is built as a clever apparatus, which is executed with all the mastery one would expect from [Lowry] . . . Deer Creek Drive should be considered the crown jewel of Lowry's literary career, being a culmination of four genres she has written successfully in, cut cleanly and attractively into a masterpiece of nonfiction. Beyond that, it's an engrossing story told well. It will surely be a classic."
—Conor Hultman, Oxford Review

"Persuasive . . . Rich and compelling . . . Lowry deftly weaves the unraveling of her own family secrets with those of the Thompson-Dickens family in the wake of Idella's murder, all set against the eve of the Civil Rights Era in the Mississippi Delta."
—Allison McNearney, The Daily Beast
"Scintillating . . . In Deer Creek Drive Lowry fuses true crime with memoir, braiding her own story with that of the murder . . . Lowry, sensitive and clear-eyed about [Mississippi's relationship to race and racism], chronicles the upheavals that rocked the Delta in the wake of desegregation and reckons with the attitudes in which her childhood was steeped."
—Johnathan Miles, Garden & Gun
"Lowry has a special connection to her subject: She grew up in a nearby town, and though only 10 when the murder took place, it made such an impression on her that 70 years later, she writes, memories "still refuse to let go." A novelist who has written two other true-crime books, Lowry finally returns to Mississippi to report not just the details of the case but also the environment in which it unfolded. At the same time, she twines her own troubled family history throughout the story . . . Evocative."
—Houston Chronicle

"Humid, long, sweat-soaked summers characterize the Mississippi Delta region. Languid weather makes movement sluggish, and thoughts turn inward. In such a region people are conscious of history, and that means race, class, and social standing. It becomes focused when a trial for murder is held . . . Justice seemed just beyond reach. Showing why this attitude prevailed is how Lowry displays her skills as a master storyteller . . . You'll do well to read the case, and consider the insightful observations Lowry offers."
—Decatur Daily

"The Mississippi Delta in the 1940s, a gruesome murder mystery, family dramas that conjure Faulkner and Welty—this is a book that only Beverly Lowry, a daughter of the Delta, could bring to the world now. At once a thriller, a memoir and a portrait of a bygone South, Deer Creek Drive is a stunning valedictory from one of the region's greatest living writers."
—Bryan Burrough, co-author of Barbarians at the Gate and Forget the Alamo
"Beverly Lowry writes about some very grave things in Deer Creek Drive: matricide, deceit, greed, forbidden love, fury, bad luck and the world's casual meanness. Yet with pure elan, she writes it truly, and with such astonishing wit and savvy that I couldn't stop reading."
—Richard Ford
"Deeply reported, well-crafted . . . Lowry was 10 years old, living the next town over, when the crime occurred and recalls its impact on the community."
—"9 new books for your summer reading list," Atlanta Journal-Constitution
"This promises to be a thoughtful and gripping addition to the true crime genre."
—"29 Works of Nonfiction You Need to Read This Summer," Lit Hub
"Like the author of Deer Creek Drive, I grew up only a few miles from where the events chronicled in these pages occurred. Ruth Dickins was a figure who haunted my childhood, one around whom an entire mythological system had sprung up. In this gripping and beautifully written book, Beverly Lowry strips away that mythology to reveal it for what it was—and, perhaps more importantly, for what it remains to this day. This is the finest piece of literature I've ever read about the mysterious place called the Mississippi Delta."
—Steve Yarbrough, author of Stay Gone Days
"Beverly Lowry's Deer Creek Drive is a revelation, shedding much needed light not only on the politics of race in the South but on the additional importance of class and social connections and power to the social dynamic. Lowry skillfully interweaves her own coming of age story with the sensational happenings in nearby Leland and shows them as illustrating, in microcosm, the changes that were about to explode in a changing South. A fascinating, compelling read."
—Deborah Johnson, author of The Secret of Magic, winner of the Harper Lee Prize for Legal Fiction
"Powerful . . . Lowry skillfully balances memoir with the complexities of the crime, region, and implications about white privilege. This book will appeal to readers interested in Delta history and is a great addition to any true crime fan's bookshelf . . . An evocative, thoughtful true crime story."
—Library Journal, starred
"In this thought-provoking memoir, Lowry weaves her story of growing up in mid-20th-century Mississippi with the story of a white socialite's murder and its aftermath . . . Lowry elegantly details Southern daily life and the struggles for equality that eventually led to desegregation. This timely reminder of the injustices of America's past deserves a wide readership."
—Publishers Weekly
"Lowry has created a signature genre that combines deeply researched true crime with memoir . . . Lowry's dry wit, honed sentences, and careful way of connecting the dots make her case: This is quite a story."
—Kirkus Reviews

"Lowry, who was a child in a nearby town at the time of the murder, intertwines engrossing dual narratives charting the Thompson case and the course of her own family's life from the 1940s forward. Her true-crime thriller will keep readers absorbed from start to finish."
—Booklist