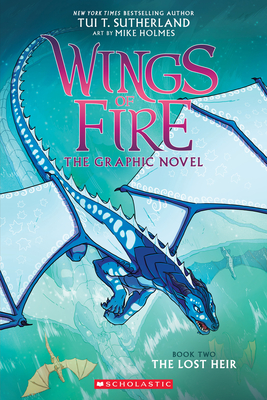 Wings of Fire: The Lost Heir: A Graphic Novel (Wings of Fire Graphic Novel #2) (Wings of Fire Graphix #2)
Publication Date:
February 26th, 2019
Charter Books
On hand, as of Dec 2 2:07am
(YA Graphic Novels)
On Our Shelves Now
Description
The New York Times bestselling Wings of Fire series soars to new heights in this graphic novel adaptation!
The lost heir to the SeaWing throne is going home at last.She can't believe it's finally happening. Tsunami and her fellow dragonets of destiny are journeying under the water to the great SeaWing Kingdom. Stolen as an egg from the royal hatchery, Tsunami is eager to meet her future subjects and reunite with her mother, Queen Coral.But Tsunami's triumphant return doesn't go quite the way she'd imagined. Queen Coral welcomes her with open wings, but a mysterious assassin has been killing off the queen's heirs for years, and Tsunami may be the next target. The dragonets came to the SeaWings for protection, but this ocean hides secrets, betrayal -- and perhaps even death.The New York Times bestselling Wings of Fire series takes flight in this first graphic novel edition, adapted by the author with art by Mike Holmes.
Praise for Wings of Fire: The Lost Heir: A Graphic Novel (Wings of Fire Graphic Novel #2) (Wings of Fire Graphix #2)
Praise for The Dragonet Prophecy (Wings of Fire: The Graphic Novel: Book One)* "Dazzling; a must-read for any dragon fan." -- Kirkus Reviews (Starred Review)"Fans of the series will be drawn to this visual representation of their favorite characters, as will those who enjoy epic, animal-based fantasies." -- School Library JournalPraise for The Lost Heir (Wings of Fire, Book Two):"[A] perfect adventure for young fantasy fans to sink their teeth into." -- School Library JournalPraise for The Dragonet Prophecy (Wings of Fire, Book One):"Dramatic battle scenes, double-crosses, and one seriously deranged queen makes Wings of Fire a series that should have broad appeal for middle-grade fantasy fans." -- Booklist"Fast-paced and detailed, this first installment in a new adventure series is entertaining." -- Kirkus Reviews"Readers of all ages will be enchanted by the humanistic storyline and the page-turning excitement." -- Library Media Connection"A thrilling new series for dragon-lovers." -- Austin Family
Praise for The Dragonet Prophecy (Wings of Fire: The Graphic Novel: Book One)* "Dazzling; a must-read for any dragon fan." -- Kirkus Reviews (Starred Review)"Fans of the series will be drawn to this visual representation of their favorite characters, as will those who enjoy epic, animal-based fantasies." -- School Library JournalPraise for The Lost Heir (Wings of Fire, Book Two):"[A] perfect adventure for young fantasy fans to sink their teeth into." -- School Library JournalPraise for The Dragonet Prophecy (Wings of Fire, Book One):"Dramatic battle scenes, double-crosses, and one seriously deranged queen makes Wings of Fire a series that should have broad appeal for middle-grade fantasy fans." -- Booklist"Fast-paced and detailed, this first installment in a new adventure series is entertaining." -- Kirkus Reviews"Readers of all ages will be enchanted by the humanistic storyline and the page-turning excitement." -- Library Media Connection"A thrilling new series for dragon-lovers." -- Austin Family