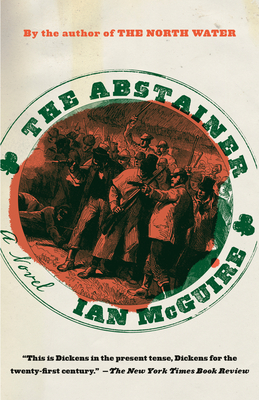 The Abstainer: A Novel
Publication Date:
June 1st, 2021
Publisher:
Random House Trade Paperbacks
Charter Books
On hand, as of Nov 30 3:37am
(Fiction - General)
On Our Shelves Now
Description
"This is Dickens in the present tense, Dickens for the twenty-first century."—Roddy Doyle, The New York Times Book Review

An Irishman in nineteenth-century England is forced to take sides when his nephew joins the bloody underground movement for independence in this propulsive novel from the acclaimed author of The North Water.
 
NAMED ONE OF THE TEN BEST BOOKS OF THE YEAR BY CHICAGO TRIBUNE AND ONE OF THE BEST BOOKS OF THE YEAR BY The New York Times • The New York Public Library • New Statesman • Publishers Weekly

Manchester, England, 1867. The rebels will be hanged at dawn, and their brotherhood is already plotting its revenge. 
 
Stephen Doyle, an Irish-American veteran of the Civil War, arrives in Manchester from New York with a thirst for blood. He has joined the Fenians, a secret society intent on ending British rule in Ireland by any means necessary. Head Constable James O'Connor has fled grief and drink in Dublin for a sober start in Manchester. His job is to discover and thwart the Fenians' plans whatever they might be. When a long-lost nephew arrives on O'Connor's doorstep looking for work, he cannot foresee the way his fragile new life will be imperiled—and how his and Doyle's fates will become fatally intertwined.
 
In this propulsive tale of the underground war for Irish independence, the author of The North Water once again transports readers to a time when blood begot blood. Moving from the dirt and uproar of industrial Manchester to the quiet hills of rural Pennsylvania, The Abstainer is a searing novel in which two men, haunted by their pasts and driven forward by the need for justice and retribution, must fight for life and legacy.
Praise for The Abstainer: A Novel
"Compelling . . . The physical world that [McGuire] imagines assails the reader's senses: the stink of a tannery, the clangour of factory bells and the way O'Connor's grief drives him to a ruthlessness beyond his nature."—The Economist
 
"Ian McGuire returns with the page-turning tale of two Irishmen in 1860s Manchester, England, set on different paths of justice and vengeance. The Abstainer succeeds in keeping the reader tense and uneasy, much like the polluted, portentous air hanging over Manchester. The brooding and lyrically written cat-and-mouse narrative of Doyle and O'Connor is excellent. If the reader is looking for a taut tale exploring the brutal vagaries of men's hearts, The Abstainer is a provocative novel that invites further discovery of a troubled time."—Historical Novels Review 
"The Abstainer tells a story of people trapped by class, a simmering revolution, and their own frailty, but it's ultimately a very human and compelling novel that gives us a clear glimpse into the hearts and souls of its characters. McGuire is a writer who isn't afraid to take risks and change course from his previous books."—Philipp Meyer, author of The Son
 
"McGuire has crafted a riveting tale of violence and retribution against the backdrop of the 1860s Fenian rebellion—precursor to the Troubles and one of those rich historical incidents you learn about and wonder, Why didn't I know about this before? He has a keen sense of how to mix precise local details with transcendent global themes."—Michael Punke, author of The Revenant
 
"The Abstainer is truly terrific—a can't-put-down book. It's nothing less than a tight and spare and suspense-filled noir novel, masterfully set in 1860s Britain and America. And like all superb historical novels, it seems as modern and as contemporary as this morning."—Richard Ford
"This well-told, suspenseful tale will appeal to fans of Deadwood  and Cormac McCarthy."—Kirkus Reviews
 
"O'Connor's showdown with Stephen Doyle delivers a gut-wrenching finale that will leave readers hoping desperately that McGuire (The North Water, 2016) has an O'Connor prequel in the works. O'Connor's palpable alienation and the subtly drawn comparisons between the Irish insurgency and America's then-recent civil war create layers of depth in this exceptional period thriller."—Booklist, starred review 
"[A] taut, atmospheric tale . . . McGuire demonstrates a mastery of classic realism. [This] crackling work is one to savor."—Publishers Weekly, starred review