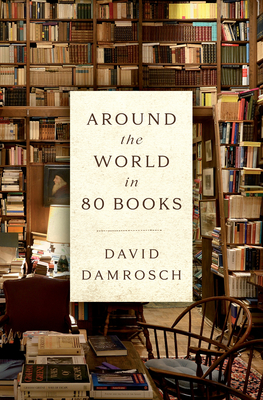 Around the World in 80 Books
Publication Date:
November 16th, 2021
Charter Books
On hand, as of Dec 1 1:52am
(Literary Criticism)
On Our Shelves Now
Description
A transporting and illuminating voyage around the globe, through classic and modern literary works that are in conversation with one another and with the world around them

*Featured in the Chicago Tribune's Great 2021 Fall Book Preview * One of Smithsonian Magazine's Ten Best Books About Travel of 2021*
Inspired by Jules Verne's hero Phileas Fogg, David Damrosch, chair of Harvard University's department of comparative literature and founder of Harvard's Institute for World Literature, set out to counter a pandemic's restrictions on travel by exploring eighty exceptional books from around the globe. Following a literary itinerary from London to Venice, Tehran and points beyond, and via authors from Woolf and Dante to Nobel Prize–winners Orhan Pamuk, Wole Soyinka, Mo Yan, and Olga Tokarczuk, he explores how these works have shaped our idea of the world, and the ways in which the world bleeds into literature.
 
To chart the expansive landscape of world literature today, Damrosch explores how writers live in two very different worlds: the world of their personal experience and the world of books that have enabled great writers to give shape and meaning to their lives. In his literary cartography, Damrosch includes compelling contemporary works as well as perennial classics, hard-bitten crime fiction as well as haunting works of fantasy, and the formative tales that introduce us as children to the world we're entering. Taken together, these eighty titles offer us fresh perspective on enduring problems, from the social consequences of epidemics to the rising inequality that Thomas More designed Utopia to combat, as well as the patriarchal structures within and against which many of these books' heroines have to struggle—from the work of Murasaki Shikibu a millennium ago to Margaret Atwood today.
 
Around the World in 80 Books is a global invitation to look beyond ourselves and our surroundings, and to see our world and its literature in new ways.
Praise for Around the World in 80 Books
"It's a kind of GPS raisonné that lets readers chart a meaningful path through milestones of literature on multiple continents." —Liesl Schillinger, The New York Times
"There's pleasure aplenty in Around the World in 80 Books . . . Mr. Damrosch offers succinct assessments of treasured titles in his library and tempts us to make them our own. Like a tour guide pointing travelers beyond the bus window, he nudges readers to notice parts of the global literary landscape they might have missed . . . Mr. Damrosch pays tribute to Stuart Little, the children's book by E.B. White. The story of Stuart, a clever mouse who insists on living at human scale, is a fable of sorts about what literature can do. Through their gifts of imagination, the books Mr. Damrosch celebrates allow us, like White's hero, to be just as large as we need to be." —Danny Heitman, The Wall Street Journal
"Damrosch's curriculum is encyclopedic but at the same time fondly personal . . . Damrosch sees travel as a mental and moral challenge . . . Around the World in 80 Books takes us on a tour of the author's global head, and while expanding our knowledge it enlarges our capacity for fellow-feeling." —Peter Conrad, The Guardian
"If there is an academic in America most committed to the idea of literature as a vast, human project, an artistic process of knowing and revealing that spans across social and political boundaries—even historical epochs—it is Harvard University's David Damrosch . . . Around the World in 80 Books lifts us up and into locales as diverse as London and Cairo, Venice and Bar Harbor . . . [a] treasure chest of his own creation." —Ryan Asmussen, Chicago Review of Books
"Damrosch's idiosyncratic intellectual itinerary is a gift that will inspire many a book group and inform many readers' future travels." —Passport
"Damrosch draws together a diverse array of talented authors from all walks of life. They are both widely and lesser known, but all have one key thing in common: Their writing has the ability to transport readers to places near and far without ever needing to leave home." —Jennifer Nalewicki, Smithsonian Magazine
 
"[A] wonderful armchair binge in itself." —Christopher Borrelli, Chicago Tribune
"A delightful global guide to literature, as [Damrosch] has expansively interpreted it . . . A year of isolation very well spent." —Harvard Magazine
"A vast, fascinating latticework . . . This rewarding literary Baedeker will inspire readers to discover new places." —Kirkus
 
"Damrosch's richly conceived survey offers readers a colorful map for an illuminating, enlivening tour of their own libraries. Travel fans and literature lovers alike will find something to savor." —Publishers Weekly (starred review)
"Restlessly curious, insightful, and quirky, David Damrosch is the perfect guide to a round-the-world adventure in reading. With such a companion, you never know where you will go next, but you can be confident that the encounter will be memorable. Count me in!" —Stephen Greenblatt, author of Tyrant
"It is always a pleasure to talk about books with David Damrosch, who has read all of them, and he is so eloquent about them all." —Orhan Pamuk, Nobel Prize-winning novelist
 
"An insightful journey into the books that have long captivated us. Profound, boundless, and diverse." —Jokha Alharthi, author of the Man Booker International Prize-winning Celestial Bodies
"Pleasurable and full of insights, Around the World in 80 Books is such a joyful journey through the places, times and people who have made our world literature. Every time I finished a chapter I felt an urge to discover or re-read the books whose stories Damrosch is telling so vividly—but that meant putting down his own book and I wasn't able do that." —Dror Mishani, author of The Missing File and Three
Praise for David Damrosch:
"David Damrosch's The Buried Book is a remarkably original, narrative analysis of the loss, rediscovery, and literary-spiritual values of the ancient epic, Gilgamesh. There is somber wisdom and wit in Damrosch's comprehensive story, which finds room for Philip Roth's The Great American Novel and the murderous fictions of Saddam Hussein. It is salutary to be reminded by Damrosch that ultimately we and Islam share a common literary culture that commenced with Gilgamesh." —Harold Bloom, author of The Western Canon: The Books and Schools of the Ages
"A stunning achievement. Damrosch gives 'world literature' the largest possible scope—ranging from cuneiform to hieroglyphics, from low German to Nahuatl—a jaunt across several millennia and a dozen languages." —Wai Chee Dimock, Yale University
"An influential leader in the field, Damrosch capaciously tells the story of its evolution, representing sharp debates on contentious issues such as language, translation, Eurocentrism, postcolonial studies, and world literature with a compelling judiciousness." —Susan Stanford Friedman, University of Wisconsin-Madison
"Displaying great intelligence, immense literary and historical culture, and unassuming modesty, Damrosch intervenes in contemporary debates over 'world literature.' Readers will be dumbfounded by his range. He treats cuneiform-inscribed shards, Egyptian hieroglyphics, medieval German female mystics, Inca chronicles, Kafka translations and contemporary Native protest literature will equal philological attention, poise and erudition." —Wlad Godzich, University of California, Santa Cruz