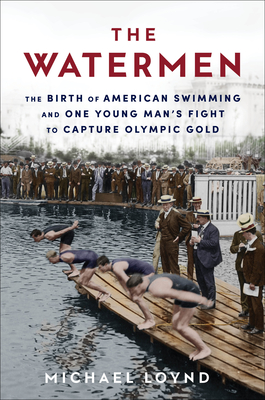 The Watermen: The Birth of American Swimming and One Young Man's Fight to Capture Olympic Gold
Publication Date:
June 13th, 2023
Publisher:
Ballantine Books
Charter Books
On hand, as of Nov 30 3:37am
(Sports & Recreation)
On Our Shelves Now
Description
The feel-good underdog story of the first American swimmer to win Olympic gold, set against the turbulent rebirth of the modern Games, that "bring[s] to life an inspiring figure and illuminate[s] an overlooked chapter in America's sports history" (The Wall Street Journal)
"Once or twice in a decade, one of these stories . . . like Laura Hillenbrand's Unbroken [or] Daniel Brown's The Boys in the Boat . . . captures the imagination of the public. . . . Add The Watermen by Michael Loynd to this illustrious list."—Swimming World

Winner of the International Swimming Hall of Fame's Paragon Award and the Buck Dawson Authors Award

In the early twentieth century, few Americans knew how to swim, and swimming as a competitive sport was almost unheard of. That is, until Charles Daniels took to the water.
On the surface, young Charles had it all: high-society parents, a place at an exclusive New York City prep school, summer vacations in the Adirondacks. But the scrawny teenager suffered from extreme anxiety thanks to a sadistic father who mired the family in bankruptcy and scandal before abandoning Charles and his mother altogether. Charles's only source of joy was swimming. But with no one to teach him, he struggled with technique—until he caught the eye of two immigrant coaches hell-bent on building a U.S. swim program that could rival the British Empire's seventy-year domination of the sport.
Interwoven with the story of Charles's efforts to overcome his family's disgrace is the compelling history of the struggle to establish the modern Olympics in an era when competitive sports were still in their infancy. When the powerful British Empire finally legitimized the Games by hosting the fourth Olympiad in 1908, Charles's hard-fought rise climaxed in a gold-medal race where British judges prepared a trap to ensure the American upstart's defeat.
Set in the early days of a rapidly changing twentieth century, The Watermen—a term used at the time to describe men skilled in water sports—tells an engrossing story of grit, of the growth of a major new sport in which Americans would prevail, and of a young man's determination to excel.
Praise for The Watermen: The Birth of American Swimming and One Young Man's Fight to Capture Olympic Gold
"For fans of the human stories of determination and personal triumph that emerge from each Olympic Games, The Watermen is essential."—St. Louis Magazine
"This is a book about a revolutionary time in the sport of swimming and would make for an inspiring beach read."—San Francisco Chronicle
"Loynd combines Daniels' life with a fascinating history of the early Olympic games and an America that gained interest in swimming."—St. Louis Post-Dispatch
"This book invaluable for anyone interested in Olympic history, swimming history—and, of course, Buffalo history."—The Buffalo News
"Loynd's book folds Daniels' inspirational story into a broader account of Olympics history . . . . Pair this with Daniel James Brown's The Boys in the Boat (2013), another inspirational narrative-nonfiction history of early Olympic triumphs."—Booklist
"An inspiring portrait . . . . An enjoyable underdog tale for swimmers and general sports fans."—Kirkus Reviews
"This is a story of one of the most fascinating people not only in the sport of swimming but in all of athletics. It's about time someone recognizes Charles Daniels for the impact he made on swimming. Michael Loynd has done that to perfection and I couldn't put it down!"—Rowdy Gaines, Olympic gold medalist, NBC Olympic swimming commentator, AKA "The Voice of American Swimming"
"Kudos to Michael Loynd for his careful telling of this truly compelling story of Charles Daniels. It is a combination of athletic triumph, individual perseverance in the face of adversity, and significant social history."—Bob Costas, Olympic Games TV sportscaster
"A thrilling sports story about the power of perseverance in the Victorian age, The Watermen kept me up late into the night. There are three underdogs in this story - Charles Daniels, American swimming, and the modern Olympic Games—and I rooted for them all."—Lydia Reeder, author of Dust Bowl Girls
"A lively account of high ambitions, low behavior, and a lone athlete with an indomitable will."—Howard Means, author of Splash! 10,000 Years of Swimming
"The Watermen is a propulsive, deeply researched, and empathetic book an exhilarating plunge into the early history of competitive American swimming, the Olympic movement, and the rich and powerful people who shaped sports for a century to come."—Eric Nusbaum, author of Stealing Home: Los Angeles, the Dodgers, and the Lives Caught in Between
"Michael Loynd has crafted the best page-turner about Olympic competition since The Boys in the Boat. I found myself leaning into his vivid descriptions . . . . The Watermen is a great read."—Kevin Salwen, author of The Suspect: An Olympic Bombing, the FBI, the Media, and Richard Jewell, the Man Caught in the Middle
"The Watermen is not simply a sports tale, but a sensational book about courage, the power of the mind over the physical body, ambition, along with the history of the Olympics. A triumph of originality and craftsmanship."—Roseanne Montillo, author of Fire on the Track