Staff Pick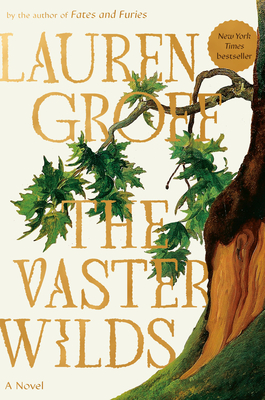 The Vaster Wilds: A Novel
Publication Date:
September 12th, 2023
Publisher:
Riverhead Books
Charter Books
On hand, as of Sep 30 12:37am
(Fiction - General)
On Our Shelves Now
Staff Reviews
Lauren Groff does it again! Continuing in the uniquely daring, bold direction she embarked upon with MATRIX, Groff presents in THE VASTER WILDS a subversion and reclaiming of the classic American wilderness survival narrative. Book by book, Groff is interrogating the role of women in stories told about them by men, and this is her best yet. She's a four-time National Book Award finalist - can we get her the damn award this time?!
— Steve
Lauren Groff is at the height of her power as a writer.The Vaster Wildsexplores how one young woman's experience of survival defines her. Rich in nuance, gorgeous, and full of the mystery of spirit, this novel meditates on life itself.
September 2023 Indie Next List
Description
AN INSTANT NEW YORK TIMES BESTSELLER
"Lauren Groff just reinvented the adventure novel."—Los Angeles Times
"Glorious…surroundings come alive in prose that lives and breathes upon the page." —Boston Globe
"I know of few other writers whose sentences are so beautiful and so propulsive." —New York Times Book Review
A taut and electrifying novel from celebrated bestselling author Lauren Groff, about one spirited girl alone in the wilderness, trying to survive

A servant girl escapes from a colonial settlement in the wilderness. She carries nothing with her but her wits, a few possessions, and the spark of god that burns hot within her. What she finds in this terra incognita is beyond the limits of her imagination and will bend her belief in everything that her own civilization has taught her.
Lauren Groff's new novel is at once a thrilling adventure story and a penetrating fable about trying to find a new way of living in a world succumbing to the churn of colonialism. The Vaster Wilds is a work of raw and prophetic power that tells the story of America in miniature, through one girl at a hinge point in history, to ask how—and if—we can adapt quickly enough to save ourselves.
Praise for The Vaster Wilds: A Novel
Praise for The Vaster Wilds:
"I know of few other writers whose sentences are so beautiful and so propulsive. The girl embodies a furious onward motion, as does the prose." — New York Times Book Review
 
"[A] thrilling historical adventure. . .the existential themes at the heart of Lauren Groff's fifth novel—the rawness of life, the precious inner-workings of nature, the drive to continue on in the face of challenges—are as timely as they come." —TIME
"Holds tension and sows mystery on every page."—Vulture
"Transcendent. Mesmerizing. Dazzling. Incandescent. Audacious….All of those descriptors are accurate and none of them are sufficient to describe just how spectacular [Groff's] new book is." —Atlanta Journal-Constitution

"Lauren Groff just reinvented the adventure novel… Groff's world is Darwinian, but she doesn't chronicle the survival of the fittest; she convinces us instead that even the unluckiest among us can find a way to the blessings of peace, quiet and freedom." —Los Angeles Times
 
"Glorious…Groff imagines a natural world where humans adapt to its contours rather than conquer them… We don't need a hero's tale of domination and plunder to fix the environment. We need more stories of how becoming part of the natural systems that surround us may help us survive. The Vaster Wilds is a terrific addition to a developing canon of our continued existence."—The Boston Globe
"Lilting, whispered…poetic"—Wall Street Journal
"Groff's fiction is usually identified as ecological and feminist, which it certainly is, but it is theological too…Nature is Groff's muse as well as her deity. Her prose, always alive and sensuous, is hit by an extra electrical charge…Groff has written the gospel."—The Atlantic

"A rollicking adventure story, quick-paced and snappy and frequently funny…impossible to put down...This book is exquisitely attuned to the experience of being a human body within nature...Stark, vicious, and transcendent, The Vaster Wilds is the best book I've read all year. It's a triumph." —Vox
"Magnificent…a cosmic adventure story in which the state of the main character's soul is just as important as the fate of her body." —Slate
"Groff's depictions of the untrammeled natural world, in all its beauty and brutality, are gorgeously rendered, as is the psychological portrait of her indefatigable protagonist, whose light blazes and then dims as her fortunes change… [I] found myself transfixed, and awestruck by the end." —Literary Hub
 
"Groff skillfully weaves the girl's past into her forward flight... As she travels farther and farther from the fort, Groff draws the reader ever closer to naming the reason for her flight. It's a stunning revelation, followed by an even more stunning ending. Full of wonder and heartbreak, The Vaster Wilds is a dazzling journey."—Tampa Bay Times
 
"Groff creates a thrilling journey."—Minneapolis Star Tribune
"Mesmerizing. . .a stupendous imagining of early colonial America, and about the resilience of one young girl to survive despite all odds."—Town & Country
"Engrossing. . . The Vaster Wilds explores themes that are mainstays of Groff's work: faith, nature, what it means to be a woman in the world— and the ingenuity it takes to survive there."—San Francisco Chronicle

"Anytime there's a new book by Lauren Groff, it's reason to rejoice. . .[The Vaster Wilds] may be the one that puts her over the top. . .Groff has an incomparable gift for making historical fiction feel visceral and relevant."—The Atlanta Journal-Constitution
 "Breathtaking… It is impossible to overstate how spellbindingly she renders the grim reality of wilderness survival… It is not a story for the faint of heart, but it is also not without its softness, its triumphs, its aching moments of benediction and sheer beauty." —Chapter 16
 
"Suspenseful and sweeping." – Southern Living
"Part-adventure, part-fable, classic Groff."—The Millions

"[A] page-turner with a built-in engine. . .once you slip into its rich rhythms, it's an engrossing and rewarding journey."—Vogue
 
"Illustrate[s] a fluid, almost cyclical understanding of history, and faith's sticky place within it." ­—Elle
"[An] absorbing, visceral study of survival." —Vanity Fair

"Extraordinary. . .Groff builds and maintains suspense on multiple levels, while offering an unflinching portrayal of her heroine's desperation and will to survive. This is a triumph." ­—Publishers Weekly, Starred Review
 
"Groff's seventh book, a captivating survival story, starts off running. . . .this wholly enveloping book has. . . deep examinations of faith, dominion, and human nature; Groff's seemingly joyfully related, seamless period prose; and the time-collapsing sense of reading a text channeled directly from the mind of a long-ago-living, breathing woman facing extraordinary circumstances."—Booklist, Starred Review
 
"Groff's imaginative journey into a distant time and place is powered by a thrumming engine. . . Immersion in the girl's experience provides a virtual vacation from civilization. . . The writing is inspired, the imaginative power near mystic."—­Kirkus Reviews
 
"Combines visceral detail and magisterial sweep. . . Lauren Groff's fifth novel, set in Virginia in the early 17th century, is a classic study of solitude and survival that stars a teenage girl fleeing starvation—and the scene of a crime." —Shelf Awareness