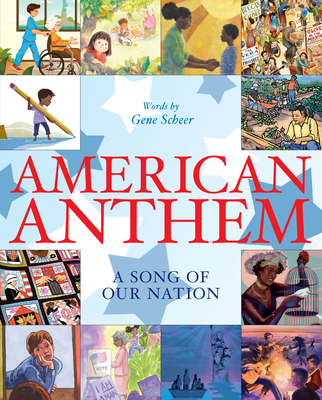 American Anthem: A Song of Our Nation
Gene Scheer
,
Fahmida Azim (Illustrator)
,
Elizabeth Baddeley (Illustrator)
,
Matt Faulkner (Illustrator)
,
Michelle Lee (Illustrator)
,
Rafael López (Illustrator)
,
Veronica Miller Jamison (Illustrator)
,
Christine Almeda (Illustrator)
,
Edel Rodriguez (Illustrator)
,
James McMullan (Illustrator)
,
Laura McGee Kvasnosky (Illustrator)
,
Kate Harvey McGee (Illustrator)
,
London Ladd (Illustrator)
,
Jacqueline Alcántara (Illustrator)
Publication Date:
June 29th, 2021
Publisher:
Philomel Books
Description
Based on the song that President Joe Biden quoted in his inaugural address, this picture book celebrates the beauty and diversity of this country and the legacies on which we build our future.

As President Joe Biden delivered his inaugural address, he quoted from a song that fully captured his own spirit of service: "The work and prayers of centuries have brought us to this day. What shall be our legacy? What will our children say? Let me know in my heart, when my days are through—America, America, I gave my best to you." It was a sentiment that spoke not only to our new president's character, but to the sense of pride in duty and purpose for the sake of a country we hold dear. And it contained a message of quiet patriotism that so many of us hope to share with the next generation.
 
In this new picture book, using the full text of the song President Biden quoted, we do just that. With words that speak to the soul of our nation, and art from twelve different illustrators, all depicting what America means to them, we take readers on a journey through this beautiful country—its history, its struggles, and its dignity—and throughout, we count our own blessings and think about how we can do more to share them with others, and give our best to our country and everyone in it.
About the Author
Gene Scheer (genescheer.com) is a two-time Grammy-nominated songwriter and librettist noted for his scope and versatility. His work has been featured at many leading opera companies across the country, including the Metropolitan Opera in New York and the San Francisco, Santa Fe, and Dallas Operas. He has also written songs for such illustrious singers as Denyce Graves, Renée Fleming, Joyce DiDonato, Patti LuPone, and Nathan Gunn. Gene was inspired to write "American Anthem" in 1998 while reading the book The Miracle at Philadelphia about the creation of the U.S. Constitution. Over the years, "American Anthem" has been performed for Presidents Bill Clinton and George W. Bush and at the memorial service for Supreme Court Justice Ruth Bader Ginsburg. A version of the song, sung by Norah Jones, was featured in Ken Burns's Emmy Award-winning World War II documentary for PBS entitled The War. Gene lives in Connecticut withhis wife, Kristina.
Fahmida Azim has illustrated many books, including her award-winning debut, Muslim Women Are Everything. Fahmida lives and creates in Seattle, Washington. Find her work at fahmida-azim.com and follow her on Twitter and Instagram @fahmida_azim.
 
Elizabeth Baddeley is the illustrator of many books about extraordinary people, including the New York Times bestselling I Dissent. She's happiest out exploring the world with her sketchbook, but has spent much of the COVID-19 pandemic learning how to sew. Elizabeth lives in Kansas City, Missouri, with her husband, young son, and assortment of furry friends. You can visit her online at ebaddeley.com and follow her on Instagram @eabaddeley.  
 
Matt Faulkner has crafted the words and pictures for over forty books for children. He loves to create work for books that are both historic and fantastic in nature and strives to not get them confused. Matt lives with his wife, author Kristen Remenar, and their kids and cat in the lower right-hand corner of the Michigan mitten. Matt invites you to come hang out at his website: mattfaulkner.com.
 
Michelle Lee is a Korean-American illustrator from Los Angeles whose work includes My Love for You Is Always by Gillian Sze and Chloe's Lunar New Year by Lily LaMotte. Michelle finds inspiration in nature, her family, and memories from childhood. Keep up with her online at mklillustration.com!
 
Rafael Lopez is an internationally recognized artist who has illustrated numerous acclaimed picture books, including Just Ask! Be Different, Be Brave, Be You by Sonia Sotomayor; Dancing Hands: How Teresa Carreño Played the Piano for President Lincoln by Margarita Engle; and The Day You Begin by Jacqueline Woodson, among others. He resides in San Diego and Central Mexico. You can visit him at rafaellopez.com. 
 
Veronica Miller Jamison is an illustrator and surface pattern designer living in Philadelphia. Trained as a fashion designer, Veronica has created art and patterns for Hallmark, Essence magazine, and Lilly Pulitzer. She is the illustrator of A Computer Called Katherine, written by Suzanne Slade, and This Is a School, written by John Schumacher, aka "Mr. Schu." To see more of her work, fi nd her online at veronicajamisonart.com and on Instagram @veronicajamisonart.
 
Christine Almeda is a Filipino-American freelance illustrator and character designer from New Jersey. She has a love for children's books and has worked on various chapter books. Christine believes in the power of creativity and diverse storytelling and knows that art can make life more beautiful. You can visit her online at www.christinealmeda.com and find her on Twitter and Instagram @eychristine.
 
Edel Rodriguez was born in Havana, Cuba, and raised in El Gabriel, a small town surrounded by fi elds of tobacco and sugarcane. In 1980, Rodriguez and his family left for America during the Mariel boatlift. They settled in Miami, where Rodriguez was introduced to American pop culture for the fi rst time. Social justice, poster art, and Western advertising are all aspects of his life that continue to inform his work. You can visit Edel online at edelrodriguez.com and find him on Twitter @edelstudio and on Instagram @edelrodriguez. 
 
James McMullan has created images for magazines, books for adults and children, animated films, and US stamps, but he is most well known for his over eighty posters for Lincoln Center Theater as well as his illustrated memoir, Leaving China. You can find James online at jamesmcmullan.com and follow him on Instagram @jamesmcmullanart.
 
Sisters Laura McGee Kvasnosky and Kate Harvey McGee grew up in Sonora, California. They first came to love the beauty of America there in the Sierra foothills and learned the importance of First Amendment rights and the Fourth Estate from their father, who flew a huge American flag over his Main Street newspaper office. Kate is a noted pastel painter and lives in Oregon's Coast Range. Laura lives in Seattle and is the award-winning creator of more than twenty books for children. They illustrated the last three together: Little Wolf's First Howling, Squeak!, and Ocean Lullaby. You can visit them online at khmland.com (for Kate) and LMKBooks.com (for Laura).
 
London Ladd has illustrated numerous critically acclaimed children's books. He uses a unique mixed media approach, combining cut paper textured with acrylic paint, tissue paper, colored pencil, pen, and ink, and touches of digital to bring his diverse subjects to life. Each image is steeped in intensity and emotion, a reflection of the artist himself. You can find London at londonladd.com and follow him on Instagram @london.ladd. 
 
Jacqueline Alcantara is the award-winning and critically acclaimed illustrator of The Field by Baptiste Paul, Freedom Soup by Tami Charles, Jump at the Sun by Alicia D. Williams, and Your Mama by NoNieqa Ramos. Her books have been listed as best books of the year by multiple trade outlets, named to the Kids' IndieNext list, and received multiple starred reviews. You can find Jacqueline's website at jacquelinealcantara.com, or follow her on Twitter and Instagram @_jacqueline_ill.