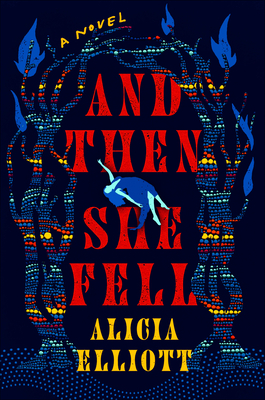 And Then She Fell: A Novel
Publication Date:
September 26th, 2023
Charter Books
On hand, as of Dec 1 1:52am
(Fiction - General)
On Our Shelves Now
Description
A Most Anticipated Book Pick by Good Morning America, Bustle, CrimeReads, Electric Literature, Debutiful, Ms. Magazine, The Nerd Daily, and Paste
A mind-bending, razor-sharp look at motherhood and mental health that follows a young Indigenous woman who discovers the picture-perfect life she always hoped for may have horrifying consequences
On the surface, Alice is exactly where she thinks she should be: She's just given birth to a beautiful baby girl, Dawn; her charming husband, Steve—a white academic whose area of study is conveniently her own Mohawk culture—is nothing but supportive; and they've moved into a new home in a posh Toronto neighborhood. But Alice could not feel like more of an impostor. She isn't connecting with her daughter, a struggle made even more difficult by the recent loss of her own mother, and every waking moment is spent hiding her despair from Steve and their ever-watchful neighbors, among whom she's the sole Indigenous resident. Even when she does have a minute to herself, her perpetual self-doubt hinders the one vestige of her old life she has left: her goal of writing a modern retelling of the Haudenosaunee creation story.
Then, as if all that wasn't enough, strange things start to happen. She finds herself losing bits of time and hearing voices she can't explain, all while her neighbors' passive-aggressive behavior begins to morph into something far more threatening. Though Steve assures her this is all in her head, Alice cannot fight the feeling that something is very, very wrong, and that in her creation story lies the key to her and Dawn's survival.... She just has to finish it before it's too late.
Told in Alice's raw and darkly funny voice, And Then She Fell is an urgent and unflinching exploration of inherited trauma, womanhood, denial, and false allyship, which speeds to an unpredictable—and surreal—climax.
Praise for And Then She Fell: A Novel
"And Then She Fell is a daring, dark exploration of motherhood, mental health and identity.... An investigation into inherited trauma and womanhood, this voice-centered novel packs quite a punch."
—Zibby Owens, Good Morning America
"Haunting and surreal, And Then She Fell had me questioning reality alongside Alice as she grappled with motherhood, being a writer, a wife, and feeling like an outsider in her own life. With its sharp wit and beautiful writing, this book had me flying through the pages."
—Ana Reyes, New York Times bestselling author of The House in the Pines
"And Then She Fell is an incredible and indelible novel. It's full of wonder and surprise, full of life and heart. This book is a gift that breathes life into the reader. Alicia Elliott has given us a knockout—a book so good you can't put it down." 
—Morgan Talty, bestselling author of Night of the Living Rez
"Riveting prose.... And Then She Fell will have readers absorbed within the first few sentences."
—Shondaland

"[A] bitingly hilarious, spine-tingling, genre-blurring fiction debut.... Elliott's ambitious, enthralling portrait of a brilliant young woman beset with racism, postpartum depression, and grief reminds readers that the truth is often multilayered. This provocative blend of drama and speculative fiction is charged with justified anger and overlaid with Indigenous stories and characters. Book clubs should consider this feminist parable a first choice."
—ShelfAwareness (starred), "The Best Books This Week"
"Creepy, thoughtful, and immersive!"
—CrimeReads, "30 Horror Titles to Look Out for in 2023"
"Alicia Elliott's satirical debut book is awash in trippy black humor."
—Bustle, "The 35 Best New Books of Fall 2023"
"An incredibly moving novel about a young Indigenous mother who is struggling to connect with her newborn daughter. Elliott deftly explores new motherhood and mental health throughout her surreal plot and beautiful prose. A stunner through and through."
—Debutiful, "Can't Miss Debut Books You Should Read This September"
"Alicia Elliott explores Native identity, tradition, womanhood, motherhood and mental health in compelling, mysterious and magical storytelling. Expertly moving from humor to horror and back again, Elliott navigates heavy themes in thoughtful and original prose."
—Ms. Magazine
"A tale of compromise, madness, and recuperation.... Alice's observations, however unreliable they become, suggest above all the significance of cultural erasure and appropriation for Indigenous peoples, the ongoing impact of policies of cultural genocide, and the rest of the country's routine incomprehension of or indifference to Indigenous suffering.... "[T]he novel's plot moves along briskly and suspensefully."
—Kirkus
"This first novel from Elliott is an evocative, cerebral study of womanhood, identity, and selfhood wrapped in Haudenosaunee legend.... Often funny, often chilling, And Then She Fell studies an Indigenous woman's unraveling in a world that she's ashamed to feel so disconnected from, and Elliott tells her story with assuredness and weight."
—Booklist

"Elliott expertly mines the challenges faced by a Mohawk woman as her world threatens to fall apart in this ambitious offering. . . .This novel is part time travel and part horror, as full of heart as it is bold."
—Publishers Weekly
"And Then She Fell is an unblinking look at the complex and often terrifying journey of new motherhood and what we're told we should want, with moving insights into connecting with our ancestors and our own identity. Alicia Elliott is a powerful storyteller, and this book is both suspenseful and heartfelt, with haunting elements that linger long after the final page is turned."
—Vanessa Lillie, bestselling author of Little Voices and Blood Sisters
"And Then She Fell is shocking, riveting, uncomfortable, gorgeous and visionary.... Elliott's remarkable, genre-blurring, and brilliant writing takes us into a world of metaphor and myth and nature. Her world-building is as menacing and spectacular as that of Jeff VanderMeer and Silvia Moreno-Garcia. Elliott's true gift to the reader is a new perspective on Indigeneity which is both humbling and earth-shattering."
—Heather O'Neill, author of When We Lost Our Heads

"And Then She Fell is a stunning, propulsive novel that complexly folds generational love and mental health into a story about relationships: the ones we have with our ancestors, our family and friends, and ourselves.... I'm so happy that a novel like this exists, and I am excited to see the future of writing that this work inspires. And Then She Fell is a triumph of a debut."
—Jessica Johns, author of Bad Cree
"I could not put this book down. And Then She Fell is one of the most mesmeric, intoxicatingly original novels I have read in recent years, with a central character I will carry with me for a very long time."
—Hannah Kent, author of Burial Rights

"A towering achievement, stunningly good storytelling."
—Melissa Lucashenko, Miles Franklin Award-winning author of Too Much Lip

"Elliott's meticulous prose is an agile portal through the narrator's complex inner life, the tensions, and fractures that surface when the trappings of success hide the weight of intergenerational trauma, racism, sexism, and the unwieldy expectations of motherhood."
—Eden Robinson, internationally bestselling author of Return of the Trickster

"Familiar and ethereal. Brutal and beautiful. And Then She Fell is the fulfilment of the promise of Alicia Elliott's storytelling prowess. . . . What an accomplishment. What a gift."
—Cherie Dimaline, author of The Marrow Thieves and VenCo

"Alicia Elliott's thorough and thoughtful examination of motherhood, intergenerational trauma, and modern Indigenous realities is a caring salve for Indigenous readers and an important enlightenment for others. I loved its profound exploration of the spaces we navigate as Indigenous peoples - from the rez to the city and beyond - and I greatly appreciated the depth of humanity with which Elliott was able to portray her rez characters. This novel is a triumph of Indigenous truths and experiences."
—Waubgeshig Rice, author of Moon of the Crusted Snow and Moon of the Turning Leaves