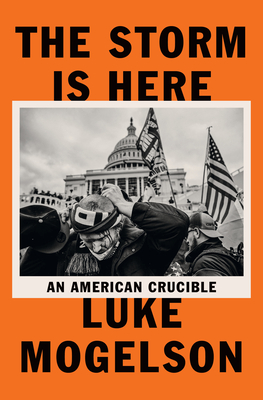 The Storm Is Here: An American Crucible
Publication Date:
September 13th, 2022
Charter Books
On hand, as of Nov 30 3:37am
(Current Affairs)
On Our Shelves Now
Description
The New Yorker's award-winning war correspondent returns to his own country to chronicle its accelerating civic breakdown, in an indelible eyewitness narrative of startling explanatory power
After years of living abroad and covering the Global War on Terrorism, Luke Mogelson went home in early 2020 to report on the social discord that the pandemic was bringing to the fore across the US. An assignment that began with right-wing militias in Michigan soon took him to an uprising for racial justice in Minneapolis, then to antifascist clashes in the streets of Portland, and ultimately to an attempted insurrection in Washington, D.C. His dispatches for The New Yorker revealed a larger story with ominous implications for America. They were only the beginning.
This is the definitive eyewitness account of how—during a season of sickness, economic uncertainty, and violence—a large segment of Americans became convinced of the need to battle against dark forces plotting to take their country away from them. It builds month by month, through vivid depictions of events on the ground, from the onset of COVID-19 to the attack on the US Capitol—during which Mogelson followed the mob into the Senate chamber—and its aftermath. Bravely reported and beautifully written, The Storm Is Here is both a unique record of a pivotal moment in American history and an urgent warning about those to come.
Praise for The Storm Is Here: An American Crucible
One of The New Yorker's Best Books of 2022
"[An] important book . . .  Mogelson points to a bracing existential truth: 'One emotional feature of contemporary conflict,' he muses, 'is the ever-present, low-frequency dread of random catastrophe.' He relates 'the missile tearing through the roof' in war to a rampage through the nation's Capitol in peacetime: 'When no place is im­mune from haphazard demolition, more abstract structures—the in­visible schema that holds societies together—also become precarious . . . . I don't think of this as a psychological phenomenon; I think that war reminds us how things are not as sound and solid as we believe.' This is the book's wake-up call." —The New York Times
"Searingly captures a country being torn apart both by phantom grievances and by genuine social injustice." —The New Yorker
"Indispensable . . . The great New Yorker battlefield reporter immerses himself with American militias you've only heard about, providing a firsthand account of those countrymen who are increasingly turning on their government. It reads like a first draft of the breakdown of American democracy." —Chicago Tribune
"A contributing writer at The New Yorker offers a masterclass in investigative journalism." —Oprah Daily
"Mogelson's man-on-the-ground, mostly primary-source journalism, with stacks of sources and reference books to inform historical context, provides a clear-eyed and chilling view. It's the kind of book people will correctly label 'important' for a long time, a must-read." —A.V. Club
"Mogelson's fine reporting is multifaceted . . . including a dazzling account of the January 6 riot from inside the Capitol itself . . . An unflinching, minutely observed, and wholly unsettling portrait of today's America, begging the question: Can the center hold?" —Booklist (starred review)
"A crucial account . . . Mogelson recounts the chaos in consistently striking, memorable detail. Essential for understanding the right-wing rage that boils across America." —Kirkus (starred review)
"An account of great consequence by one of the best reporters in the world. It is no coincidence that Luke Mogelson happened to be in the crowd outside the Capitol on January 6, 2021. He had been tracking this movement for months. And it is no surprise to read how he joined the surge because in that moment and in countless others, all over the globe, Mogelson has been a model of courage, daring, and attentiveness. He is the indispensable witness of our times, and he brings deep insight to this essential document." —Ted Conover
"A sterling example of why Luke Mogelson is one of the most indispensable journalists working today. Meticulous, unsparing, and as brilliant as it is unsettling, this book is a survey of American bedlam. Our future as a nation to no small degree hinges upon our ability to grapple with the concerns Mogelson chronicles in these pages." —Jelani Cobb, dean of Columbia Journalism School
 
"Luke Mogelson has single-handedly pioneered a generation of journalism: visceral immersion, recorded in forensic high fidelity, analyzed with deep, moral perspective. His book is an instant classic—not only the definitive battlefield account of America's 'communal delirium,' but also a haunting prophecy of a history unfinished." —Evan Osnos, National Book Award–winning author of Wildland: The Making of America's Fury

"A remarkable piece of work—an up-close eyewitness account of the breakdown of American society, as it happened, in the waning days of the Trump era. In Luke Mogelson's mesmerizing narrative, the chaotic blur of traumatic events that led up to January 6, 2021, unfolds in lucid succession, and we are left with the brutal truth of how America's unreconciled demons—all the racism, all the wars, all the hatreds—have triggered its present undoing. This is perhaps Mogelson's finest achievement. By moving on the very front line of history, by witnessing, talking, and listening to both sides as fairly and honestly as he possibly can, he offers fellow Americans a chance to look in the mirror, perhaps to take stock, and to say: 'So—this is how it ends.'" —Jon Lee Anderson
 
"A terrifying and essential book that anyone who loves this country should read, and a powerful reminder of the value of fair-minded, clear-eyed, compassionate reporting. Mogelson (brilliantly, calmly) puts the reader behind the scenes of the current chaos. The result, for this reader anyway, was a resolved, startled realization of how much I have taken for granted, and a renewed commitment to democracy and justice. Electrifying and inspiring." —George Saunders
 
"Bearing clear-eyed witness, Luke Mogelson puts himself at the roiling center of conflicts that have riven our nation. He wades into danger to talk with everyone—conspiracy believers, Proud Boys, victims of race hatred, ordinary heroes bent on saving what is good about us. This book is filled with reverence for the fallen, grief for the living, unthrottled mourning for the betrayals of our country's highest principles. Don't let democracy die. Pick up this book. It's all in the title, dear reader. The Storm is Here." —Louise Erdrich, author of the Pulitzer Prize–winning novel The Night Watchman
 
"Luke Mogelson is one of the finest war correspondents of his generation, and in The Storm Is Here, he returns home and surveys the dangerous fault lines dividing his own country. Long before the cataclysmic events of January 6, 2021, Mogelson was covering the early tremors of paranoia, bigotry, and discontent, and on the day itself he was among the insurrectionists at the Capitol, in the eye of the storm. This is a searing book, exquisitely reported, lyrically told, and so vivid it will make your heart stop—a dark journey into what ails America." —Patrick Radden Keefe
"Mogelson writes with the descriptive fluency and eye for detail that you would expect of a reporter with his credentials. But what makes this book more than a dystopian travelogue is his ability to tease out connections across history and make illuminating global comparisons." —Guardian (UK)