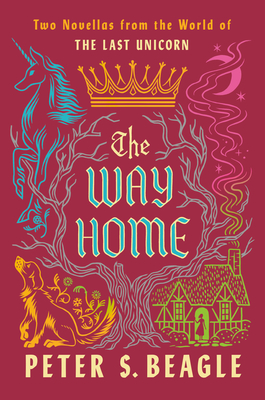 The Way Home: Two Novellas from the World of The Last Unicorn
Publication Date:
April 4th, 2023
Charter Books
On hand, as of Nov 30 3:37am
(Sci-Fi / Fantasy)
On Our Shelves Now
Description
Renowned author Peter S. Beagle returns to the world of The Last Unicorn in this resonant and moving two-novella collection, featuring the award-winning "Two Hearts" and the brand-new "Sooz."

The Last Unicorn is one of fantasy's most revered classics, beloved by generations of readers and with millions of copies in print. Revisiting the world of that novel, Beagle's long-awaited Hugo and Nebula-Awards-winning "Two Hearts" introduced the irrepressible Sooz on a quest to save her village from a griffin, and explored the bonds she formed with unforgettable characters like the wise and wonderful Molly Grue and Schmendrick the Magician.
In the never-before-published "Sooz," the events of "Two Hearts" are years behind its narrator, but a perilous journey lies ahead of her, in a story that is at once a tender meditation on love and loss, and a lesson in finding your true self.
The Way Home is suffused with Beagle's wisdom, profound lyricism, and sly wit; and collects two timeless works of fantasy.
About the Author
Peter S. Beagle was born in 1939 and raised in the Bronx, just a few blocks from Woodlawn Cemetery, the inspiration for his first novel, A Fine and Private Place. He is the author of classic works such as The Last Unicorn, Tamsin, and The Innkeeper's Song, and his novels have earned him many millions of fans around the world. In addition to stories and novels, Beagle has written numerous teleplays and screenplays, including the animated versions of The Lord of the Rings and The Last Unicorn. His nonfiction book I See By My Outfit is considered a classic of American travel writing; and he is also a gifted poet, lyricist, and singer/songwriter.
Praise for The Way Home: Two Novellas from the World of The Last Unicorn
"With beautiful worldbuilding and tons of heart, these tender fantasies are sure to delight."
–Publishers Weekly (starred review)
"A lovely duology that invokes the charm of The Last Unicorn while extending the magic of the original into a bigger world. Highly recommended for lovers of Beagle's classic, who are legion."
–Library Journal
"Beagle brilliantly balances the bits of darkness that exist with Sooz's drive to accomplish whatever needs to be done."
–Booklist
"The writing in "Sooz" is particularly lush and lyrical, with beautiful and desolate descriptions of the world of the Dreamies and the simultaneously magical and terrible things that happen there." –Paste Magazine