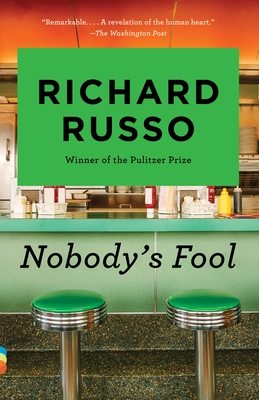 Nobody's Fool (North Bath Trilogy #1)
Publication Date:
April 12th, 1994
In Stock at Warehouse - Usually Arrives in 3-7 Days
Description
From the Pulitzer Prize–winning author of Empire Falls, this slyly funny, moving novel about a blue-collar town in upstate New York—and about Sully, one of its unluckiest citizens, who has been doing the wrong thing triumphantly for fifty years—is a classic American story.
"Remarkable.... A revelation of the human heart." —The Washington Post

Divorced from his own wife and carrying on halfheartedly with another man's, saddled with a bum knee and friends who make enemies redundant, Sully now has one new problem to cope with: a long-estranged son who is in imminent danger of following in his father's footsteps. With its uproarious humor and a heart that embraces humanity's follies as well as its triumphs, Nobody's Fool, from Pulitzer Prize-winning author, Richard Russo, is storytelling at its most generous. Nobody's Fool was made into a movie starring Paul Newman, Bruce Willis, Jessica Tandy, and Melody Griffith.
Look for Everybody's Fool, available now, and Somebody's Fool, coming soon.
About the Author
RICHARD RUSSO is the author of nine novels, most recently Chances Are..., Everybody's Fool and That Old Cape Magic; two collections of stories; and the memoir Elsewhere. In 2002 he received the Pulitzer Prize for Empire Falls, which, like Nobody's Fool, was adapted into a multiple-award-winning miniseries; in 2017, he received France's Grand Prix de Littérature Américaine. He lives in Port­land, Maine.
Praise for Nobody's Fool (North Bath Trilogy #1)
"Remarkable.... A revelation of the human heart." —The Washington Post
"Russo is a master craftsman....Nobody's Fool is a big, rambunctious novel with endless riffs and unstoppable human hopefulness." —The Boston Globe
"Simple as family love, yet nearly as complicated, Richard Russo's confident, assured novel sweeps the reader up in the daily life of its characters." —San Francisco Chronicle