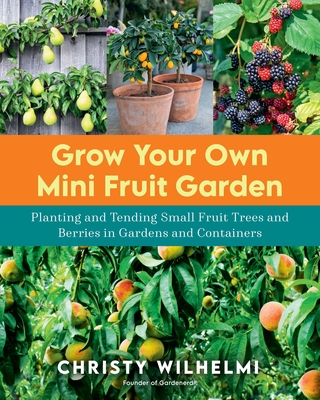 Grow Your Own Mini Fruit Garden: Planting and Tending Small Fruit Trees and Berries in Gardens and Containers
Publication Date:
April 20th, 2021
Publisher:
Cool Springs Press
Charter Books
On hand, as of Dec 6 12:52am
(Gardening & Plants)
On Our Shelves Now
Description
Forget the farmer's market. Grow your own delicious, organic apples, figs, peaches, plums, strawberries, blackberries, citrus fruits, and more with Grow Your Own Mini Fruit Garden. No green thumb required.
Even beginners become successful fruit "farmers" with the techniques and advice offered by author Christy Wilhelmi, the force behind the popular gardening website, Gardenerd. Selecting the best small-scale fruit trees, bushes, vines, and plants for your climate, siting them properly, and pruning your compact trees for health and productivity are some of the many topics covered in the pages of this bible of small-space fruit growing.
You'll also discover how to:
Turn your urban, suburban, or rural garden into a fruit factory, no matter its size
Maximize production from edible container fruit gardens
Grow more food in less space
Limit your family's synthetic pesticide consumption
Choose varieties with increased disease resistance
Select plants that grow well in your climate
Maintain your fruiting plants correctly to encourage years of prolific harvests
With modern, dwarf varieties, and help from Grow Your Own Mini Fruit Garden, a healthy, high-yielding garden filled with fruit-producing plants is possible—even in the smallest of yards.
Praise for Grow Your Own Mini Fruit Garden: Planting and Tending Small Fruit Trees and Berries in Gardens and Containers
"...you'll be almost overwhelmed with tips and techniques for creating what can only be described as a wonderland dreamscape, but with Wilhelmi's immersive knowledge, could actually be rendered into reality. The book is a one-stop shop—vertical gardening, arbor making, espalier building, tree grafting, soil prep, compost building, drainage designing, container gardening, pruning strategies, drip irrigation building, disease resistance techniques, pest control, feeding and fertilization, and finally harvesting."—Beth Py-Lieberman, Washington Gardener Magazine
"Many green thumbs for this book...it's a great read. Highly recommended."—Andrew Messinger, The Hampton Gardener/27East.com
"Well done! [Wilhelmi's] Grow Your Own Mini Fruit Garden book presents all the bits of info, well-explained but simply, for beginning gardeners to know how to begin!"
 —Yvonne Savio, Southern California Horticultural Society Board of Directors