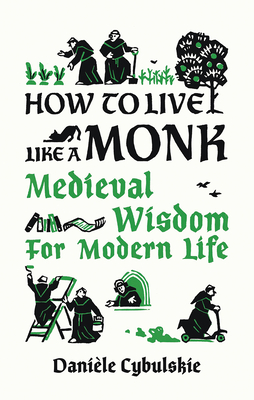 How to Live Like a Monk: Medieval Wisdom for Modern Life
Publication Date:
November 23rd, 2021
Publisher:
Abbeville Press
In Stock at Warehouse - Usually Arrives in 3-7 Days
Description
How medieval monastic practices—with their emphasis on a healthy soul, mind, and body—can inspire us to live fuller lives today
We know that they prayed, sang, and wore long robes, but what was it really like to be a monk? Though monastic living may seem unimaginable to us moderns, it has relevance for today. This book illuminates the day-to-day of medieval European monasticism, showing how you can apply the principles of monastic living, like finding balance and peace, to your life.   
With wit and insight, medievalist and podcaster Daniele Cybulskie dives into the history of monasticism in each chapter and then reveals applications for today, such as the benefits of healthy eating, streamlining routines, gardening, and helping others. She shares how monks authentically embraced their spiritual calling, and were also down to earth: they wrote complaints about being cold in the manuscripts they copied, made beer and wine, and even kept bees. 
How to Live Like a Monk features original illustrations by Anna Lobanova, as well as more than eighty color reproductions from medieval manuscripts. It is for anyone interested in the Middle Ages and those seeking inspiration for how to live a full life, even when we're confined to the cloister of our homes.
Praise for How to Live Like a Monk: Medieval Wisdom for Modern Life
This beautifully illustrated self-help guide . . . reimagines monastic practices to help readers live with greater peace, simplicity, and purpose.
— Publishers Weekly
Cybulskie relates how people today can. . . find peace, simplicity, and purpose in their lives. . . Though modern-day readers might not want to fully embrace the monastic life, they can benefit from such practices as meditation, making peace with their pasts, and practicing gratitude.
This is a brilliant concept, beautifully delivered. . . told with great knowledge, with a view to passing on lessons learnt many hundreds of years ago, but still so relevant today. ­This highly original work is the perfect antidote to the stresses of modern life.
— Charles Spencer, historian and best-selling author of Killers of the King and The White Ship
Filled to the brim with wise and practical advice, How to Live Like a Monk is a wonderful reminder that most of what we need to live a full and fulfilling life is already within us.
— Tal Ben-Shahar, New York Times bestselling author of Happier and Choose the Life You Want
This entertaining and enlightening book almost made me want to become a monk. Almost. . .
— Dan Jones, New York Times best-selling author and presenter of Netflix's Secrets of Great British Castles
This is a profoundly lovely book. Here is the life of a medieval monk, vividly described . . . with clarity, wit, and a humane wisdom that . . . offers food for thought about the modern world.
— Helen Castor, author of She-Wolves and Joan of Arc
This compact, beautifully illustrated volume contains a world of practical wisdom, wrapped up in amusing anecdotes and revealing quotations from medieval sources. It wears its learning lightly, but readers will find many surprising facts about the Middle Ages, as well as seeing their own lifestyle in a fresh light.
— Seb Falk, author of The Light Ages: The Surprising Story of Medieval Science