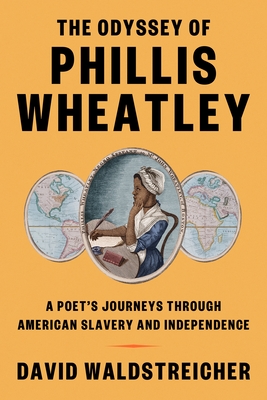 The Odyssey of Phillis Wheatley: A Poet's Journeys Through American Slavery and Independence
Publication Date:
March 7th, 2023
Publisher:
Farrar, Straus and Giroux
Charter Books
On hand, as of Dec 2 2:07am
(Bio/Memoir/Essays)
On Our Shelves Now
Description
A New York Times notable book of 2023

"[An] erudite, enlightening new biography . . . [Waldstreicher's] interpretations equal Wheatley's own intentional verse, making it a joy to follow along as he unpacks her words and their arrangement." —Tiya Miles, The Atlantic

"Thoroughly researched, beautifully rendered and cogently argued . . . The Odyssey of Phillis Wheatley is [. . .] historical biography at its best." —Kerri Greenidge, The New York Times Book Review (Editors' Choice)

A paradigm-shattering biography of Phillis Wheatley, whose extraordinary poetry set African American literature at the heart of the American Revolution.
Admired by George Washington, ridiculed by Thomas Jefferson, published in London, and read far and wide, Phillis Wheatley led one of the most extraordinary American lives. Seized in West Africa and forced into slavery as a child, she was sold to a merchant family in Boston, where she became a noted poet at a young age. Mastering the Bible, Greek and Latin translations, and the works of Pope and Milton, she composed elegies for local elites, celebrated political events, praised warriors, and used her verse to variously lampoon, question, and assert the injustice of her enslaved condition. "Can I then but pray / Others may never feel tyrannic sway?" By doing so, she added her voice to a vibrant, multisided conversation about race, slavery, and discontent with British rule; before and after her emancipation, her verses shook up racial etiquette and used familiar forms to create bold new meanings. She demonstrated a complex but crucial fact of the times: that the American Revolution both strengthened and limited Black slavery.
In this new biography, the historian David Waldstreicher offers the fullest account to date of Wheatley's life and works, correcting myths, reconstructing intimate friendships, and deepening our understanding of her verse and the revolutionary era. Throughout The Odyssey of Phillis Wheatley, he demonstrates the continued vitality and resonance of a woman who wrote, in a founding gesture of American literature, "Thy Power, O Liberty, makes strong the weak / And (wond'rous instinct) Ethiopians speak."
Praise for The Odyssey of Phillis Wheatley: A Poet's Journeys Through American Slavery and Independence
"[A] thoroughly researched, beautifully rendered and cogently argued biography . . . The Odyssey of Phillis Wheatley is at once historical biography at its best, literary analysis at its sharpest and a subversive indictment of current political discourse questioning the relevance of Black life in our country's history . . . Waldstreicher's major contribution as a scholar is to take seriously the alternate reality that enslaved people like Wheatley created outside the white gaze." —Kerri Greenidge, The New York Times Book Review
"[An] erudite, enlightening new biography . . . Wheatley emerges in these pages as a literary marvel. Waldstreicher's comprehensive account is a monument to her prowess . . . The greatest achievement of Waldstreicher's biography is the portrayal of Wheatley as a serious poet . . . [Waldstreicher's] interpretations equal Wheatley's own intentional verse, making it a joy to follow along as he unpacks her words and their arrangement." —Tiya Miles, The Atlantic
"The Odyssey of Phillis Wheatley . . . puts [Wheatley] smack in the middle of the raging debate over the relationship between the American Revolution and slavery . . . [Waldstreicher] is known for deeply researched, tightly written studies, which aim to complicate any comforting idealization of the founding . . . [The Odyssey of Phillis Wheatley] is a founder biography of sorts, treating Wheatley not only as the progenitor of the African American literary tradition but an important political voice in the creation of the nation itself." —Jennifer Schuessler, The New York Times
"[Waldstreicher] expertly re-creates the complex political realities of pre-Revolutionary America. He is especially good at parsing the subtle messages that Wheatley concealed in her verse, explosive devices meant to detonate the racial politics of her time." —Randall Fuller, The Wall Street Journal

"Biographies of poets can veer into dry territory. Waldstreicher's text feels like a series of narrative enjambments: Each page bleeds into the next with a tantalizing sense of discovery as the author pulls into better focus a short, brilliant life lived in an era of opaque conflict." —Andrew Dansby, Houston Chronicle
"[An] expansive new biography . . . The Odyssey of Phillis Wheatley is a rich and necessary book." —Farah Jasmine Griffin, O magazine
"A fascinating and provocative account of [Wheatley's] life and work." —Glenn Altschuler, Florida Courier
"[Waldstreicher] places Wheatley squarely in her times and shows how she navigated them . . . Waldstreicher vividly re-creates Wheatley's Boston . . . His portrait of colonial-era slavery is chilling, and he makes expert use of documents to show its cruelty." —Mary Ann Gwinn, Star Tribune
"Magisterial . . . Waldstreicher excels at teasing out the subtle political messages within Wheatley's poetry . . . The historical scholarship dazzles and the incisive analysis of Wheatley's poetry suggests she had a more 'liberatory political agenda' than she's often credited for. The result is an indispensable take on an essential early American poet." —Publishers Weekly (starred review)
"Prodigy-poet Phillis Wheatley launched a complexly creative and courageous life of strategic dissent that has never before been so fully illuminated . . . Waldstreicher zestfully establishes an intricately detailed context for his in-depth analysis of Wheatley's experiences and writings . . . Waldstreicher's engrossing restorative biography makes one hope for a Hamilton-style celebration of Wheatley's profound quest." —Donna Seaman, Booklist
"Intriguing . . . For those familiar only with Wheatley's often anthologized 'On Being Brought From Africa to America,' the breadth and depth of her poetry will be a revelation." —Kirkus Reviews
"[Waldstreicher's] in-depth, engrossing biography, The Odyssey of Phillis Wheatley . . . adds much to the tumultuous Revolutionary chapter of America's political and racial history." —Priscilla Kipp, BookPage

"David Waldstreicher has done something truly magical in this deeply historical, deeply literary biography of Phillis Wheatley. He has recovered her poetical voice (and a treasure trove of her long-forgotten anonymous poems) within the complex world of eighteenth-century slavery and revolution. Anyone who wishes to understand Wheatley and her unique insights into why slavery dominated America's revolutionary thinking must read this thoughtful, incredibly smart, eye-opening book." —Nancy Isenberg, author of White Trash: The 400-Year Untold History of Class in America and Fallen Founder: The Life of Aaron Burr
"In David Waldstreicher's telling, the Greek and Roman classics—the pride of the American founders—never spoke more clearly than to the Black poet Phillis Wheatley. And why not? War, peril on the high seas, kidnappings: she had seen them all and lived them all. Here is Wheatley's dramatic life and subtle voice, richly rendered; As I read, I'd never felt closer to her." —Woody Holton, author of Liberty is Sweet: The Hidden History of the American Revolution
"This remarkable book connects the age of revolution and the worlds of Atlantic slavery not just through impressive historical research but through deft attention to Phillis Wheatley's oft-disdained poetry. Her ostensibly stiff Augustan verses make the connection. Heroic couplets indeed!" —Laurel Thatcher Ulrich, author of A House Full of Females and A Midwife's Tale
"David Waldstreicher's biography of Phillis Wheatley is essential reading about a poet known so well by her name, and yet so little known by the facts, motivations, and nuances of her extraordinary life and her art. As Waldstreicher beautifully states in this turn-pager: 'she's Homer and Odysseus and the slaves and the women they knew or imagined.' The Odyssey of Phillis Wheatley is a must-read about one of America's most remarkable and least understood poets. This is not only the story of a remarkable revolutionary poet; it is also—amid its triumphs and tragedies—an American saga." —Rowan Ricardo Phillips, author of Living Weapon and When Blackness Rhymes with Blackness