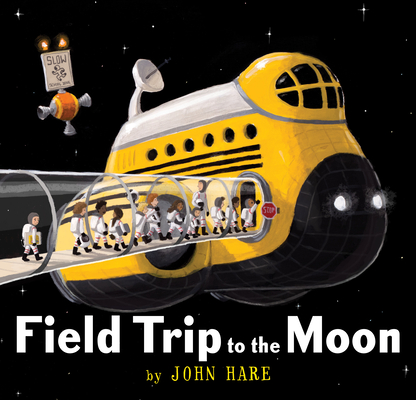 Field Trip to the Moon (Field Trip Adventures)
Publication Date:
January 18th, 2022
Publisher:
Margaret Ferguson Books
In Stock at Warehouse - Usually Arrives in 3-7 Days
Description
It's field trip day, and students are excited to travel on their yellow spaceship bus from their space station to the moon in this wordless picture book.
An ALA Notable Children's Book
A Golden Duck Notable Picture Book
Climb aboard the spaceship bus for a fantastic field trip adventure to the moon!
Once their bright yellow ship lands, students debark and set out with their teacher to explore. They jump over trenches and see craters and mountains on the moon's surface and even Earth in the faraway distance.
But when one student takes a break to draw some pictures and falls asleep, they wake up to discover that the rest of the class and the spaceship are gone. How the student passes the time waiting to be rescued makes for a funny and unexpected adventure that will enchant children all over the galaxy.
With rich atmospheric art, John Hare's wordless picture book invites children to imagine themselves in the story--a story full of surprises including some friendly space creatures. A perfect complement to discussions and lessons on the moon landing.
Don't miss Field Trip to the Ocean Deep, another wordless adventure!

Recipient of the Pied Piper Literary Prize
An ILA-CBC Children's Choice!
A Pennsylvania Center for the Book Baker's Dozen Selection!
A School Library Journal Best Book of the Year
A Horn Book Best Book of the Year
A Bank Street Best Book of the Year - Outstanding Merit
Praise for Field Trip to the Moon (Field Trip Adventures)
"A close encounter of the best kind."—Kirkus Reviews
★ "[The] sly but easy-to-follow linear narrative is told through a well-paced mix of panels (circular, horizontal, and vertical), full-pages, and double-page spreads, with pops of color (the yellow of the school bus–like space-ship, the color-filled crayon box) that are highly effective. The moon creatures, despite their minimalist features, are very expressive, as is the child—whose face remains hidden behind a space-mask until the last page."—The Horn Book, Starred Review 

★ "Hare's picture book debut is a winner. . . . His gray yet surprisingly detailed moonscape is both the setting and a character in its own right; his depiction of the aliens as gray humanoids amazed by color is genius. A beautifully done wordless story about a field trip to the moon with a sweet and funny alien encounter; what's not to like?" —School Library Journal, Starred Review
"A perfectly paced paean to imagination, Hare's auspicious debut presents a world where a yellow crayon box shines like a beacon."—Booklist


"A clever and noteworthy tale of lunar adventure."—Publishers Weekly