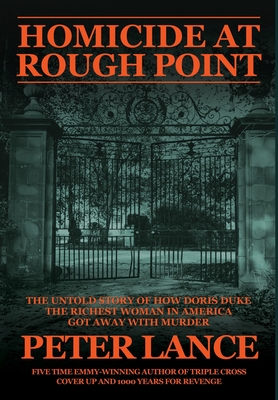 Homicide at Rough Point
Publication Date:
February 23rd, 2021
Publisher:
Tenacity Media Books
In Stock at Warehouse - Usually Arrives in 3-7 Days
Description
Peter Lance, author of HOMICIDE AT ROUGH POINT, debunks Doris Duke's claim that she accidentally killed Eduardo Tirella. - NY Post
In the fall of 1966, Eduardo Tirella, close confidant of billionaire Doris Duke, informed the possessive and vindictive heiress that he was leaving her employ as chief designer and art curator to return to Hollywood where his career as a set designer was just catching fire.
Minutes later, she crushed him to death under the wheels of a two-ton station wagon as they were leaving Rough Point, her Bellevue Avenue estate in Newport, RI, the storied resort.
In a murderous quid-pro-quo, the local police quickly ruled the incident "an unfortunate accident" and Doris began giving a fortune to Newport, restoring 70 colonial-era homes that quickly turned it into a tourist Mecca. In 2018, Lance, who started his career as a cub reporter for The Newport Daily News eight months after Tirella's death, began a re-examination of the case and proved that the mercurial tobacco heiress got away with murder.
In a riveting, doggedly researched book with 105 illustrations -- including never-before seen forensic files -- Lance, a five-time Emmy winner, rewrites history and finally restores the reputation of Eduardo Tirella, a gay Renaissance man and war hero whom Duke went to great lengths to erase from the history of her troubled life.
Praise for HOMICIDE AT ROUGH POINT:
"In his meticulous new tome, Lance tells the untold story of how Doris Duke, the richest woman in America got away with murdering a gay man, her designer and art curator Eduardo Tirella." - Diane Anderson-Minshall, CEO Pride Media in The Advocate.
"This book has rocked the world of publishing, it's rocked the world of journalism and true crime junkies are talking about it from Coast to Coast." - Frank Morano WABC RADIO
"A page turning look into the world of elite influence, true crime and a systemic coverup that has rocked a New England summer resort city" - Bartholomewtown Podcast
"Homicide at Rough Point is a page-turning epic for our time. Proof that when a narcissistic billionaire assumes, they can get away with murder, there's a reporter out there willing and able to expose them." - Nicholas Pileggi, author of Goodfellas and Casino
"HOMICIDE is the best true crime book I've read in years; solving the horrific cold case murder of Eddie Tirella, a gifted Italian-American war hero who didn't deserve to die. Peter Lance is the most tenacious reporter I know. A must read " - John A. "Junior" Gotti
Praise for Peter Lance's HarperCollins Mafia bio DEAL WITH THE DEVIL:
"The perfect mix of thorough research and gripping storytelling." (NPR)
" A] thrilling account. . . This scrupulously investigated tale. . . will have true crime fans on the edge of their seats (Publishers Weekly, starred review)
"A meticulously researched and frightening account of the long term relationship between the FBI and vicious Mafia thug Gregory Scarpa Sr. . . Stunning revelations." (Booklist)