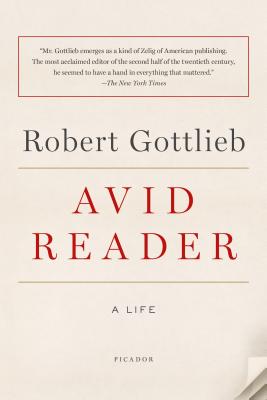 Avid Reader: A Life
Publication Date:
September 12th, 2017
Charter Books
On hand, as of Dec 2 2:07am
(Bio/Memoir/Essays)
On Our Shelves Now
Description
Winner of the Anne M. Sperber Prize

A spirited and revealing memoir by the most celebrated editor of his time.

After editing The Columbia Review, staging plays at Cambridge, and a stint in the greeting-card department of Macy's, Robert Gottlieb stumbled into a job at Simon and Schuster. By the time he left to run Alfred A. Knopf a dozen years later, he was the editor in chief, having discovered and edited Catch-22 and The American Way of Death, among other bestsellers. At Knopf, Gottlieb edited an astonishing list of authors, including Toni Morrison, John Cheever, Doris Lessing, John le Carré, Michael Crichton, Lauren Bacall, Katharine Graham, Robert Caro, Nora Ephron, and Bill Clinton--not to mention Bruno Bettelheim and Miss Piggy. In Avid Reader, Gottlieb writes with wit and candor about succeeding William Shawn as the editor of The New Yorker, and the challenges and satisfactions of running America's preeminent magazine. Sixty years after joining Simon and Schuster, Gottlieb is still at it--editing, anthologizing, and, to his surprise, writing.
But this account of a life founded upon reading is about more than the arc of a singular career--one that also includes a lifelong involvement with the world of dance. It's about transcendent friendships and collaborations, "elective affinities" and family, psychoanalysis and Bakelite purses, the alchemical relationship between writer and editor, the glory days of publishing, and--always--the sheer exhilaration of work.
Praise for Avid Reader: A Life
"Mr. Gottlieb emerges as a kind of Zelig of American publishing. The most acclaimed editor of the second half of the 20th century, he seemed to have a hand in everything that mattered . . . An indispensable work of American publishing history, thick with instruction and soul and gossip of the higher sort." —Dwight Garner, The New York Times
"Robert Gottlieb's buoyant memoir of his indefatigable editorial career proves Noel Coward's observation that work is more fun than fun . . . He does a fine, fast job of evoking his 1930s and '40s New York boyhood . . . Avid Reader gallops through the glamour of Lauren Bacall, who wrote her memoirs on the company premises; the popular histories of Barbara Tuchman . . . and the evolution of Salman Rushdie . . . Some of this memoir's keenest pleasures come from a series of portraits that demonstrate how the author's most profound associations and friendships have been with women, whether Nina Bourne or Nora Ephron or the British literary agent Deborah Rogers." —Thomas Mallon, The New York Times Book Review
"Delightful . . . The best editors' memoirs revive the magic without devolving into nostalgia . . . Avid Readersucceeds on both counts." —Sarah Weinman, The New Republic
"[A] splendid memoir . . . Avid Reader will be avidly read by anyone interested in the publishing world of the past 60 years. After all, not since Max Perkins worked with Hemingway and Fitzgerald has there been a more admired editor than Robert Gottlieb. His has been, he would admit, a privileged and enviable life, which is really just another way of saying that it has been a life filled with books." —Michael Dirda, The Washington Post
"[Gottlieb's] much-anticipated memoir . . . is remarkable for its intimate and revealing portraits of the most important writers of our time." —Graydon Carter, Vanity Fair
[A] publishing world classic . . . [Gottlieb's] book world anecdotes are uniformly riveting." —Steve Donoghue, The Christian Science Monitor
"An exceptionally accomplished and influential editor and the author of numerous profiles and biographies, Gottlieb now tells his many-faceted life story with zest and precision, candor and humor, tracing his path to Simon & Schuster in 1955, and chronicling choice editorial adventures there and during his time at the helm of Knopf and The New Yorker. Gottlieb shares his heady experiences working with such literary standouts as Joseph Heller, Robert Caro, Toni Morrison, Doris Lessing and John le Carré, and tells incisive tales of helping the famous craft their memoirs, including Bill Clinton and National Book Award-winner Lauren Bacall . . . While book lovers will revel in Gottlieb's intimate publishing revelations, his memoir is also a vital, generous, and captivating story of a life lived to the fullest." —Donna Seaman, Booklist [starred review]
"The feast of names whose literature and/or personalities become skillfully illuminated by Gottlieb is vast and endlessly impressive . . . In addition, the author discusses his relationships with his co-workers (Michael Korda figures prominently, and almost all co-workers receive positive portrayals), parents, two wives, children, and friends. Almost incidentally, Gottlieb scatters suggestions about successful writing and editing techniques and, above all, how to maintain a productive author-editor collaboration. For lovers of literature and devotees of the New Yorker, this memoir is likely to prove endlessly captivating." —Kirkus Reviews
"[A] canny, exuberant memoir . . . Gottlieb's portraits of the literati are vivid, usually generous, and always clear-eyed . . . [His] depictions of editing sessions really shine as he describes helping each author sculpt a book into its ideal form, and he conveys the enormous energy and creativity of American publishing." —Publishers Weekly
"Gottlieb has had a career that could fill several memoirs." —The Millions – Most Anticipated preview, Fall 2016