Staff Pick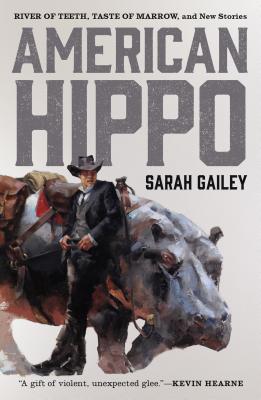 American Hippo: River of Teeth, Taste of Marrow, and New Stories
This product is not returnable.
Publication Date:
May 22nd, 2018
In Stock at Warehouse - Usually Arrives in 3-7 Days
Staff Reviews
Did you know that the U.S. Congress actually debated introducing hippopotamus, and hippo-ranching, to the lower United States to solve a meat shortage? True story. In an amazing spin on the classic American western, Sarah Gailey explores what a hippo-ranching south could have looked like, in an exciting and unexpected collection of 2 novellas, plus some bonus stories!
— Amy
Description
In 2017 Sarah Gailey made her debut with River of Teeth and Taste of Marrow, two action-packed novellas that introduced readers to an alternate America in which hippos rule the colossal swamp that was once the Mississippi River. Now readers have the chance to own both novellas in American Hippo, a single, beautiful volume.
Years ago, in an America that never was, the United States government introduced herds of hippos to the marshlands of Louisiana to be bred and slaughtered as an alternative meat source. This plan failed to take into account some key facts about hippos: they are savage, they are fast, and their jaws can snap a man in two.
By the 1890s, the vast bayou that was once America's greatest waterway belongs to feral hippos, and Winslow Houndstooth has been contracted to take it back. To do so, he will gather a crew of the damnedest cons, outlaws, and assassins to ever ride a hippo. American Hippo is the story of their fortunes, their failures, and his revenge.
Praise for American Hippo: River of Teeth, Taste of Marrow, and New Stories
"Man-eating hippo mayhem is my new favorite mayhem. Gailey's debut is a gift of violent, unexpected glee and I can't wait for more capers with Winslow Houndstooth and Ruby the stealth hippo." —Kevin Hearne, New York Times bestselling author
"This hippopotamus epic is just as preposterously fun as you could possibly have hoped — but it's also a brave, clever alternate history. River of Teeth packs one hell of a gold-plated bite." —Charlie Jane Anders, author of All the Birds in the Sky
"Weird and wonderful, River of Teeth proves handily why Sarah Gailey is a writer to watch." —Chuck Wendig, New York Times bestselling author of Star Wars: Aftermath and Invasive
"Blisteringly imaginative, and written with a sly, sharp wit." —Kate Elliott
"A rowdy, rollicking river ride from a sly and whimsical new writer. A damned fine adventure for everyone. And I haven't even mentioned the hippos yet. Get reading." —Kameron Hurley, Hugo Award-winning author of Mirror Empire and The Geek Feminist Revolution

"River of Teeth is a wonderfully original debut." —NPR
"This is a thing I now know about Sarah Gailey: she is a word-magician who can render searing touch on a flat page and suspend disbelief flawlessly. The world of River of Teeth feels vast, and navigable due to her skill. The characters within, deep and yet intimately knowable." —Fran Wilde, Nebula-nominated, Andre Norton- and Compton Crook-winning author of Updraft and Cloudbound
"I love Sarah Gailey's River of Teeth. It is sexy and raucous and wild and beautiful and violent—aka, everything I've ever wanted from a lawless caper through the American West. Gailey's storytelling is clever and top-notch, and River of Teeth will leave you with adrenaline humming through your veins. I can't recommend this highly enough." —Alyssa Wong, Nebula Award-winning author of "Hungry Daughters of Starving Mothers"