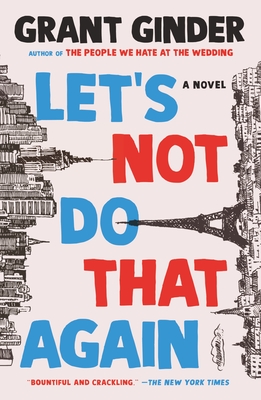 Let's Not Do That Again: A Novel
Publication Date:
April 11th, 2023
Publisher:
Holt Paperbacks
In Stock at Warehouse - Usually Arrives in 3-7 Days
Politics, family dysfunction, drug addiction, bad behavior — what could possibly go wrong? This extremely readable novel about a New York City political family will grab you right away. The perfect antidote to today's headlines.
April 2022 Indie Next List
Description
"Hilarious, suspenseful, and whip smart."
—Cynthia D'Aprix Sweeney

Meet the Harrisons!
A mother running for Senate, a son running from his problems, and a daughter running straight into trouble...
From Grant Ginder, the author of The People We Hate at the Wedding, comes a poignant, funny, and slyly beguiling novel which proves that, like democracy, family is a messy and fragile thing —perfect for fans of Veep's biting humor, the family drama of Succession, and the joys of Kevin Wilson's Nothing to See Here.
Nancy Harrison is running for Senate, and she's going to win, goddamnit. Not that that's her slogan, although it could be. She's said all the right things. Passed all the right legislation. Chapped her lips kissing babies. There's just one problem: her grown children.
Greta and Nick Harrison are adrift. Nick is floundering in his attempts to write a musical about the life of Joan Didion (called Hello to All That!). And then there's his little sister Greta. Smart, pretty, and completely unmotivated, allowing her life to pass her by like the shoppers at the Apple store where she works.
One morning the world wakes up not to Nancy making headlines, but her daughter, Greta. She's in Paris. With extremist protestors. Throwing a bottle of champagne through a beloved bistro's front window. In order to save her campaign, not to mention her daughter, Nancy and Nick must find Greta before it's too late.
Smart, funny, and surprisingly tender, Let's Not Do That Again shows that family, like politics, can hurt like a mother.
Praise for Let's Not Do That Again: A Novel
Named one of the "20 Most Anticipated Books of 2022" by Entertainment Weekly
Named one of Bloomberg's "10 Most-Compelling Books for Spring"
Named one of TODAY's "Best Beach Read of All Time"
Named one of The Washington Post's "13 Feel-Good Books to Brighten Your Summer"
Named one of Electric Lit's "Most Anticipated LGBTQ+ Books of 2022"
Named one of Kirkus' "11 Guaranteed Page Turners"
Named one of Women.com's "LGBTQ Must-Reads for Pride Month"
April 2022 Indie Next Pick
"Nominally about politics [Let's Not Do That Again is] a skittering satire about a fissured nuclear family that could be transposed to almost any other power industry. . . . A caper populated by urban elites. I can't think of anyone in recent years who has lampooned that cohort . . . so freshly and efficiently as Ginder. In a world increasingly starved for good dialogue, Ginder's is bountiful and crackling, like the screwball comedies of yore. . . . A charmingly subversive treat."
—The New York Times
"Terrifically sharp...A combination of family drama and political satire....that skewers society and its main characters, but still manages to maintain sufficient affection for all involved for the reader to care about their fates. Satires like Ginder's that retain a warmth and perhaps just enough of a spirit of farce can point out the wounds without hurting too badly."
—Chicago Tribune
"If you long for the days of Veep, look for the same dysfunctional family dynamics and political misadventures in Ginder's latest novel. A delicious satire that's excellent escapism."
—The Washington Post
"This bighearted family comedy shines."
—TIME
"Packed with keen insight about parents and siblings, Let's Not Do That Again is a triumphant tragicomedy about the politics of Washington and the politics of family."
—Esquire Magazine
"Ginder mines political works in hilarious new book."
—New York Post
"[A] sharp, hilarious and surprisingly tender story."
—Parade
"The witty-on-every-page story of an aspiring senator and her two children who threaten to derail her prospects with public embarrassments, wild antics, and highly questionable art. It's like they don't say but probably should: Champagne for my real friends, campaigns for my sham friends."
—Sloane Crosley, Departures Magazine

"If your summer reading goal is to escape your own family drama by immersing yourself in a different family's dysfunction, Grant Ginder's twisty, darkly comic Let's Not Do That Again, about an ambitious politician, her wayward daughter and her steadfast son, will take you far, far away from whatever plane or beach or road trip your summer plans entail."
—Jennifer Weiner
"Has Grant Ginder written the most fun novel of 2022? 'Fun' might be dismissive of a work so steeped in dazzling prose, insightful portraits of young urbanites, and vivid descriptions of New York City and Paris—not to mention a rather timely political agenda—but Let's Not Do That Again is just about the most enjoyable and hilarious novel of manners to come around in quite some time."
—Christopher Bollen, Interview Magazine

"Highly entertaining...Ginder is at his best when tossing all his plates in the air, introducing new characters and subplots, weaving everything together. Ginder deftly blends politics and family, humor and drama, and brings the three Harrisons vividly to life. Buckle up and enjoy the ride."
—The Boston Globe
"In this smart, witty novel from the author of The People We Hate at the Wedding, no institution—from family to the U.S. government—is safe from skewering, and you're sure to enjoy every word."
—Town & Country
"There's a very particular kind of pleasure to be taken from peering into the inner lives of the extremely rich; it's even more gratifying when the 1 percent in question are the covert, corrupt variety. Grant Ginder has whipped up an alluring romp about one such Upper East Side family... [with] characters we can root for even when they are behaving badly (they're wickedly funny). Let's Not Do That Again delivers just the spoonful of sugar you need it to."
—Entertainment Weekly
"Captivating...By virtue of their familiar quirks and Ginder's masterful manipulation of narrative voice, readers easily fall for these characters. Ginder's book is not only a love letter to dysfunctional families, or even that side of the family you only see over holidays — it is a love letter to all families, to our loved ones, and to ourselves. It is a reminder that we fight for love because we care and we hope."
—BookBrowse
"Nobody's better than Grant Ginder at creating characters who are deeply flawed, vividly human, and wholly recognizable. Let's Not Do That Again is not only perfectly tuned to this moment in time, but is hilarious, suspenseful, and whip smart. It's also wise—wise about the ways we sometimes fail to love and care for each other but choose to keep trying. Like the best stories (and in spite of the book's title) I can't wait to read it again."
—Cynthia D'Aprix Sweeney, New York Times bestselling author of Good Company and The Nest
"Let's Not Do That Again is a biting, hilarious, and endearing novel about family, politics, and the complicated (and simultaneously obvious) nature of love. Signature Ginder."
—Rebecca Serle, New York Times bestselling author of In Five Years and The Dinner List
"Let's Not Do That Again is a treasure: cold-blooded in its humor, warm-hearted in its faith in its characters. Grant Ginder has written a gem of a novel that is hilarious when it is skewering politics and heartfelt when it is examining what it means to be a parent -- and, yes, a grown child. Also, the twists and turns were surprising as hell (I NEVER saw them coming). When a novelist surprises a novelist? That's a hell of a good book."
—Chris Bohjalian, New York Times bestselling author of The Flight Attendant and The Lioness
"Ginder, a former congressional intern and speechwriter for John Podesta whose 2017 book The People We Hate at the Wedding is currently being adapted to film returns with a political romp about a mother whose Senate campaign is derailed when her daughter is photographed destroying a storefront window during a protest in Paris. Imagine a mashup of Veep and The Other Two and you'll get a sense of this screwball family dramedy."
—Electric Lit
"It's a pleasure to find a book that's genuinely funny, from the names of the businesses mentioned, to the snappy dialogue. But beneath the wit, there's a warm tale of family ties; of how kin is kin, no matter how crazy-making they might be; and how love lurks beneath the mountain of Harrison drama."
—The Seattle Times
"A new book from Ginder beckons the reader like a hot bath and glass of something, a reliable and relaxing pleasure. In this timely comic novel set in New York and Paris, a political family deals with drama past and present. Ginder aces the small stuff [and] the big stuff, characteristically insightful on sibling and parent-child relationships. Ooh la la, this book is a shoo-in."
—Kirkus (starred review)
"Ginder (The People We Hate at the Wedding) delivers an effervescent family drama [that] dexterously describes the machinations of his caffeine-fueled lead and lights up the pages with bubbly, rapid-fire dialogue... it yields devilish hilarity. Politics and blood loyalty can become a slippery slope, but here they're a perfect combination. This smart and seamless comedy is nonstop fun."
—Publishers Weekly (starred review)
"Let's Not Do That Again keeps readers flipping pages compulsively while pushing exciting boundaries. Grant Ginder is not afraid to ask what it means to fight for what's right—for the country you serve, the world at large, and the flawed and impossibly complicated people you are bound to love."
—Emily Gould, author of Friendship and Perfect Tunes
"Grant Ginder mixes family life and the world of politics so movingly and effectively. I hoped the book would never end."
—Jennifer Palmieri, New York Times bestselling author of Dear Madam President
"Let's Not Do That Again combines the wit and hilarity of Ginder's previous work with a deep examination of the confounding world we're finding our way through today. Pour a glass of your favorite bubbly and get ready to savor this important, brilliant novel."
—Amanda Eyre Ward, New York Times bestselling author of The Jetsetters and The Lifeguards
"Let's Not Do That Again is sophisticated, viciously funny (and sometimes just plain vicious—in a nice way!), and, perhaps improbably, at its core, sweetly bighearted. I couldn't have enjoyed myself more."
—Benjamin Dreyer, New York Times bestselling author of Dreyer's English