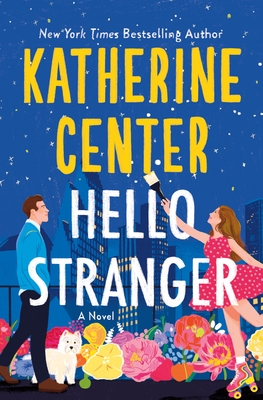 Hello Stranger: A Novel
Publication Date:
July 11th, 2023
Publisher:
St. Martin's Press
In Stock at Warehouse - Usually Arrives in 3-7 Days
Katherine Center has once again blown my mind withHello Stranger. It's uplifting, yet serious. It's got heart, yet still manages to be funny. I have no doubt it'll be one of my top recommended reads this summer!
July 2023 Indie Next List
Description
The glorious novel from the beloved author whose bright, hopelessly romantic New York Times bestsellers have been called "My perfect 10 of a book" (Emily Henry) and cheered for their "speedy pacing and sexual tension for miles" (People).

Love isn't blind, it's just a little blurry.
Choosing between two men isn't brain surgery, but for Sadie Montgomery, it's both. One moment Sadie is celebrating the biggest achievement of her life—placing as a finalist in the North American Portrait Society competition—the next, she finds herself struggling with face blindness. She can see, but every face she looks at is now a jumbled puzzle of disconnected features. And she'll need brain surgery to (hopefully) reverse it. And that's not all. She's seriously crushing on her beloved dog Peanut's handsome vet, but she can't seem to stay away from her annoyingly endearing neighbor. She thinks she knows who she likes more... but then (like their faces) that starts getting blurry too!
If only her life were a little more in focus, Sadie might be able to figure out who she wants, work through her condition, hang on to her artistic dream, and confront major family issues. But perceiving anything clearly right now seems impossible. Even though there are things we can only find when we aren't looking. And there are people who show up when we least expect them. And there are always, always other ways of seeing.
"With its emphasis on its central character, combined with its "swoony" romance, "Hello Stranger" is a hit. Sadie is everything you could want in a protagonist — the right amount of quirky, sunshiney and stubborn, and the men she's in love with are equally fascinating. All the side characters provide humor and comfort, and even those characters who you aren't really supposed to like are annoyingly intriguing and captivating. Center created a brilliant cast of characters, set to a plot that's sure to keep you reading." --Michigan Daily
Praise for Hello Stranger: A Novel
A New York Times bestseller
A USA Today Bestseller
"Irresistibly fun...a fresh look at how people often let pride or misconceptions get in the way of their own happiness. Sure to grab readers right off the bat." --Shelf Awareness
"The latest from the author of The Bodyguard (2022) is a winsome tale of a woman overcoming adversity and learning to lean on the people who care about her." --Booklist
"This charming, heartfelt romantic comedy has a well-told, unique storyline, and Sadie's prosopagnosia feels deftly explained, explored, and treated with respect. There's chemistry between the protagonists with a slow-burn relationship, but there's also a focus on Sadie's mental and emotional growth, as well as her artistic frustrations and problem-solving methods. Readers who enjoy Jenny Colgan and Susan Mallery will love this engaging, well-written romance from Center (The Bodyguard)." --Library Journal
"With a thoroughly modern millennial heroine at the helm, Center takes Sadie's life seriously and her struggles with adulting resonate even before her face blindness sets in. Meanwhile, a dash of humor and an endearing love story make the pages fly. Readers will be hooked." -- Publishers Weekly (Starred Review)
"[A]uthor Katherine Center is back this summer with another voice-driven, funny, heartfelt and romantic escapist novel." --Good Morning America Online
"Laugh-and-cry specialist Katherine Center (The Bodyguard) returns with the love story of talented artist Sadie Montogmery." --Goodreads
"In this romantic comedy with depth, a health emergency leaves a struggling portrait artist unmoored with a possibly temporary diagnosis of face blindness." --Lansing State Journal
"With its emphasis on its central character, combined with its "swoony" romance, "Hello Stranger" is a hit. Sadie is everything you could want in a protagonist — the right amount of quirky, sunshiney and stubborn, and the men she's in love with are equally fascinating. All the side characters provide humor and comfort, and even those characters who you aren't really supposed to like are annoyingly intriguing and captivating. Center created a brilliant cast of characters, set to a plot that's sure to keep you reading." --Michigan Daily