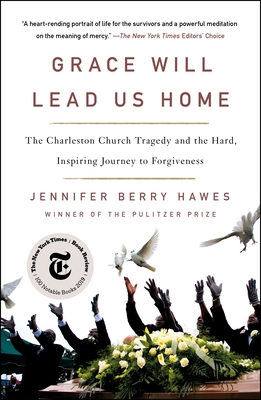 Grace Will Lead Us Home: The Charleston Church Tragedy and the Hard, Inspiring Journey to Forgiveness
Publication Date:
August 11th, 2020
Publisher:
St. Martin's Griffin
Charter Books
On hand, as of Nov 30 3:37am
(History - U.S.)
On Our Shelves Now
Description
A NEW YORK TIMES NOTABLE BOOK OF 2019 * BARNES & NOBLE DISCOVER GREAT NEW WRITERS PICK * OPRAH MAGAZINE SUMMER 2019 READING LIST SELECTION * NEW YORK TIMES EDITOR'S CHOICE
"A soul-shaking chronicle of the 2015 Charleston massacre and its aftermath... [Hawes is] a writer with the exceedingly rare ability to observe sympathetically both particular events and the horizon against which they take place without sentimentalizing her subjects. Hawes is so admirably steadfast in her commitment to bearing witness that one is compelled to consider the story she tells from every possible angle."
—The New York Times Book Review
A deeply moving work of narrative nonfiction on the tragic shootings at the Mother Emanuel AME church in Charleston, South Carolina from Pulitzer Prize-winning journalist Jennifer Berry Hawes.

On June 17, 2015, twelve members of the historically black Emanuel AME Church in Charleston, South Carolina, welcomed a young white man to their evening Bible study. He arrived with a pistol, 88 bullets, and hopes of starting a race war. Dylann Roof's massacre of nine innocents during their closing prayer horrified the nation. Two days later, some relatives of the dead stood at Roof's hearing and said, "I forgive you." That grace offered the country a hopeful ending to an awful story. But for the survivors and victims' families, the journey had just begun.
In Grace Will Lead Us Home, Pulitzer Prize-winning journalist Jennifer Berry Hawes provides a definitive account of the tragedy's aftermath. With unprecedented access to the grieving families and other key figures, Hawes offers a nuanced and moving portrait of the events and emotions that emerged in the massacre's wake.
The two adult survivors of the shooting begin to make sense of their lives again. Rifts form between some of the victims' families and the church. A group of relatives fights to end gun violence, capturing the attention of President Obama. And a city in the Deep South must confront its racist past. This is the story of how, beyond the headlines, a community of people begins to heal.
An unforgettable and deeply human portrait of grief, faith, and forgiveness, Grace Will Lead Us Home is destined to be a classic in the finest tradition of journalism.
Praise for Grace Will Lead Us Home: The Charleston Church Tragedy and the Hard, Inspiring Journey to Forgiveness
"This magisterial account of the 2015 hate crime and its aftermath, by a Pulitzer-winning local reporter, delivers a heart-rending portrait of life for the survivors and a powerful meditation on the meaning of mercy." —The New York Times Editor's Choice
"In Grace Will Lead Us Home, Hawes delivers a rich and powerful account of the events, actors and consequences of the Mother Emanuel tragedy, drawing upon her considerable talents as a decorated investigative journalist." —Charleston Post and Courier
"In heartbreaking detail, this tour de force of reportage contrasts the goodness and bravery of the victims with the actions of the dead-eyed killer on a mission of hate." —O, The Oprah Magazine
"Fresh and compelling… Hawes captures candid scenes deftly. People are drawn with insight and depth, and the book's pace clips along like that of a cliff-hanger or mystery." —Charleston Magazine
"Hawes is a poised writer and a patient observer... She lands the book with moral force and great feeling." —The New York Times (weekday book review)

"Hawes is a talented storyteller, recounting every phase of this saga while focusing on the individual tales of survivors and family members. At once horrifying and inspiring, engaging and thought-provoking, this is a definitive must-read about the Charleston tragedy." —Kirkus Reviews (starred review)
"A groundbreaking, accessible work of investigative reporting." —Library Journal (starred review)
"With empathy and kindness, Hawes bears witness to one of the most horrific incidents in recent American history." —Booklist (starred review)

"Grace Will Lead Us Home is more than a recounting of the crime and its aftermath... Hawes reflects on the power of anger, pain, and forgiveness in this moving and personal look at a group of people whose legacies are shaping today's South." —Garden & Gun
"In Grace Will Lead Us Home, Jennifer Berry Hawes breathes poetry into tragedy to bring to life the epic grief that haunted a nation's moral imagination. Written like a novel, observed like a sage, and narrated with scholarly rigor, Hawes' stirring account of a dark night in Charleston shows how it seared the American conscience while forcing lionized politicians to find courage, and tin man religious leaders to find a heart, for the people they both claimed to serve. If white supremacy is ever to meet a death knell, this ringing endorsement of fallen yet redeemable humanity will echo loudly in our hearts." —Michael Eric Dyson
"The great value of this book is that it tells the stories of the survivors and victims' families on their own terms, in all of their humanity, while also showing us how Charleston's tortured history of racism and gun violence came together on that night in June." —Gabrielle Union
"Jennifer Berry Hawes has written a remarkable document on one of the most horrific acts of this young century. But it's her ability to connect a series of carefully-observed scenes—the difference in size and location of two monuments, a Republican governor's story of racism (and the state representative who took out his hearing aid in response), a dialogue between a husband and wife about the biblical Parable of the Sower—that gives this book its power. Together, they evoke the racially charged soil on which this tragic event took place and remind us of the cost of failing to challenge romantic notions of the South's racial history." —Henry Louis Gates, Jr.