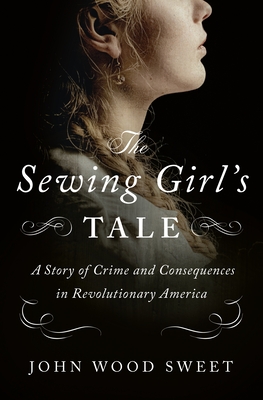 The Sewing Girl's Tale: A Story of Crime and Consequences in Revolutionary America
Publication Date:
July 19th, 2022
Publisher:
Henry Holt and Co.
Charter Books
On hand, as of Dec 1 1:52am
(History - U.S.)
On Our Shelves Now
Description
New York Times Editors' Choice
Winner of the Bancroft Prize
Winner of the Francis Parkman Prize
Winner of the Gotham Book Prize
Winner of the New York Society Library's New York City Book Award
Journal of the American Revolution Book of the Year
Winner of the David J. Langum, Sr. Prize in American Legal History
Winner of the James Bradford Best Biography Prize
A riveting Revolutionary Era drama of the first published rape trial in American history and its long, shattering aftermath, revealing how much has changed over two centuries—and how much has not
On a moonless night in the summer of 1793 a crime was committed in the back room of a New York brothel—the kind of crime that even victims usually kept secret. Instead, seventeen-year-old seamstress Lanah Sawyer did what virtually no one in US history had done before: she charged a gentleman with rape.
Her accusation sparked a raw courtroom drama and a relentless struggle for vindication that threatened both Lanah's and her assailant's lives. The trial exposed a predatory sexual underworld, sparked riots in the streets, and ignited a vigorous debate about class privilege and sexual double standards. The ongoing conflict attracted the nation's top lawyers, including Alexander Hamilton, and shaped the development of American law. The crime and its consequences became a kind of parable about the power of seduction and the limits of justice. Eventually, Lanah Sawyer did succeed in holding her assailant accountable—but at a terrible cost to herself.
Based on rigorous historical detective work, this book takes us from a chance encounter in the street into the sanctuaries of the city's elite, the shadows of its brothels, and the despair of its debtors' prison. The Sewing Girl's Tale shows that if our laws and our culture were changed by a persistent young woman and the power of words two hundred years ago, they can be changed again.
Includes photographs
Praise for The Sewing Girl's Tale: A Story of Crime and Consequences in Revolutionary America
"Fascinating. . . . An excellent and absorbing work of social and cultural history."
—The New York Times Book Review

"A vividly intimate portrait of American life as the nation was coming into being. Mr. Sweet has given us a masterpiece of splendidly readable social history."
—The Wall Street Journal

"In 1793, in New York City, in a 15-hour rape trial followed by 15 minutes of jury deliberations, six powerful attorneys representing a man of privilege did all they could to turn 17-year-old Lanah Sawyer into someone who didn't matter. In The Sewing Girl's Tale, historian John Wood Sweet provides a masterful counter. In a brilliant reconstruction of one of the most telling criminal cases in American history, he brings to life not only Sawyer, but all the malevolent forces aligned against her, including one Alexander Hamilton. Lanah Sawyer and her story mattered—then, and now."
—Ken Armstrong, Pulitzer Prize–winning reporter and coauthor of Unbelievable
"The Sewing Girl's Tale is a masterful narrative history, featuring a remarkable combination of riveting drama and world-class scholarship. The Sewing Girl's Tale is a mystery, a true crime tale, a courtroom drama, and a scathing analysis of a society stacked against young women. John Sweet has written a story of sex and power that is both vividly historic and ripped from the headlines."
—Debby Applegate, Pulitzer Prize-winning author of Madam and The Most Famous Man in America
"In all good histories a heart lies beating, if the historian is patient and attuned enough to hear it. John Wood Sweet, in a dazzling investigative turn, has restored a bright corporeality to eighteenth-century New York, which here feels as alive as it did the day Lanah Sawyer asked the courts to believe a woman. Urgent and resonant, this book is a reminder that history persists in all our bodies."
—Katy Simpson Smith, author of The Story of Land and Sea
"John Sweet's dazzling book transforms a modest sewing-girl's story of date rape by a rich libertine into a fully realized, near novel-like treatment of the sexual morals of the 1790s. Historians familiar with Lanah Sawyer's rape case will be awed by his stunning research finds, while general readers will marvel at his astute psychological renderings of all his characters. By close analysis of Sawyer's options, actions, and words, Sweet fleshes her out from a near-voiceless victim to a young woman intent on getting justice in a legal system stacked by class and gender."
—Patricia Cline Cohen, author of The Murder of Helen Jewett