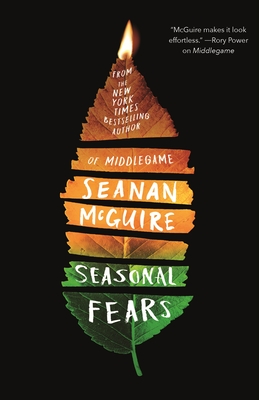 Seasonal Fears (Alchemical Journeys #2)
Publication Date:
May 3rd, 2022
Description
From New York Times bestselling author Seanan McGuire, Seasonal Fears is the extraordinary companion novel to Middlegame.
The king of winter and the queen of summer are dead. The fight for their crowns begins!
Melanie has a destiny, though it isn't the one everyone assumes it to be. She's delicate; she's fragile; she's dying. Now, truly, is the winter of her soul.
Harry doesn't want to believe in destiny, because that means accepting the loss of the one person who gives his life meaning, who brings summer to his world.
So, when a new road is laid out in front of them—a road that will lead through untold dangers toward a possible lifetime together—walking down it seems to be the only option.
But others are following behind, with violence in their hearts.
It looks like Destiny has a plan for them, after all….
"One must maintain a little bit of summer even in the middle of winter." —Thoreau
About the Author
SEANAN McGUIRE is the author of the Hugo, Nebula, Alex and Locus Award-winning Wayward Children series, the October Daye series, the InCryptid series, and other works. She also writes darker fiction as Mira Grant. Seanan lives in Seattle with her cats, a vast collection of creepy dolls, horror movies, and sufficient books to qualify her as a fire hazard. She won the 2010 John W. Campbell Award for Best New Writer, and in 2013 became the first person to appear five times on the same Hugo ballot. In 2022 she managed the same feat, again!
Praise for Seasonal Fears (Alchemical Journeys #2)
A Goodreads Most Anticipated Summer Read!

"A worthy, highly intelligent, wholly satisfying expansion of the Middlegame mythos that will leave readers wanting more." —Publishers Weekly
"A fitting return to McGuire's magical, alchemical world." —Booklist