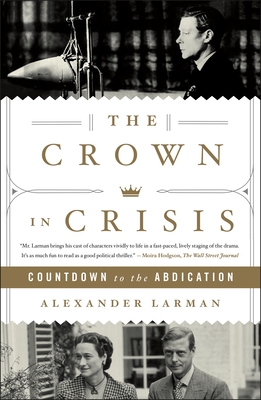 The Crown in Crisis: Countdown to the Abdication
Publication Date:
November 15th, 2022
Publisher:
St. Martin's Griffin
Charter Books
On hand, as of Dec 1 1:52am
(Bio/Memoir/Essays)
On Our Shelves Now
Description
The thrilling and definitive account of the Abdication Crisis of 1936
On December 10, 1936, King Edward VIII brought a great international drama to a close when he abdicated, renouncing the throne of the United Kingdom for himself and his heirs. The reason he gave when addressing his subjects was that he could not fulfill his duties without the woman he loved—the notorious American divorcee Wallis Simpson—by his side. His actions scandalized the establishment, who were desperate to avoid an international embarrassment at a time when war seemed imminent. That the King was rumored to have Nazi sympathies only strengthened their determination that he should be forced off the throne, by any means necessary.
Alexander Larman's The Crown in Crisis will treat readers to a new, thrilling view of this legendary story. Informed by revelatory archival material never-before-seen, as well as by interviews with many of Edward's and Wallis's close friends, Larman creates an hour-by-hour, day-by-day suspenseful narrative that brings readers up to the point where the microphone is turned on and the king speaks to his subjects. As well as focusing on King Edward and Mrs. Simpson, Larman looks closely at the roles played by those that stood against him: Prime minister Stanley Baldwin, his private secretary Alec Hardinge, and the Archbishop of Canterbury Cosmo Lang. Larman also takes the full measure of those who supported him: the great politician Winston Churchill, Machiavellian newspaper owner Lord Beaverbrook, and the brilliant lawyer Walter Monckton.
For the first time in a book about the abdication, readers will read an in-depth account of the assassination attempt on Edward's life and its consequences, a first-person chronicle of Wallis Simpson's scandalous divorce proceedings, information from the Royal Archives about the government's worries about Edward's relationship with Nazi high-command Ribbentrop and a boots-on-the-ground view of how the British people saw Edward as they watched the drama unfold. You won't be able to put down The Crown in Crisis, a full panorama of the people and the times surrounding Edward and the woman he loved.
Praise for The Crown in Crisis: Countdown to the Abdication
"A fresh chronicle . . . Mr. Larman brings his cast of characters vividly to life in a fast-paced, lively staging of the drama. It's as much fun to read as a good political thriller." —Moira Hodgson, Wall Street Journal
"An entertaining, multilayered study of the abdication crisis of 1936 and the many traitorous and sycophantic characters surrounding King Edward VIII." —Kirkus Reviews, starred review
"Readers who enjoy British and royal history as well as fans of the Netflix series The Crown will greatly enjoy this insightful book. —Library Journal, starred review
"Excellent, well written, deeply researched, The Crown in Crisis is a dynamic revisionist history of the Abdication that brings to life a national and personal drama with a flamboyant cast of princes, charlatans, socialites, courtiers, press barons, politicians, and adventurers that is both heartbreaking and glamorous, scholarly, and very entertaining." —Simon Sebag Montefiore, author of The Romanovs
"A juicy account of the events leading up to and following British monarch King Edward VIII's abdication...even dedicated royal watchers will learn something new from this comprehensive account of one of the biggest scandals in the history of the British monarchy." —Publishers Weekly
"Larman combines the personal with the political, high drama with low morals, to create a compulsively readable and comprehensive account. Anyone who wants to deepen their understanding of one of the key events of the 20th century, whose reverberations are still with us today, must read this engagingly fun and detailed book." —Anne Sebba, New York Times bestselling author of That Woman: The Life of Wallis Simpson, Duchess of Windsor

"[Larman] blends previous reporting and newly published archival sources into a deeply researched account that will fascinate royal lovers and history fans alike." —Bookpage
"Alexander Larman's well-researched and well-written The Crown in Crisis is both scholarly and highly readable. He has mastered the sources superbly, and his analysis of the extraordinary story is full of thought-provoking insights. An exciting new title by a talented young historian." —Andrew Roberts, author of Churchill: Walking with Destiny
"A completely fascinating and authoritative account of the Abdication Crisis, written with tremendous sophistication and insight."
—William Boyd, author of Any Human Heart