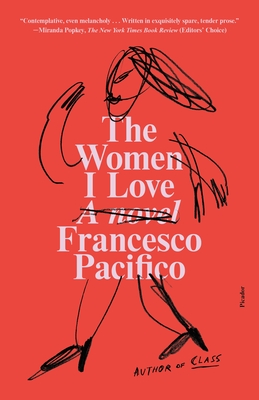 The Women I Love: A Novel
This product is not returnable.
Publication Date:
December 6th, 2022
Charter Books
On hand, as of Nov 30 3:37am
(Fiction - General)
On Our Shelves Now
Description
A provocative and bracing send-up of modern masculinity from the author of Class and The Story of My Purity.

Marcello, an editor and a poet, is on the brink of his forties. Like everyone in his life, including his sister-in-law, he's writing a novel. This novel. This novel will be about women. Love. Growing older. Maybe even taking responsibility. But unfortunately for Marcello, the women in his life resist definition. They flit and flicker constantly between archetype and actuality: sirens and saviors, subordinates and savants, vixens and villains.
So Marcello cannot write plainly about love. Instead, he tries to write about the complexities of his many relationships: Eleonora, the junior editor, his former protégé and sometime lover; Barbara, his claustrophobic girlfriend; Irene, his estranged gay sister; and his elegant mother.
Fresh, frank, and painfully cool, Francesco Pacifico's The Women I Love dives nakedly into gender, sex, and power. Set in a vivid and alcoholic Italy, it acknowledges and subverts the narrow ways canonical male writers gaze at, and somehow fail to see, women—illuminating the possibility of equity between people in love, in bed, in work, and in life.
Praise for The Women I Love: A Novel
Advance Praise
"Pacifico's parody of the literary male is the 21st-century unreliable narrator we deserve."
—Los Angeles Times (Best new books of the month)
"Razor-sharp and mordantly funny, Pacifico's savage and startlingly, unsettlingly tender new novel is a masterful ode of the different forms of love, attachment, and obligation that hold us and, occasionally, hold us back."
—Alexandra Kleeman, author of Something New Under the Sun
"Italy's most thought-provoking writer tackles the horror that is human relationships with style, humor and verve."
—Gary Shteyngart, author of Lake Success
"Francesco Pacifico's The Women I Love is a brutally honest compendium of the feelings and moments that too often get left out of the contemporary novel, a funny and surprisingly tender reckoning with sex, money, family life, and publishing. Reading it, I felt seen, and indicted."
—Andrew Martin, author of Cool for America
"The Women I Love is an intricate, elegant, unstinting novel that trains its acute, hyper-aware attention on complexities of gender and class. Francesco Pacifico has written a male confessional like no other, in which the narrator—Marcello, who thinks of himself as a great lover of women—gives us a catalogue of the women who have shaped him, much like Fellini does in 8 ½. But Pacifico's Marcello surprises us with his honesty and his exacting self-critique. He dissects the classic entitled male, moving from condescension to humility, from objectification to compassion."
—Dana Spiotta, author of Wayward
"Imagine a Casanova who's outlived theory, therapy, and drugs, to write a last tender and desirously wise volume of memoirs about the women he (mostly) hasn't slept with: his mother, his sister, his sister-in-law, his editor, his friends. That's Francesco Pacifico, whose The Women I Love will love you back, whether or not you deserve it."
—Joshua Cohen, author of The Netanyahus