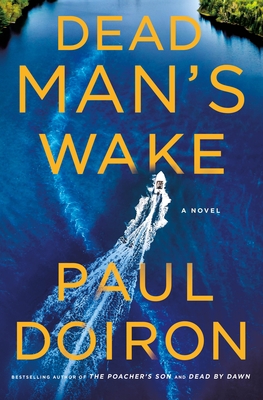 Dead Man's Wake: A Novel (Mike Bowditch Mysteries #14)
Publication Date:
June 27th, 2023
Publisher:
Minotaur Books
Charter Books
On hand, as of Dec 6 12:52am
(Mystery & Suspense)
On Our Shelves Now
Description
Game Warden Mike Bowditch's engagement party is interrupted by the discovery of a gruesome double murder in Dead Man's Wake, a thriller from Edgar Award-winning author Paul Doiron.

On the evening of their engagement party, Maine Game Warden Investigator Mike Bowditch and Stacey Stevens witness what seems to be a hit-and-run speedboat crash on a darkened lake. When they arrive at the scene, their spotlight reveals a gruesome sight: a severed arm floating just beneath the surface. As day breaks, the warden dive team recovers not one but two naked corpses: a dismembered man and the married woman with whom he was having an affair. Mike begins to suspect the swimmers' deaths were not a senseless accident but a coldly calculated murder.
Meanwhile, the hunt is on for the mysterious boater. Suspects abound on the lake, nicknamed "Golden Pond," including the violent biker husband of the murdered woman who may have taken vengeance on his wife and her paramour; a strange woman who claims to have witnessed the crash, but then changes her story; a very aggressive realtor and his wife who were determined to catch trespassers; and the lake's earnest young constable whose eagerness to help may hide darker motives.
Alone among his fellow officers, Mike starts to sense the involvement of a trained marksman, smarter and more dangerous than any enemy he has ever faced before. As Mike and Stacey get closer to identifying the killer, their own lives are suddenly on the line as they confront a lethal killer who plans to silence them forever. The finale is a tour de force of drama and suspense.
Praise for Dead Man's Wake: A Novel (Mike Bowditch Mysteries #14)
Praise for Dead Man's Wake:

"Doiron creates an array of colorful, well-drawn characters, writes in vivid, graceful style, and accurately portray investigative procedures — this time including the handling of underwater crime scenes. He spins his tale with enough twists and turns to keep readers guessing until the end." —Associated Press
"[Doiron] uses his extensive knowledge of the state's natural wonders to create a strong sense of place in this fast-paced mystery." —The Washington Post
"Doiron's crisp first-person narrative is thoroughly absorbing and richly atmospheric. Readers will enjoy every pine needle–crunching step." —Booklist, starred
"Another well-crafted case beautifully built on a foundation of the local geography Doiron knows so well." —Kirkus Reviews

"Delivers one of [the series'] most satisfying shocks yet... A winner." —Publishers Weekly
"Both fans and newcomers to the series can sink deep into the pages of Doiron's latest Mike Bowditch adventure… Wilderness thrillers provide a great break from the real world—get this one on your list."—Henrietta Verma, First Clue

"Doiron packs in lots of twists and turns, and enough suspense to keep you reading well past bedtime." —BookPage

"This riveting crime thriller and police investigation keeps you on the edge of your seat from start to finish....engaging, gripping, and atmospheric with good characterization and great world-building details. Even though this is part of a series, it is a great stand-alone read too." —Mystery and Suspense Magazine

"Doiron is a master of nature writing... Superb." —The Globe and Mail
Praise for Paul Doiron and the Mike Bowditch mysteries:

"Doiron captures the stark beauty of his setting." —New York Times Book Review for Stay Hidden
"The characters are well drawn, the Maine landscape is vividly portrayed, and Bowditch pursues his passion to protect the innocent and bring evil doers to justice regardless of personal cost." —Associated Press for Almost Midnight
"As always with a Doiron novel, the characters are so well-drawn you can almost reach out and shake their hands, and the rural landscape is so vividly portrayed that the reader can smell wildflowers, marvel at the swarms of fireflies and feel the sting of the blood-thirsty insects. But the author's finest achievement is the evolution of Mike Bowditch himself." —Bruce DeSilva, Associated Press for Knife Creek
"Outstanding…Doiron balances nuanced characterizations and intelligent plotting perfectly." —Publishers Weekly (starred review) for Stay Hidden