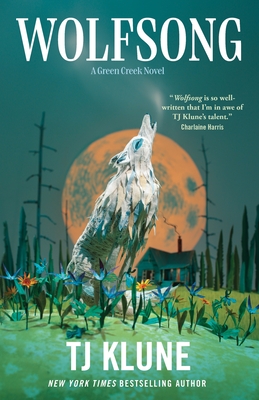 Wolfsong (Green Creek #1)
Publication Date:
July 4th, 2023
In Stock at Warehouse - Usually Arrives in 3-7 Days
Description
Wolfsong is the beginning of the Green Creek Series, the beloved fantasy romance sensation by New York Times bestselling author TJ Klune, about love, loyalty, betrayal, and family.
"Wolfsong is so well written that I'm in awe of TJ Klune's talent." —Charlaine Harris
The Bennett family has a secret: They're not just a family, they're a pack. Wolfsong is Ox Matheson's story.
Oxnard Matheson was twelve when his father taught him a lesson: Ox wasn't worth anything and people would never understand him. Then his father left.
Ox was sixteen when the energetic Bennett family moved in next door, harboring a secret that would change him forever. The Bennetts are shapeshifters. They can transform into wolves at will. Drawn to their magic, loyalty, and enduring friendships, Ox feels a gulf between this extraordinary new world and the quiet life he's known, but he finds an ally in Joe, the youngest Bennett boy.
Ox was twenty-three when murder came to town and tore a hole in his heart. Violence flared, tragedy split the pack, and Joe left town, leaving Ox behind. Three years later, the boy is back. Except now he's a man – charming, handsome, but haunted – and Ox can no longer ignore the song that howls between them.
The Green Creek Series is for adult readers.
Now available from Tor Books.
Praise for Wolfsong (Green Creek #1)
"Fans will be delighted." —Publishers Weekly
"An exciting start to the [Green Creek] series." —Library Journal
"One of my new all-time favourite books!" —Giana Darling

"It's a flawless book and shows that you can take the fantastic and make it so very human. I thought the supernatural would be what grabbed me but instead it's Ox's humanity and humility and loyalty. I hope there will be more. Wildly recommended." —Mary Calmes
"The prose reads like a simple, placid little pond and then you jump in and realize it's MILES DEEP. So to conclude this terrible non-review, FIVE BAJILLION STARS." —Emma Scott
"The best part of this book is the pack mentality and how strong of a bond everyone had with each other. Beautiful and I highly recommend!" —K Webster
"Beautiful, poetic, unbelievably compelling. ALL the stars." —Juliette Cross, author of the Stay a Spell series

For The House in the Cerulean Sea
A New York Times, USA Today, and Washington Post Bestseller!
An Indie Next Pick!
An Alex Award-Winner
"I loved it. It is like being wrapped up in a big gay blanket. Simply perfect." —V.E. Schwab, #1 New York Times bestselling author of The Invisible Life of Addie LaRue
"This book is very close to perfect." —Seanan McGuire, New York Times bestselling author of Every Heart a Doorway
"An utterly absorbing story of tolerance, found family, and defeating bureaucracy." —Gail Carriger, New York Times bestselling author of Soulless

"A modern fairy tale about learning your true nature and what you love and will protect. It's a beautiful book." —Charlaine Harris, #1 New York Times bestselling author
"It will renew your faith in humanity." —Terry Brooks, New York Times bestselling author of the Shannara series
"It's a witty, wholesome fantasy that's likely to cause heart-swelling." —The Washington Post
"Readers will revel in Klune's wit and ingenuity." —Publishers Weekly, starred review
"Remarkable." —Amazon Book Review

For Under the Whispering Door
A New York Times, USA Today, and Indie Bestseller!
An Indie Next Pick!
"Under the Whispering Door is a kind book. It broke my heart with its unflinching understanding that grief never goes away. And then it healed me in the next breath." —Cassandra Khaw, USA Today bestselling author of Nothing But Blackened Teeth
"There is so much to enjoy in Under the Whispering Door, but what I cherish the most is its compassion for the little things—a touch, a glance, a precious piece of dialogue—healing me, telling me that for all the strangenesses I hold, I am valued, valid—and maybe even worthy of love." —Ryka Aoki author of Light from Uncommon Stars
"Klune's latest is a sweet tale of grief and second chances, and a ghost story about not giving up on even the most lost of souls." —Booklist
"Tenderness, wit, and skillful worldbuilding elevate this delightful tale. Fans of queer fantasy won't want to miss this." —Publishers Weekly