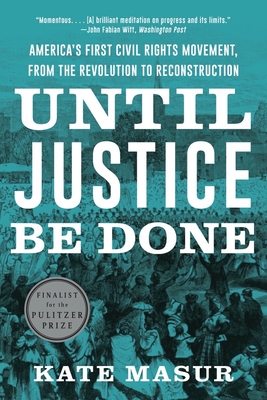 Until Justice Be Done: America's First Civil Rights Movement, from the Revolution to Reconstruction
Publication Date:
June 7th, 2022
Publisher:
W. W. Norton & Company
Charter Books
On hand, as of Dec 1 1:52am
(History - U.S.)
On Our Shelves Now
Description
Finalist for the 2022 Pulitzer Prize in History
Finalist for the 2022 Lincoln Prize
Winner of the American Historical Association's Littleton-Griswold Prize • Winner of the John Nau Book Prize in American Civil War Era History • Winner of the American Society for Legal History's John Phillip Reid Book Award
One of NPR's Best Books of 2021 and a New York Times Critics' Top Book of 2021
A groundbreaking history of the movement for equal rights that courageously battled racist laws and institutions, Northern and Southern, in the decades before the Civil War.
The half-century before the Civil War was beset with conflict over equality as well as freedom. Beginning in 1803, many free states enacted laws that discouraged free African Americans from settling within their boundaries and restricted their rights to testify in court, move freely from place to place, work, vote, and attend public school. But over time, African American activists and their white allies, often facing mob violence, courageously built a movement to fight these racist laws. They countered the states' insistences that states were merely trying to maintain the domestic peace with the equal-rights promises they found in the Declaration of Independence and the Constitution. They were pastors, editors, lawyers, politicians, ship captains, and countless ordinary men and women, and they fought in the press, the courts, the state legislatures, and Congress, through petitioning, lobbying, party politics, and elections. Long stymied by hostile white majorities and unfavorable court decisions, the movement's ideals became increasingly mainstream in the 1850s, particularly among supporters of the new Republican party. When Congress began rebuilding the nation after the Civil War, Republicans installed this vision of racial equality in the 1866 Civil Rights Act and the Fourteenth Amendment. These were the landmark achievements of the first civil rights movement.
Kate Masur's magisterial history delivers this pathbreaking movement in vivid detail. Activists such as John Jones, a free Black tailor from North Carolina whose opposition to the Illinois "black laws" helped make the case for racial equality, demonstrate the indispensable role of African Americans in shaping the American ideal of equality before the law. Without enforcement, promises of legal equality were not enough. But the antebellum movement laid the foundation for a racial justice tradition that remains vital to this day.
Praise for Until Justice Be Done: America's First Civil Rights Movement, from the Revolution to Reconstruction
A remarkable and shattering book….Breathtakingly fresh.
— Harold Holzer - Wall Street Journal
Revelatory….excellent….If this is a clear-eyed book, it's still a heartening one.
— Jennifer Szalai - New York Times
Momentous…a brilliant meditation on progress and its limits.
— John Fabian Witt - Washington Post
At a time when definitions of citizenship and civil rights are again under assault, Masur's careful accounting of the ways Americans came to understand such terms provides an informed perspective to appreciate that such concepts never were, and thus never are, self-evident. They require due diligence and vigilance to secure and sustain at all levels of government. An essential book.
— Library Journal (starred review)
Kate Masur's masterpiece is an extraordinary contribution to our understanding of the central role of African Americans in conceiving American democracy.
— Keeanga-Yamahtta Taylor, author of Race for Profit
In this brilliant book, Kate Masur widens and deepens our understanding of the long struggle against racism throughout the United States.
— Alan Taylor, author of Thomas Jefferson's Education
Kate Masur's Until Justice Be Done is a masterpiece of scope, insight, and graceful writing about the central question in the making, unmaking, and remaking of an American democracy. This is a book we will read and conjure with for a long time.
— David W. Blight, author of Frederick Douglass
A tour de force: Until Justice Be Done is the eloquent and essential story of what the first civil rights movement achieved, and what it left for later generations to do.
— W. Caleb McDaniel, author of Sweet Taste of Liberty
A magnificent contribution to the history of antiracism in America.
— Randall Kennedy, author of For Discrimination
[A] tour de force of scholarship and lucid analysis.
— James M. McPherson, author of Battle Cry of Freedom
Until Justice Be Done tells the origin story of one of the most important and often-misunderstood ideas in American law and politics: racial equality before the law. It is a brilliant book.
— Dylan C. Penningroth, author of The Claims of Kinfolk
In our current moment, as we imagine paths forward for American democracy, Kate Masur's revelatory book is essential reading.
— Daniel J. Sharfstein, author of Thunder in the Mountains
Kate Masur's sobering and inspiring history of the 'first civil rights movement' could not be more timely.
— Steven Hahn, author of A Nation Under Our Feet
[I]lluminating history…This engrossing study goes beyond sectionalist accounts of the South's peculiar institution to show how racism and civil rights activism have shaped every corner of America.
— Publishers Weekly
A fine history of the first phase of the nation's most enduring moral reform effort.
— Kirkus Reviews