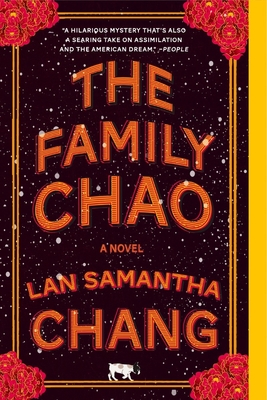 The Family Chao: A Novel
Publication Date:
September 20th, 2022
Publisher:
W. W. Norton & Company
Charter Books
On hand, as of Nov 30 3:37am
(Fiction - General)
On Our Shelves Now
The Family Chao is a true pleasure! A hard to put down, whodunnit family drama and mouthwatering delight! This is great for bookclubs who enjoy topics on obligation, family dynamics, and the seemingly picturesque fronts that often hide the truth.
Fall 2022 Indie Next List for Reading Groups
Description
Featured on Barack Obama's 2022 Summer Reading List
An NPR and Vogue Best Book of the Year
Winner of the 2023 Anisfield-Wolf Book Award
One of Literary Hub's and The Millions' Most Anticipated Books of 2022
A Goodreads Readers' Most Anticipated Mystery of 2022
An acclaimed storyteller returns with "a gorgeous and gripping literary mystery" that explores "family, betrayal, passion, race, culture and the American Dream" (Jean Kwok).
The residents of Haven, Wisconsin, have dined on the Fine Chao restaurant's delicious Americanized Chinese food for thirty-five years, content to ignore any unsavory whispers about the family owners. Whether or not Big Leo Chao is honest, or his wife, Winnie, is happy, their food tastes good and their three sons earned scholarships to respectable colleges. But when the brothers reunite in Haven, the Chao family's secrets and simmering resentments erupt at last.
Before long, brash, charismatic, and tyrannical patriarch Leo is found dead—presumed murdered—and his sons find they've drawn the exacting gaze of the entire town. The ensuing trial brings to light potential motives for all three brothers: Dagou, the restaurant's reckless head chef; Ming, financially successful but personally tortured; and the youngest, gentle but lost college student James. As the spotlight on the brothers tightens—and the family dog meets an unexpected fate—Dagou, Ming, and James must reckon with the legacy of their father's outsized appetites and their own future survival.
Brimming with heartbreak, comedy, and suspense, The Family Chao offers a kaleidoscopic, highly entertaining portrait of a Chinese American family grappling with the dark undercurrents of a seemingly pleasant small town.
Praise for The Family Chao: A Novel
[Chang] lives and writes to push the boundaries of her craft and her world... Her new novel is a genre bender: a murder story whose prose sings and snickers and soars as engagingly as Chang's literary fiction.
— Meredith Maran - Washington Post
The Family Chao is a riveting character-driven novel that delves beautifully into human psychology; Dostoevsky himself would surely approve.
— Ilana Masad - NPR
A playful literary romp with a serious heart. Ostensibly it's a murder mystery...but it's also an exploration of genre, of literary types and stereotypes, and the impact of these types on the hopes and dreams of its characters... The action soars... Chang's narrative [is] operatic and subversive.
— May-Lee Chai - Minneapolis Star Tribune
A hilarious mystery that's also a searing take on assimilation and the American dream.
— People Magazine
[Chang] turns the tired truism about every town having a Chinese restaurant on its head... Beautifully executed.
— Bethanne Patrick - Los Angeles Times
[A] sizzling...bravely unsentimental murder mystery about a Chinese American family in small-town Wisconsin.
— Richard Lipez - Washington Post
Family drama, murder mystery, love story, The Family Chao is an oftentimes funny and sometimes sad portrait of a Chinese American family who runs that most ubiquitous of institutions: the Chinese restaurant. With nuance and slyness, wit and empathy, Chang turns the desires and deceits of one unhappy family into a moving and compelling saga of that classic American illness: ambition.
— Viet Thanh Nguyen, author of The Committed
Lan Samantha Chang's The Family Chao is a modern-day Brothers Karamazov, a gorgeous and gripping literary mystery that leads the reader into a hall of mirrors, reflecting with its kaleidoscopic vision themes like family, betrayal, passion, race, culture and the American Dream. Devastating and searing, laugh-out-loud funny and profound, Chang's latest novel is infused with beautiful, evocative writing that will quicken your heart and mind. A masterpiece.
— Jean Kwok, author of Searching for Sylvie Lee
Funny, thought-provoking and paced like a thriller, The Family Chao radically redefines the immigrant novel while balancing entertainment and delight.
— BookPage (starred review)
An ingenious and cunning reboot of Dostoyevsky's The Brothers Karamazov. The harrowing and humorous family drama is wrapped in a murder mystery... In this timely, trenchant, and thoroughly entertaining book, an immigrant family's dreams are paid for in blood. For Chang, this marks a triumphant return.
— Publishers Weekly (starred review)
The story culminates in a trial that becomes a stage for broader debates over obligation, morality, and family. But Chang is excellent at exploring this at a more intimate level as well. A later plot twist deepens the tension and concludes a story that smartly offers only gray areas in response to society's demands for simplicity and assurance. A disruptive, sardonic take on the assimilation story.
— Kirkus Reviews (starred review)
The Family Chao is riveting, delicious, full of love and danger, an intricate look at the so-called American Dream and one small-town American family trying and failing to save itself. Lan Samantha Chang's characters are unforgettable: dear, maddening, funny, cruel. The Family Chao is an up-to-the-minute look at what it means to be accused and visible in America, and also an old-fashioned page-turner. A book to stay up late reading, and then to dream about.
— Elizabeth McCracken, author of The Souvenir Museum
I loved Lan Samantha Chang's The Family Chao, at once a brilliant reimagining of Dostoevsky and a wholly original and gripping story about the passions, rivalries, and searing pressures that roil a singular immigrant family.
— Jess Walter, author of The Cold Millions
In this symphonic novel, Lan Samantha Chang gives us a multitude of souls lost and found: the gregarious are isolated, the ruthless are hunted, the voiceless scheme with hidden power, the innocent suffer from murderous desire. This is one of the finest and most ambitious novels about America I've read in recent years.
— Yiyun Li, author of Must I Go
A Dickensian drama of family conflicts and intrigues; an insightful comedy of the American immigrant experience, and of a small town's inner workings. Chang's creation of characters through dialogue is worthy of a great playwright.
— John Irving, author of Avenue of Mysteries
Written in graceful prose and with astonishing perception, this novel is a must-read, a campaign against indifference, a journey into the heart of the American dream, and a page-turner. Candid, penetrating, refreshing.
— T. Geronimo Johnson, author of Welcome to Braggsville