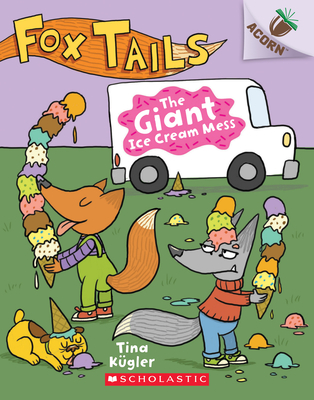 The Giant Ice Cream Mess: An Acorn Book (Fox Tails #3)
Publication Date:
May 18th, 2021
Publisher:
Scholastic Inc.
In Stock at Warehouse - Usually Arrives in 3-7 Days
Description
Siblings Fritz and Franny have their sights set on the tastiest ice cream treat in this early reader from Geisel Honor winner Tina Kügler!
Pick a Book. Grow a Reader!This series is part of Scholastic's early reader line, Acorn, aimed at children who are learning to read. With easy-to-read text, a short-story format, plenty of humor, and full-color artwork on every page, these books will boost reading confidence and fluency. Acorn books plant a love of reading and help readers grow!Scoop up this fun-filled early reader series! When competitive fox siblings Fritz and Franny hear the ice cream truck on their street, they both imagine making the sweetest treat with different flavors and toppings. But there's just one problem: Their mom says they can only have one scoop each! Maybe Fritz and Franny need to ask Fred -- their adorable dog -- which flavor is best?Geisel Honor winner Tina Kügler's easy-to-read text and humor-filled, full-color artwork will have young readers everywhere laughing out loud!
Praise for The Giant Ice Cream Mess: An Acorn Book (Fox Tails #3)
Praise for The Great Bunk Bed Battle and The Biggest Roller Coaster:
"In this lighthearted and lively early reader series, anthropomorphized Fox siblings Fritz and Franny's experiences -- at an amusement park and at bedtime -- are depicted with imagination and playfulness. In each title, the events of three short chapters come together to make one cohesive story arc. Usefully repetitive dialogue is presented via speech balloons, with vibrant-hued illustrations complementing the humorous tales." -- Horn Book
Praise for The Great Bunk Bed Battle:
*"Kügler seamlessly weaves repeated words and phrases into the story, so as readers enjoy Fritz and Franny's antics, they will expand their vocabularies and build reading confidence without feeling as though they are practicing. Kügler expertly uses character-associated colors and a vertical page layout to foster visual literacy and provide visual clues for readers. The majority of the text is in speech balloons. A rollicking romp for new readers." -- Kirkus Reviews, starred review
Praise for Snail and Worm:
"Snail and Worm's direct, simplified dialogue is perfect for beginning readers, and their unabashed dopiness -- equally evident in their conversations and in Kügler's mixed-media cartoons -- delivers a steady stream of laughs." -- Publishers Weekly
"Kügler's cartoonish creatures, rendered simply in thin lines and soft colors, each have comically googly eyes and cheery expressions, which add plenty of fun visual punchlines and context clues to the short, direct sentences making up the easy-to-read text... The heartening message about accepting a friend's quirks is a cozy bonus." -- Booklist
Praise for The Great Bunk Bed Battle:
* "Kügler seamlessly weaves repeated words and phrases into the story, so as readers enjoy Fritz and Franny's antics, they will expand their vocabularies and build reading confidence without feeling as though they are practicing. Kügler expertly uses character-associated colors and a vertical page layout to foster visual literacy and provide visual clues for readers. The majority of the text is in speech balloons. A rollicking romp for new readers." -- Kirkus Reviews, starred review
Praise for Snail and Worm:
"Snail and Worm's direct, simplified dialogue is perfect for beginning readers, and their unabashed dopiness -- equally evident in their conversations and in Kügler's mixed-media cartoons -- delivers a steady stream of laughs." -- Publishers Weekly
"Kügler's cartoonish creatures, rendered simply in thin lines and soft colors, each have comically googly eyes and cheery expressions, which add plenty of fun visual punchlines and context clues to the short, direct sentences making up the easy-to-read text... The heartening message about accepting a friend's quirks is a cozy bonus." -- Booklist