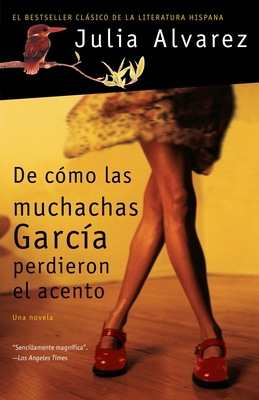 De cómo las muchachas García perdieron el acento / How the Garcia Girls Lost The ir Accents
Publication Date:
October 9th, 2007
Publisher:
Vintage Espanol
Charter Books
On hand, as of Dec 2 2:07am
(F - FIC- Foreign Lang)
On Our Shelves Now
Description
Cuando las hermanas García —Carla, Sandra, Yolanda y Sofía— y sus padres huyen de la República Dominicana buscando refugio de la persecución política, encuentran un nuevo hogar en los Estados Unidos. Pero el Nueva York de los años sesenta es marcadamente diferente de la vida privilegiada, aunque conflictiva, que han dejado atrás.

Bajo la presión de asimilarse a una nueva cultura, las muchachas García se alisan el pelo, abandonan la lengua española y se encuentran con muchachos sin una chaperona. Pero por más que intentan distanciarse de su isla natal, las hermanas no logran desprender el mundo antiguo del nuevo.  
  
Lo que las hermanas han perdido para siempre —y lo que logran encontrar— se revela en esta novela magistral de una de las novelistas más celebradas de nuestros tiempos.
ENGLISH DESCRIPTION
"Poignant . . . Powerful . . . Beautifully captures the threshold experience of the new immigrant, where the past is not yet a memory." —The New York Times Book Review
Acclaimed writer Julia Alvarez's beloved first novel gives voice to four sisters as they grow up in two cultures. The García sisters—Carla, Sandra, Yolanda, and Sofía—and their family must flee their home in the Dominican Republic after their father's role in an attempt to overthrow brutal dictator Rafael Trujillo is discovered. They arrive in New York City in 1960 to a life far removed from their existence in the Caribbean. In the wondrous but not always welcoming U.S.A., their parents try to hold on to their old ways as the girls try find new lives: by straightening their hair and wearing American fashions, and by forgetting their Spanish. For them, it is at once liberating and excruciating to be caught between the old world and the new. Here they tell their stories about being at home—and not at home—in America.
Praise for De cómo las muchachas García perdieron el acento / How the Garcia Girls Lost The ir Accents
"Sencillamente magnífica".
—Los Angeles Times

"Conmovedora... poderosa... hermosamente capta la experiencia del nuevo inmigrante, donde el pasado aún no es una memoria".
—The New York Times Book Review
 
"Tierna, encantadora... esta obra literaria viene cargada con una intensidad poética que es verdaderamente original".
—Miami Herald

"Sutil... poderosa... revela las complejidades de familia, del impacto de cultura y lugar, y del poder profundo de los idiomas".
—The San Diego Tribune
"Una interpretación lírica de una historia familiar —la búsqueda de identidad del inmigrante norteamericano…relatada en un lenguaje vívido y poético".
—The Philadelphia Inquirer