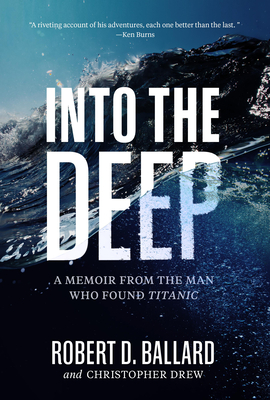 Into the Deep: A Memoir From the Man Who Found Titanic
Publication Date:
May 11th, 2021
Publisher:
National Geographic
Charter Books
On hand, as of Nov 30 3:37am
(Nautical/Exploration)
On Our Shelves Now
Description
The legendary explorer of Titanic and Lusitania looks back on his life behind his famous exploits and unveils a major new discovery on the occasion of the 35th anniversary of the Titanic find.
Best known for finding the wreck of the Titanic, celebrated adventurer Robert Ballard has a lifetime of stories about exploring the ocean depths. From discovering new extremophile life-forms thriving at 750°F hydrothermal vents in 1977 to finding famous shipwrecks including the Bismarck and PT 109, Ballard has made history. Now the captain of E/V Nautilus, a state-of-the-art scientific exploration vessel rigged for research in oceanography, geology, biology, and archaeology,leads young scientists as they map the ocean floor, collect artifacts from ancient shipwrecks, and relay live-time adventures from remote-controlled submersibles to reveal amazing sea life. For the first time, Robert Ballard gets personal, telling the inside stories of his adventures and challenges as a midwestern kid with dyslexia who became an internationally renowned ocean explorer. Here is the definitive story of the danger and discovery, conflict and triumph that make up his remarkable life.
Praise for Into the Deep: A Memoir From the Man Who Found Titanic
"An amazing story, brilliantly told."—Drs. Brock and Fernette Eide, authors of The Dyslexic Advantage
"An explorer's memoir of discovering the wreck of the Titanic--and so much more. Although Ballard is best known for the Titanic, he has made numerous remarkable discoveries . . . Throughout the book, the author discusses the many challenges and setbacks he faced along the way, noting that failure should be embraced, since 'every failure is a learning lesson.' Ballard's incredible achievements and gift for storytelling will captivate readers from all walks of life."—Kirkus Reviews (starred review)
"Bob Ballard is larger than life: scientist, engineer, naval intelligence officer, charmer in chief. His is a story of determination in the face of insurmountable barriers. Yet, with relentless, infinite curiosity, and a hero's courage, he went around all those barriers, to become what he wanted to be: a modern-day Captain Nemo. Into the Deep is a page-turner, every chapter a cliffhanger that delivers yet another surprise, until the final surprise is delivered. At that sudden moment of realization, the armor is shed, and the hero shows a deep, soulful humanity that only confirms why he is such a towering figure."—Enric Sala, National Geographic Explorer in Residence and author of The Nature of Nature
"Embarking on a world cruise you might pack a suitcase with books by or about Shackleton, Fulton, Hornblower, Twain, Cronkite, and the most inspiring teacher you ever had. Bob Ballard saves you all that weight with his new memoir Into the Deep. Here is an explorer who discovered Titanic, Bismarck, PT-109, and many others in the abyss, a scientist who proved theories on hydrothermal vents that remade geological research, an engineer who imagined then built revolutionary marine robots, a naval officer who led secret missions into the most hostile regions, a natural storyteller whose wry wit enlivens every tale, and a trusted confidant of some of the most influential figures of his time. . . . The book is certain to be an adventure classic."—John Lehman, former Secretary of the Navy and author of Oceans Ventured
"It seems as if Robert Ballard has lived three lives--or maybe ten--and these pages are filled with a riveting account of his adventures, each one seemingly better than the last. I envy his grandchildren and the tales he must tell them."—Ken Burns
"No living explorer can claim a career as varied or fascinating as that of Robert Ballard, who has explored the world's oceans, including a deep dive to the Titanic. His life is a testament to the power of imagination, scientific rigor, and dogged hard work. Now, as never before, Robert Ballard illuminates the world's oceans in a spellbinding memoir of courage and discovery."—Henry A. Kissinger
"Of course I loved the section about the search for Titanic and his exploration of the wreck, but was enthralled at the first hand accounts of the decades of exploration that preceded and followed that signature event in Dr. Ballard's life. He was, and still is, a true exploration pioneer, and has inspired generations of ocean explorers, myself included."—James Cameron
Into the Deep "details the struggles the oceanographer overcame to become a famed adventurer—and finally achieve his dream."—New York Post
[In this book, Robert Ballard] "delves into his astonishing career . . . and also opens up about some of the most defining moments in his personal life."—CNN Travel
"Ballard is a national treasure, the kind of man many of us can only aspire to be. He's lived a life that is the stuff of legend, and Into the Deep is a genuine gift to readers everywhere."—Jathan & Heather
"Fascinating, page-turning . . . This exciting memoir, recounted by a wonderful storyteller, will be relished by by readers who enjoy adventure, oceanography, underwater archaeology, and scientific discovery."—Library Journal
"While his book features numerous stories about his favorite research expeditions and discoveries, the major revelations are more personal . . . including his recent discovery that he is dyslexic."—URI Today, University of Rhode Island