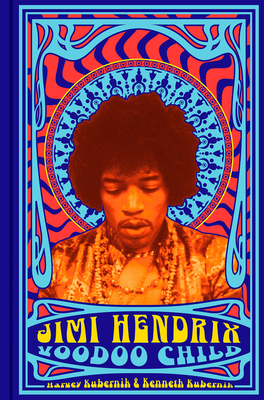 Jimi Hendrix: Voodoo Child
Publication Date:
November 23rd, 2021
Publisher:
Union Square & Co.
In Stock at Warehouse - Usually Arrives in 3-7 Days
Description
A unique tribute to Jimi Hendrix featuring contributions by those who knew and worked with him, enhanced with images by the most renowned rock photographers of the era.
The legendary Jimi Hendrix shook the music world to its very soul as a musical and lyrical innovator, until his untimely death in 1970 at only 27 years of age. Yet his body of work remains timeless and universal, touching old and new fans alike. In this unprecedented volume, acclaimed rock journalists Harvey and Kenneth Kubernik celebrate Hendrix: his life, his music, and his legacy. Their multi-voice narrative weaves together his incredible story. There are fascinating behind-the-scenes contributions from the scenemakers and musicians of the time, including previously unpublished excerpts from interviews with the recording, producing, and engineering principals from throughout Hendrix's career, with a focus on his music. Along with stunning photographs and memorabilia, Jimi Hendrix: Voodoo Child is the ultimate keepsake for Hendrix fans.
About the Author
Harvey Kubernik's work has been published nationally in Melody Maker, Variety, Goldmine, the Los Angeles Times, MOJO, and Record Collector News. His books include The Story of the Band: From Big Pink to the Last Waltz, 1967: A Complete Rock History of the Summer of Love, Canyon of Dreams, Neil Young: Heart of Gold, and Leonard Cohen: Everybody Knows. He lives in Los Angeles. Kenneth Kubernik is a former editor of Music Connection magazine. He has contributed to Variety, the Los Angeles Times, and MIX magazine. He is the coauthor of The Story of the Band, and served as an editorial consultant on 1967 and Canyon of Dreams. He lives in Los Angeles.