Preorder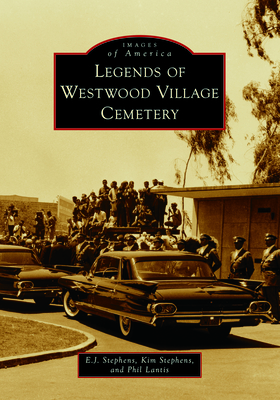 Legends of Westwood Village Cemetery (Images of America)
Publication Date:
January 1st, 2024
Publisher:
Arcadia Publishing (SC)
Coming Soon! Preorder Now
Description
Westwood Memorial Park Cemetery, located on Los Angeles's trendy west side, has been the leading choice for celebrity burials since Marilyn Monroe was interred here in 1962. The cemetery houses the remains of a plethora of household names, including Patty Andrews, Eve Arden, Lew Ayres, Jim Backus, Richard Basehart, Peter Bogdanovich, Ray Bradbury, Fanny Brice, Les Brown, Truman Capote, John Cassavetes, James Coburn, Jackie Collins, Richard Conte, Tim Conway, Bob Crane, Rodney Dangerfield, Richard Dawson, Kirk Douglas, Peter Falk, Farrah Fawcett, June Foray, Stan Freberg, Eva Gabor, Merv Griffin, Jonathan Harris, Hugh Hefner, Florence Henderson, Brian Keith, Stan Kenton, Jack Klugman, Don Knotts, Burt Lancaster, Peggy Lee, Janet Leigh, Jack Lemmon, Karl Malden, Dean Martin, Walter Matthau, Rod McKuen, David Nelson, Lloyd Nolan, Carroll O'Connor, Heather O'Rourke, Bettie Page, Wolfgang Petersen, Gregor Piatigorsky, Donna Reed, Buddy Rich, Minnie Riperton, Doris Roberts, Wayne Rogers, George C. Scott, Sidney Sheldon, Robert Stack, Dorothy Stratten, Alvin Toffler, Mel Torm , Josef von Sternberg, Harry Warren, Cornel Wilde, Billy Wilder, Carl Wilson, Natalie Wood, Darryl F. Zanuck, Frank Zappa, and hundreds more. n Legends of Westwood Village Cemetery, Hollywood film historians husband-and-wife team E.J. and Kim Stephens and Phil Lantis take readers on a fascinating tour of this unique Los Angeles burial ground.